Housed in a stunning 1910 brick 2-story, this Project Spotlight kitchen had meticulously-detailed woodwork, but was last remodeled in the 1970's. The existing kitchen design provided unique details that the homeowner enjoyed, but it was time for an update. Of the items to keep, a copper range hood and wood coffered ceiling were first on the list. The challenge? Maintain the character of these details while reviving and renewing the balance of the kitchen space.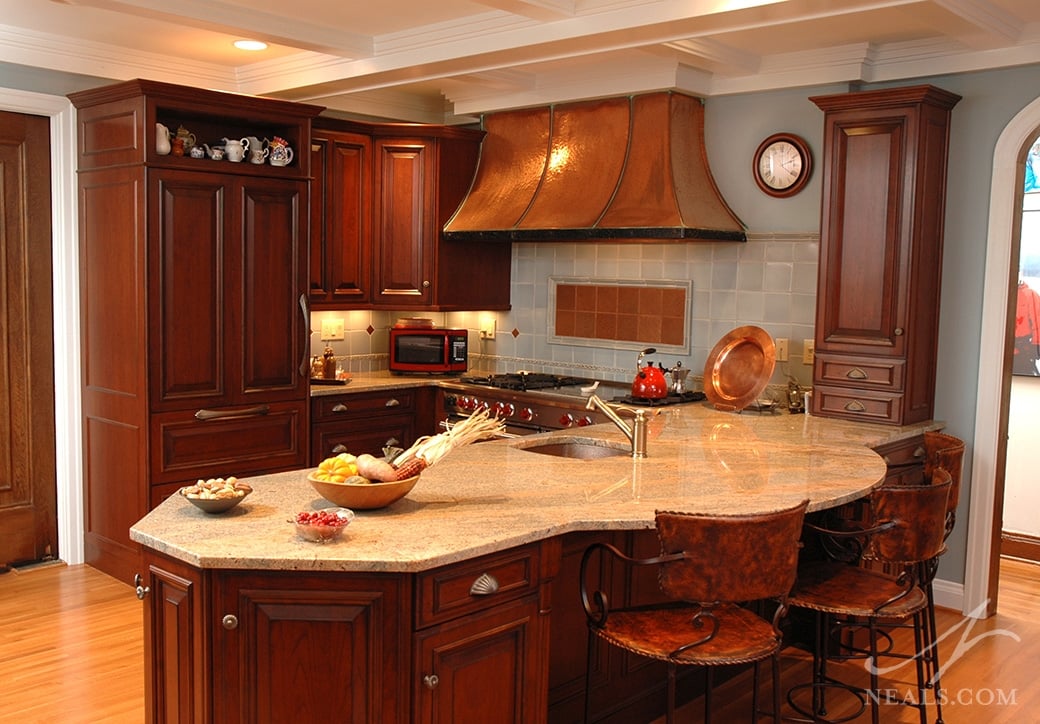 Homeowners' Objectives
Design the updated kitchen layout to be less confined and cramped in the food prep and seating areas that utilized the existing copper hood and beamed ceiling.
Remove tile floor and level out subfloor, which varied from 3/4" to 2" in the kitchen space, yet still keep the same floor line of the three adjacent rooms.
Locate wood flooring to match the original narrow 1½" oak flooring in the rear stairway.
Keep existing exposed brick wall, yet remove 1970's era recessed shelving within original ice chest cavity. Reformat into a hutch furniture piece to fit within the new kitchen design
Incorporate original existing 1910 oak dinette banquette seating and radiator covers.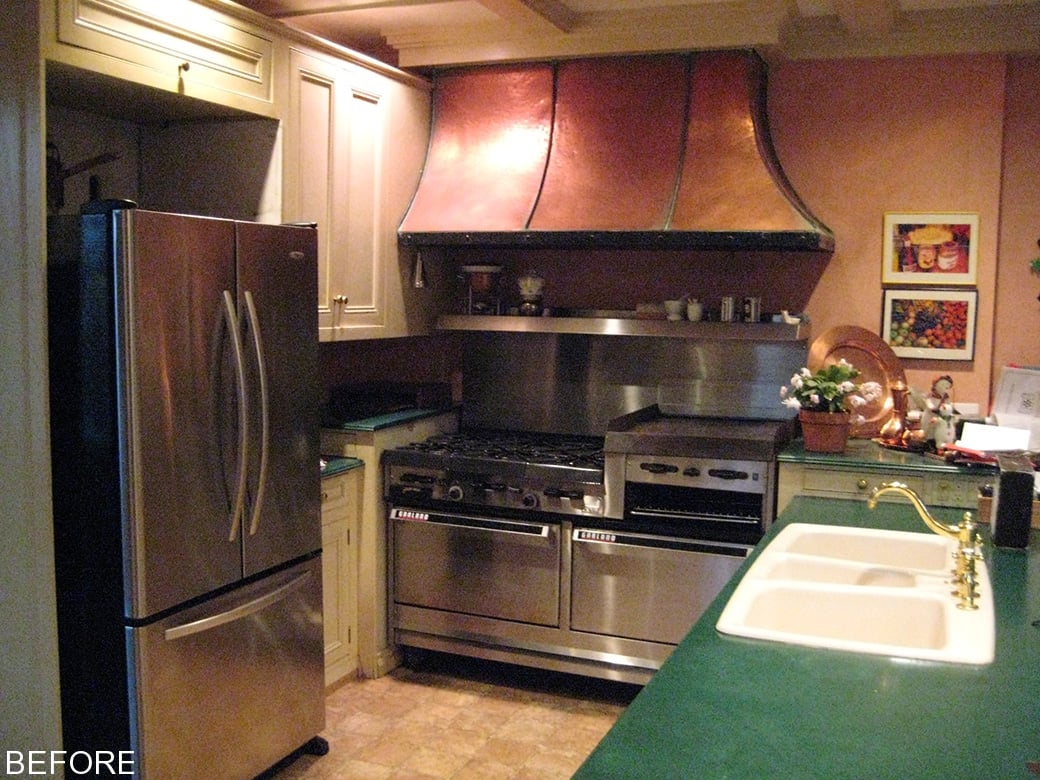 Existing Issues

Cramped food preparation area due to raised counter tops of both sides of range.
Difficult counterspace right of refrigerator and right of range.
Storage space above refrigerator poorly designed
Confined banquette seating due to peninsula counter top with only 30" spacing and sharp corners.
Too much glass wall cabinetry- not enough hidden storage.
Issues Resolved

Increased wall cabinet storage left of range and more open counterspace in food preparation area.
Widened floor space 9" within food preparation area.
New display area to fit in above new Sub Zero refrigerator.
Clip-corner design at end of the peninsula cabinet run expands traffic flow to 39" width.
Wall cabinetry right of window sink area has solid doors for added hidden storage.
New, more attractive and functional bowed counter seating area.
Solutions

The brick cavity from the original ice chest (former 1970's built-in shelf unit) was insulated with 2" styrofoam. The new bow front, free-standing cabinetry appears more like an antique furniture piece that matches the kitchen.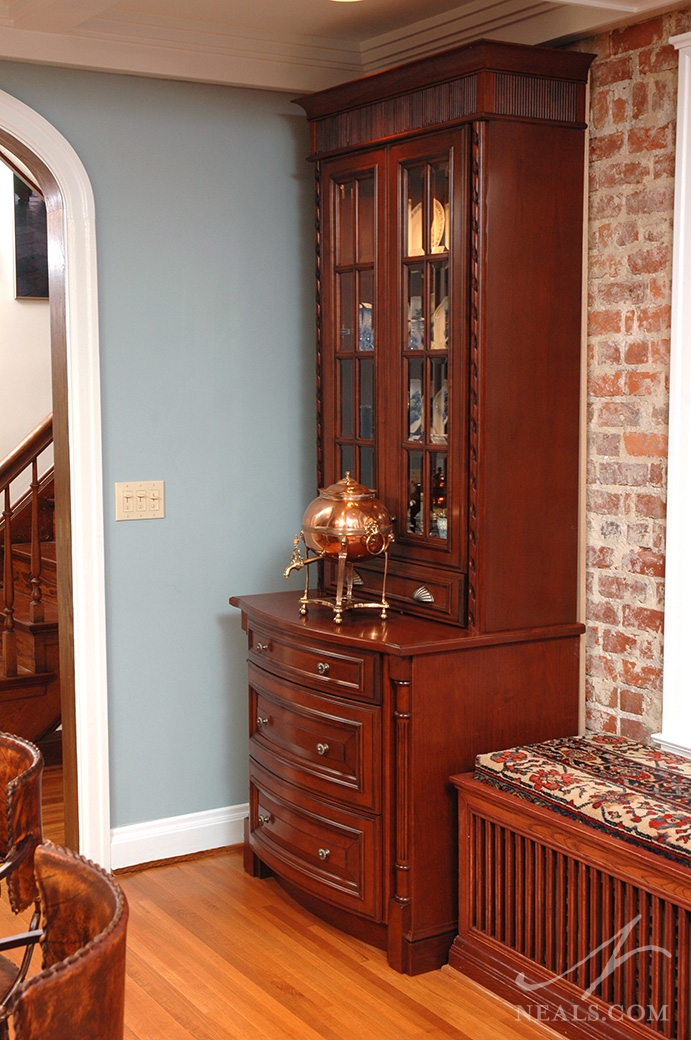 New gourmet dual-fuel range fits in with the original copper hood in reworked beamed ceiling. The range and counter tops are now at the same convenient height with added floor space within the food preparation area.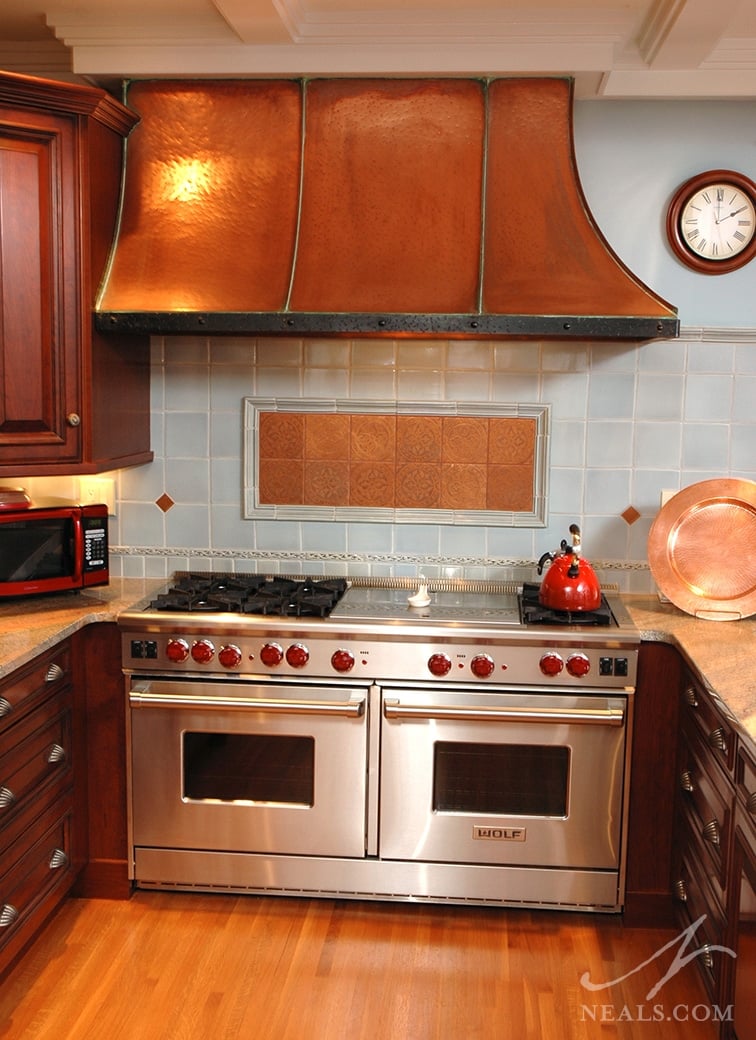 Updated granite counter tops with undermount copper bowls replaced the former green tops and white sinks. New task lighting was also added under the wall cabinets. Oak floor panels were special ordered so that a seamless transition from the original rear stair and the kitchen could be achieved. The new 1½" oak flooring was finished to match the existing stairway hardwood.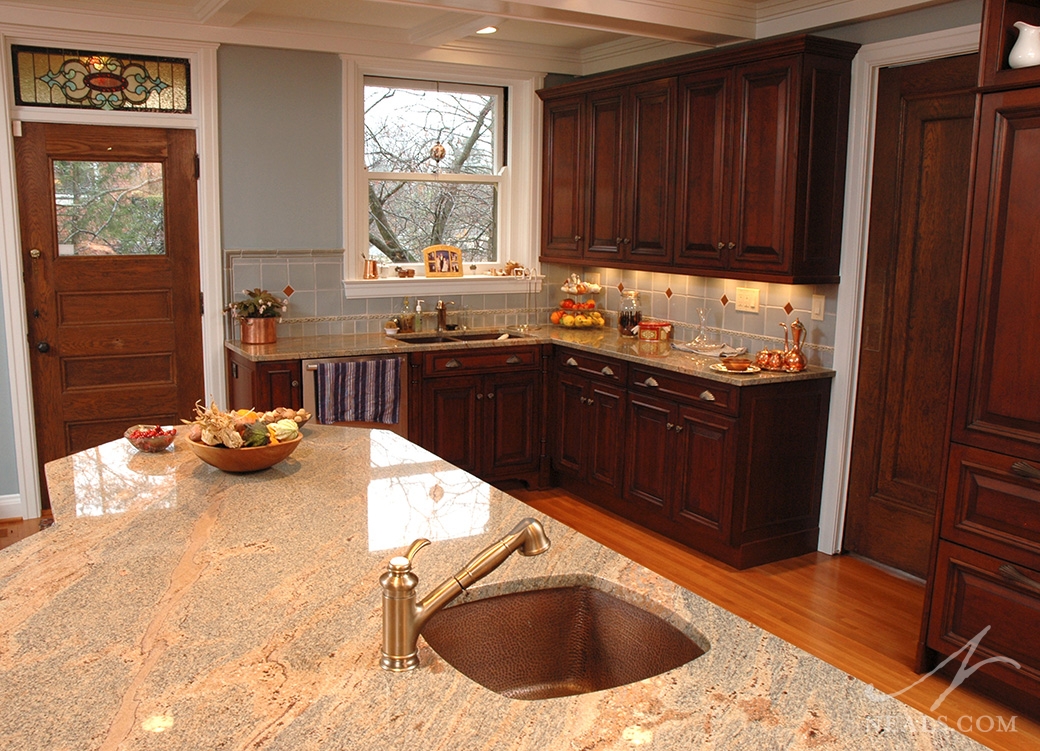 Benefits
The banquette seating and radiator covers were refinished to better match the new cabinetry.
Relocation of the primary sink to the exterior wall with easier access to the dishwasher
Additional and more accessible storage with increased drawer quantity and bulk storage capacity.
More efficient cooking design and updated appliances.
Increased seating area for 3 chairs along the center peninsula with bowed counter top and smaller secondary sink for food preparation.
Historical period porcelain tile backsplash with copper accents.
Improved food preparation lighting.
Split-turned post, banderol astragal crown moulding and detail trim used in keeping with the grandeur of the home.