If you're an avid home cook planning to remodel your kitchen, a "cook-friendly" layout is essential to guide the work on your project. There are many details to creating an efficient and aesthetic kitchen. To assure that every aspect is addressed we recommend working with a kitchen design professional.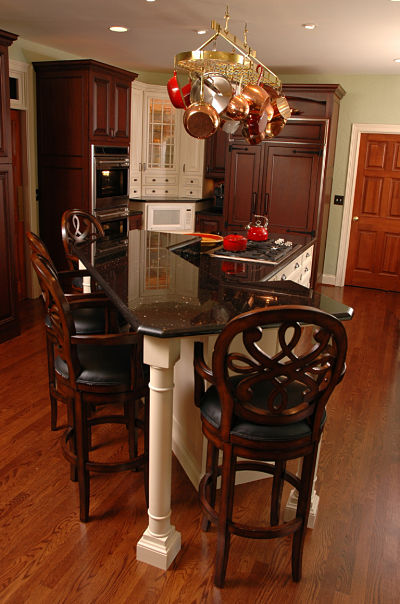 Getting Started
Begin your kitchen remodeling project by compiling a list of "needs" and "wants". In addition to this wish list, think about the way you work in a kitchen and answer the following questions:
Is there adequate room in your current kitchen or are you planning to add more space? An efficient kitchen does not necessarily need to be large.
How many "chefs" will be cooking in the kitchen? When two people cook, there needs to be adequate aisle clearances, counter space and perhaps an extra sink.
How much space do you need for food prep? Counter space is often valued more by home cooks than appliances. What is your preference for countertop work surfaces - quartz, marble, granite, butcher block, stainless steel, other or a combination?
Where is the best location for a cooktop/range, on an island or peninsula or within the perimeter of a kitchen?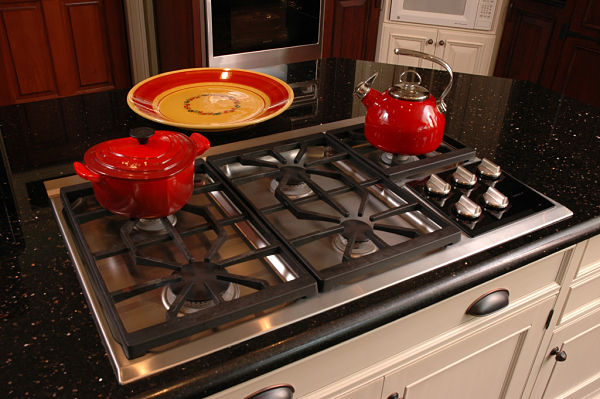 How large should the cooktop/range be? Do you prefer to cook on a gas, electric, induction heat or a versatile modular cooktop that uses a combination of heat sources? Will you require special accessories such as an indoor gas grill, griddle or wok?
How many ovens do you need?
Where is the best location for the primary sink? Do you plan to include a prep sink or bar sink? When using a sink, do you work from right to left or left to right?
How much cold storage space do you need? Will you need more than one refrigerator? Do you plan to add storage for beverages or an icemaker?
Are you satisfied with the mechanicals in the kitchen or do you need to modify task lighting, plumbing or add more outlets for small appliances?
Would you like the space to accommodate family members or guests as you cook? Some cooks like to be focused totally on the task of preparing meals while others enjoy talking with family members or guests as they work.
Think about these questions and make some notes. Your list of needs and wants and answers will be important when you set up an initial meeting with a kitchen designer. The designer will assess the space and configuration you have to work with in your home and will also want to know your preferences for appliances.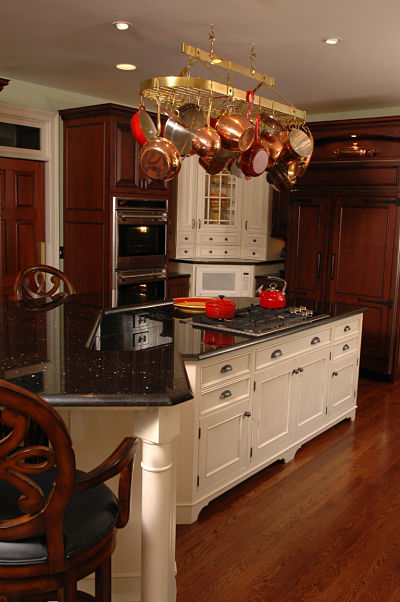 Essential Appliances
The size and number of appliances that you need for your work space is one of the first things a designer will consider in creating drawings for you project. Dimensions including height, width, depth, door swings and the extension of drawer appliances will be factored into the design.
Range or cooktop. Ranges and cooktops are manufactured in 30, 36 or 42 inches or larger widths.
Ventilation/hood. Hoods come in undermount, wall-mount, ceiling and downdraft models and are sized 30, 36 and 42 inches.
Ovens. Most people who love cooking require more than one oven. Range ovens conform to the width of the cooktop and the height is flush with counters, 36 inches. Wall-ovens are sold in 24, 27, 30 and 36-inch widths to fit with cabinets and range from 28 inches in height for a single oven to 50 inches for a double oven.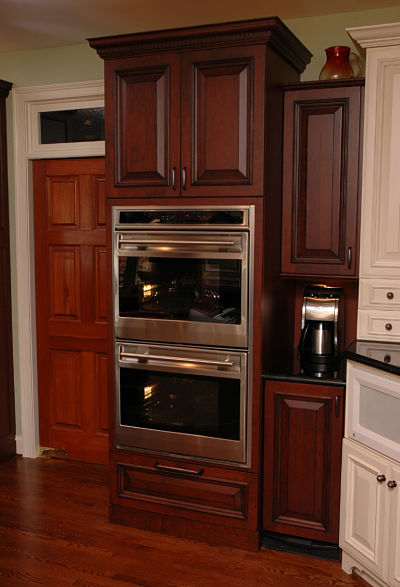 Microwave. Microwave ovens come in many sizes and are designed for countertops, shelf placement or built-in installation on a wall or an island. Microwave functions are also available on convection ovens that can be built into a wall or may be part of a double wall-oven unit.
Refrigerator. Full size refrigerators vary in height from 60 to 69 inches, width 27 to 36 inches, depth 27 to 34 inches and in capacity.
Dishwasher. The width of a conventional dishwasher is 24 inches. Many home cooks find that one dishwasher may not be enough given that preparing meals may require using many bowls, a range of utensils, measuring cups, multiple cutting boards, pots, pans and oversize bakeware and serving dishes. An additional dishwasher will add extra capacity and reduce the time of clean-up. Some dishwashers are smaller in width, 18 inches, which may be a good option for a second unit. There are also drawer models. Drawer models range from 24 to 34 inches in width and a great for separately cleaning glassware and china when you may want to shorten the wash cycle.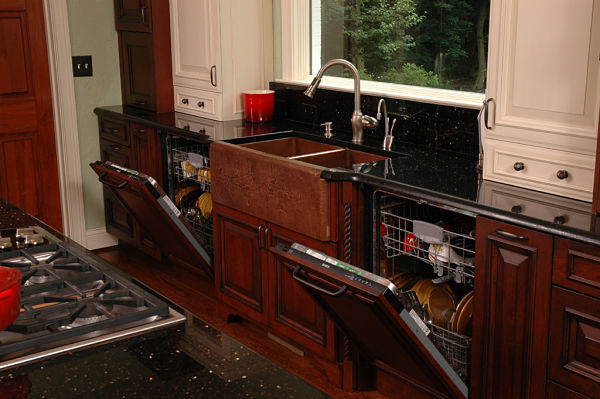 Warming drawer. Warming drawers are designed to be placed under a wall oven and are about 27 to 30 inches in width, and 8 to 9 inches in height.
Small appliances. Home cooks tend to use a lot of small appliances such as a stand-alone mixer with a multitude of attachments, food processors, bread machines, blenders, crockpots, toaster ovens, espresso makers, ice cream makers, waffle makers, Panini makers, rice cookers, juicers and other electronic devices designed for "foodies" that make preparing meals both easy and exciting. As you plan your kitchen, talk with your designer about the placement and storage of these items.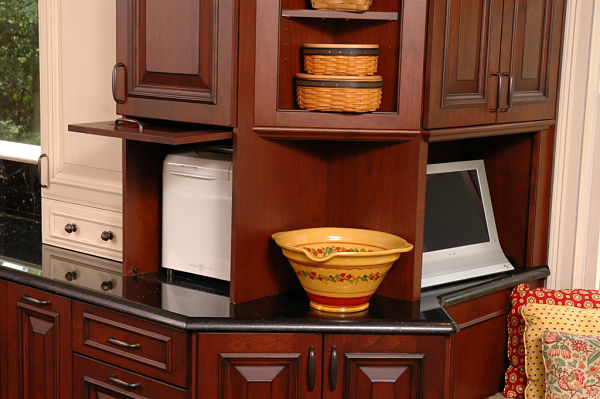 New Trends in Appliances
Undercounter appliances. Under cabinet beverage coolers and wine storage units are very popular among people who love cooking and entertaining at home. Built-in trash compactors are also making a comeback in kitchens. New models reduce waste by as much as 80 percent and help keep you kitchen odor free. Microwave ovens are also made to install under the counter.
Ice makers. One of the "coolest" new appliances for kitchens is an under counter icemaker. If you enjoy entertaining you've probably experienced running out of ice when serving a crowd. Icemakers are 15 to 18 inches wide and 34 inches tall.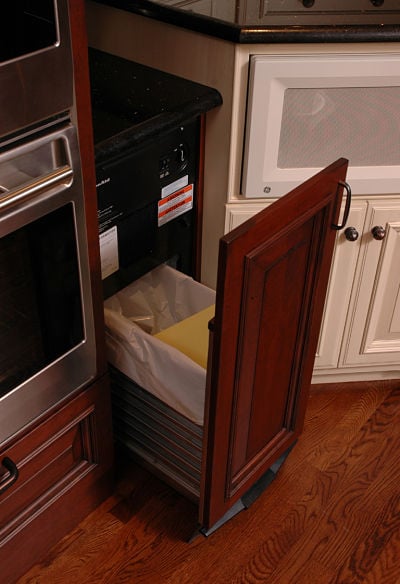 Drawer appliances. New drawer-style appliances include dishwashers, microwaves and refrigerator units. These appliances are compact and often add additional capacity to a kitchen.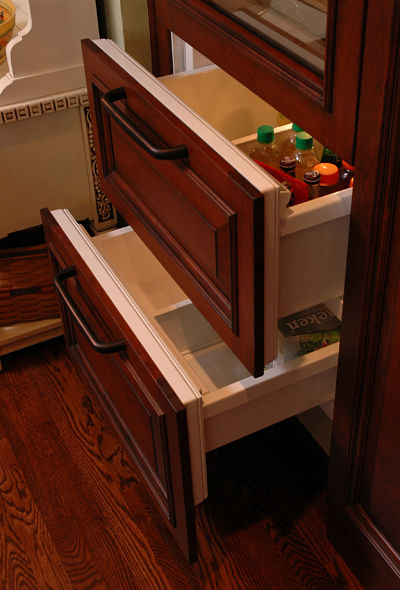 Food Prep Areas
Talk with your design professional about the way you cook and options for optimizing the amount of surface available for preparing food. Think about tiered counters and various surface configurations to maximize that precious space.
Functional Kitchen Storage
Ask your designer to suggest options for efficient and accessible storage. Consider deep drawers, specialty cabinets, pullout units, carousels and inserts for easy access and to keep items that you use frequently organized. Home cooks are often specific about storage for the following items:
Baking sheets and cutting boards
Baking supplies
Cookbooks
Spices oils, vinegars and liquid flavorings
Canned goods, bottled items, boxed and non-refrigerated foods
Root vegetables
Pots and pans
Bakeware
Knives
Small appliances
Cooking utensils and gadgets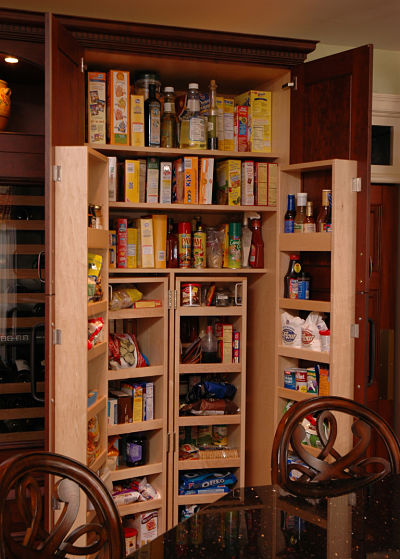 Sinks and Pot Fillers
A sink is the most used fixture in any kitchen. There are many options to consider when selecting a kitchen sink. Most home cooks like a deep sink for cleaning large pots and pans. A gooseneck faucet with a detachable spray is a must. A pot fillers placed over a cooktop or range are great for filling large heavy pots when you boil pasta or vegetables to feed a crowd.
Lighting
Plan the installation of lighting in your kitchen strategically. Talk with your designer about illuminating task areas including the area over the sink, above food prep surfaces and over appliances.
See our Kitchen Planning Guide for more helpful information and ideas for your kitchen project.