A kitchen sink is an essential element in any kitchen. We spend more time in front of a sink than in any other kitchen work area, therefore, it's important to consider both its function and design. When selecting a kitchen sink style for your home, first and foremost consider the way you work in your kitchen. Take some time to answer the following questions:
Do you work left-to-right or right-to-left when using a kitchen sink? The way you work in a sink area will determine the type of sink you may want to use. For example, if you work from left-to-right and choose a double or triple sink, you would want to have a large basin for washing dishes on the left and a basin for rinsing on the right. The way you work at a sink will also determine the best place for the garbage disposal and dishwasher.
Do you do a lot of hand-washing of pots and pans? Sinks come in variety of widths and depths. In choosing a sink it's important to have enough volume to wash large dishes, pots and pans that you use regularly. Keep in mind that deeper sink bowls will reduce splashes when you're washing and rinsing dishes.
What is your height and reach? Many people don't consider their physical attributes when choosing a sink. Kitchen sinks can be as deep as 12 inches. If you're petite a deep sink may not be an advantage to you. Consider an undermounted farm sink, which provides access below counter height. When selecting a sink, test display models to get a sense of how the sink may work for you at home.
How much counter space do you have in your kitchen? The counter space will determine your options for a kitchen sink. The sink and counter should provide an efficient work area for both food prep and cleanup.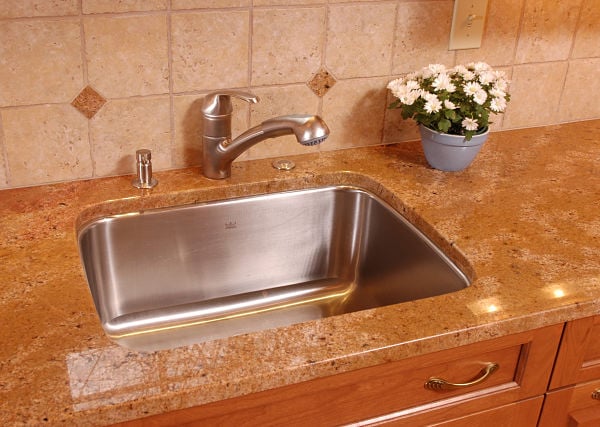 Kitchen Sink Styles
Sink bowls can be 6-to-12 inches in depth. Sinks can have single or multiple bowls.
1. Single Bowl
If you have a small kitchen with limited counter space, and if you often hand wash pots and pans, you may want a large, deep single basin sink. The National Kitchen and Bath Association (NKBA) recommends a 22-by-24 inch single bowl sink for kitchens less than 150 square feet.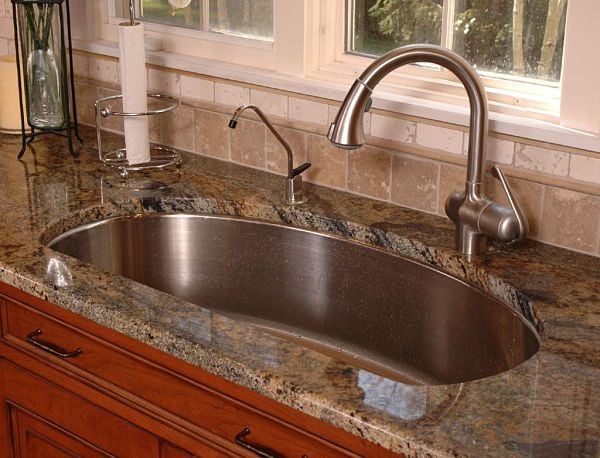 2. Double Bowl
Many people prefer a sink with two bowls, one for washing dishes and the other for rinsing. Sinks are 22 inches in width and can range from 33-to-43 inches in length. Standard depth is seven inches. A deeper bowl of 10 inches is offered on one side or both sides of some models.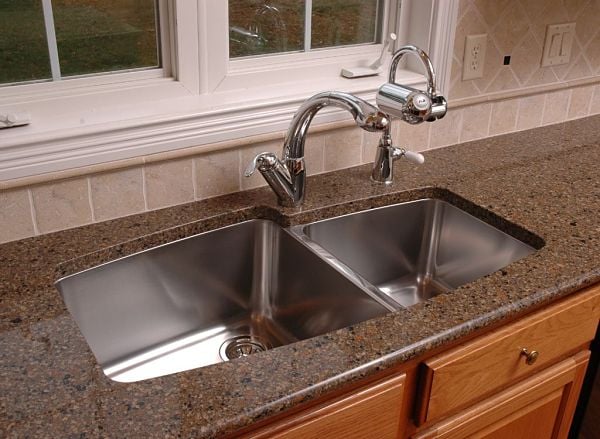 3. Triple Bowl
Triple bowl sinks require a counter space of 40 or more inches to mount. Bowls can vary in size and depth depending on your needs. People who are passionate about cooking like these sinks because one sink can be dedicated to cleaning vegetables.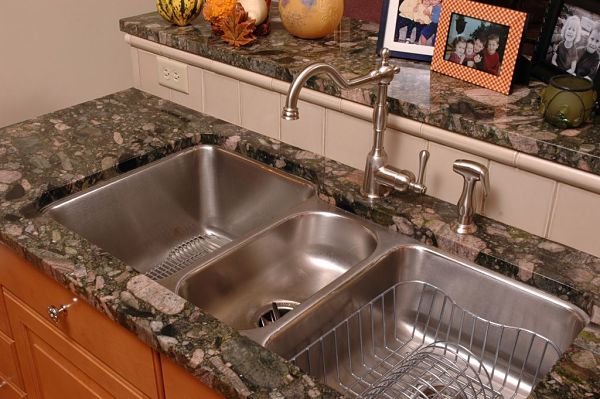 4. Farmhouse
Farmhouse-style sinks are trending in modern kitchens. Farmhouse sinks have a front apron that replaces part of the counter. They come in single and double bowls and many materials: fireclay, composite, cast iron, soapstone, granite, copper and stainless steel. Most farmhouse sinks come without holes; therefore, faucets, sprays and soap dispensers are installed through the countertop. Manufacturers understand the appeal and offer many options such as fluted aprons, curved aprons and flat aprons.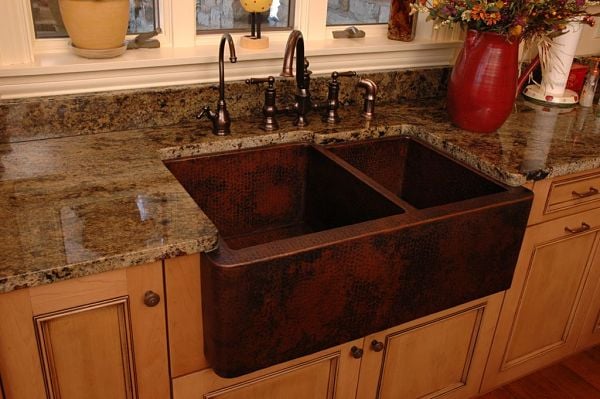 5. Corner Sinks
Many sink manufacturers offer space saving corner sinks for kitchens. If your kitchen is small, a kitchen design professional may be your best resource to help you determine which sink may be best and where to place it to optimize its function and aesthetic appeal. If a corner sink is not placed efficiently you may find yourself working in a dark tight area.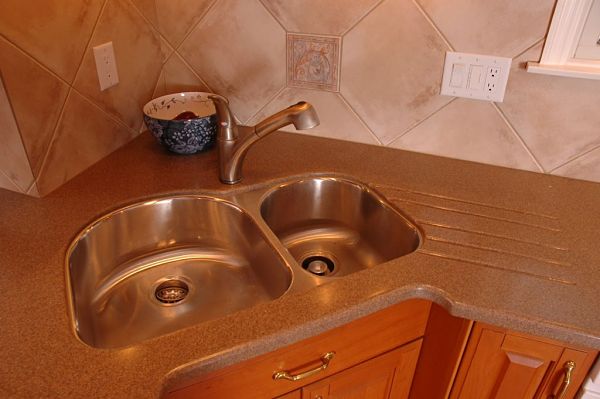 6. Bar Sinks
Many homeowners enjoy having a second sink in the kitchen. A small bar sink can be a work horse, providing extra space for washing vegetables, defrosting meats, preparing coffee, cleaning glassware or keeping beverages cool.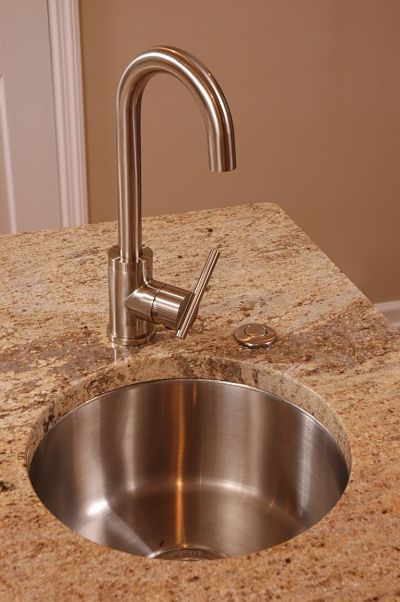 Kitchen Sink Mounting Options
Sinks are designed to be installed as a drop-in top-mount, undermount or as an integrated unit.
1. Top-Mount or "Self-Rimming" Sinks
Top-mount sinks have holes drilled into the rim for faucets, sprays and dispensers. If you select a top-mount sink, be sure to check the holes because you will need to pair it with a compatible faucet and accessories. You will find many top-mounted sinks in stainless steel and cast iron.
2. Undermount Sinks
Undermount sinks are easy to clean but more costly to install. Holes for faucets are drilled into the counter surface.
3. Integrated Sinks
Integrated sinks have no rims, ledges or crevices. They are streamlined and easy to clean. They are fabricated with the countertop and are available with solid surface (products like Wilsonart or Corian), engineered stone (Caesarstone or Silestone) and stainless steel counters.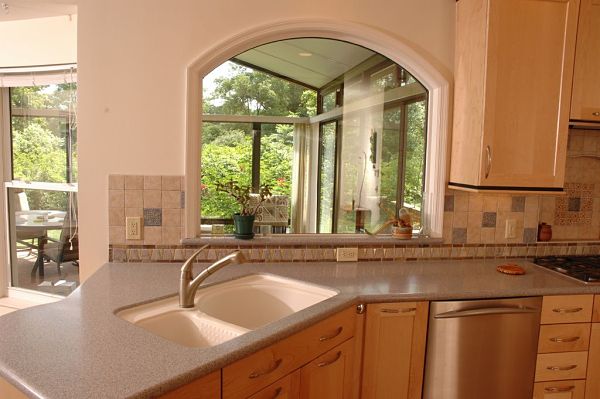 Kitchen Sink Trims
When selecting a sink consider your options for flanges and stoppers. Trims are generally sold separately. The flange is the trim piece that fits around the drain hole. Many flanges are metal and come in stainless steel, chrome or brass finishes. Flanges also come in colors to complement the sink such as almond, bisque, black and white. Ask about trim options and accessories when purchasing your sink.