A basement can provide the room we need for things that can't be accommodated in the primary living space of a home. For example, is your living room too small for a large flat screen television with surround-sound? Or is your sewing machine taking up space in your dining room or a guest bedroom? Are the kid's toys everywhere? Has a special collection outgrown the space in your family room? The extra space you need may be just below your main floor.
Here are twelve great ideas for converting your basement into a space for storing the things you enjoy. Get creative with storage solutions and make those items useful again by incorporating them into extended living space.
1. Media Room Equipment
A media room in a basement may provide a solution and a place for a big screen TV. Here are some helpful guidelines for selecting and storing media equipment when planning a media room:
Options for placement of a television. Television screen size is measured diagonally and the distance for comfortable viewing is determined by the size of the screen and the angle of placement. Manufacturers may have their own recommendations for optimal viewing distance based on the television size and resolution of the screen.
Creating a space for a large television. If you have a very large television, a 47-to-90 inch diagonal screen, covering these TVs can be difficult. Doors that swing can take up too much space. Sliding doors, tambour doors or custom cabinetry may solve the problem. Also, consider a built-in screen and projector to save floor space.
Adding surround sound. To create a surround sound effect, the room will need at least 5 speakers. Speakers can be camouflaged behind a fabric screen or integrated into the room by the color choice you select. AV storage space should include ventilation so that electrical components such as DVRs, DVD players, cable boxes and satellite receivers don't get too hot. Don't stack components. Space them on shelves a few inches apart. You can store them in an adjacent room or, if you are placing these items in cabinets, there should be vents in the back for airflow.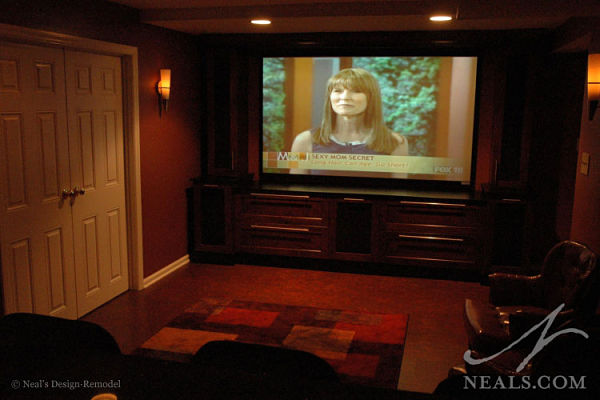 2. Built-In Shelving
Have you ever used metal shelves from the hardware store or make shift shelving for storage? If you have, did you find that those shelves just gathered dust and were really not practical? A basement can be part of the primary living space in a home. Built-in shelving includes both open and cabinet storage to keep items at hand or protect them from dust. Built-in shelving is also adjustable and can easily conform to your storage needs.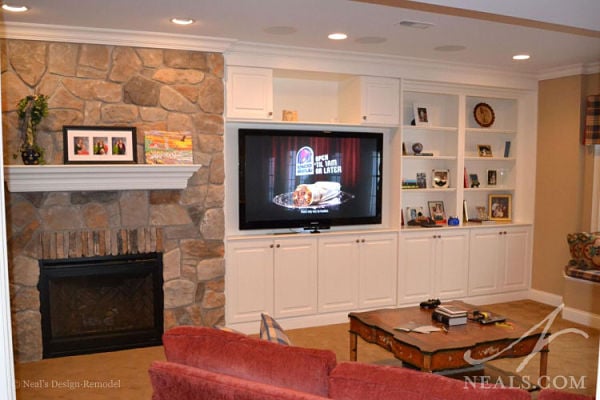 3. Collectibles
If you've traveled a lot or are an ardent fan of the Bengals or Reds, you may have acquired a lot of collectibles that need their own space. Wouldn't it be great to display these items to share memories and a laugh or two with family and friends?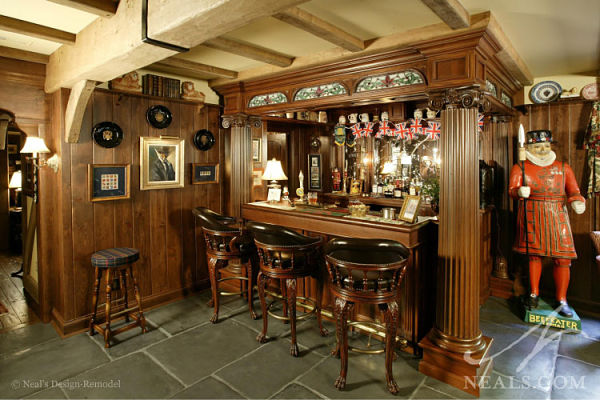 4. Office Equipment and Files
More people are working out of their homes and need a place for office equipment, resource materials and files. A basement home office, outside of the mainstream of a home, can provide a space for working, research or even homework.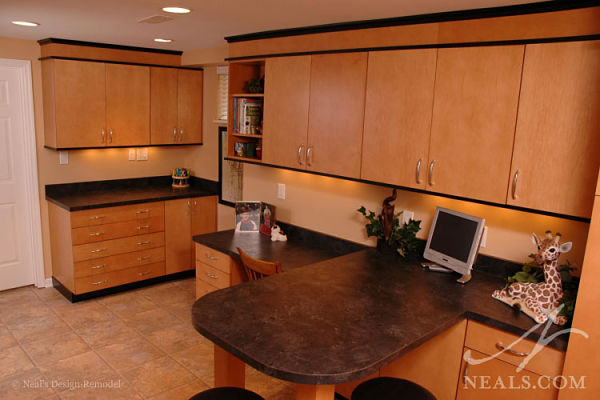 5. Hobby Equipment and Materials
Anyone who enjoys sewing, creating artwork, floral arranging, woodworking or scrapbooking can tell you that hobbies are messy and require a dedicated space to work and store all the equipment, tools and materials. Organized storage, beyond stacks of bins, makes creative time more enjoyable.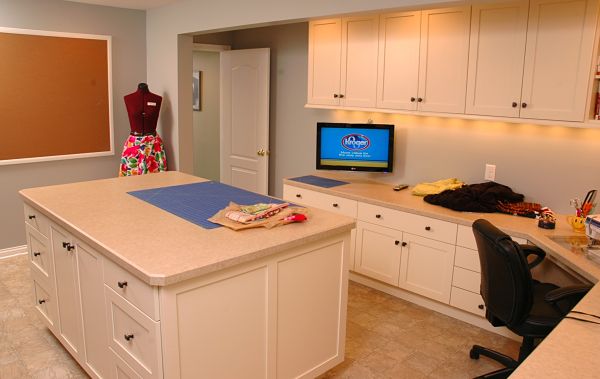 6. Nooks and Crannies
The irregular alcoves and recesses of a basement are often a good place to create closet or shelf storage. Shelving can also be built into basement staircases.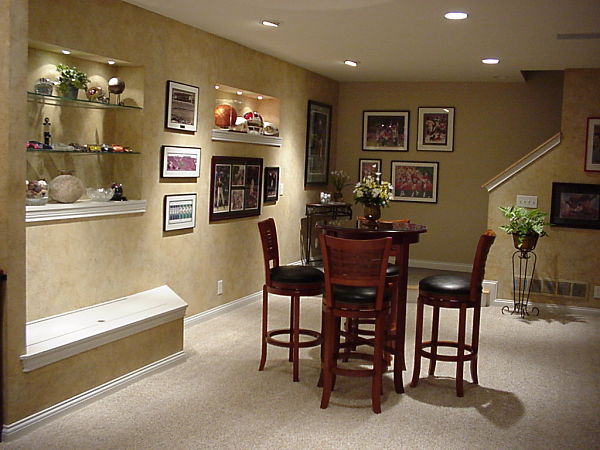 7. Extra Kitchen Storage
A basement kitchenette adds additional space for warming food, a refrigerator for snacks and beverages, and storage for glassware and serving ware used for entertaining.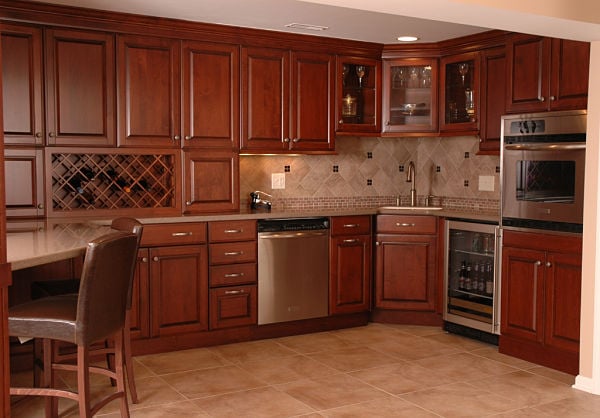 8. Laundry Room Storage
Some homeowners prefer a basement laundry room. An organized laundry room is essential for busy couples and families. Cabinet storage keeps supplies at hand and out of sight to control clutter.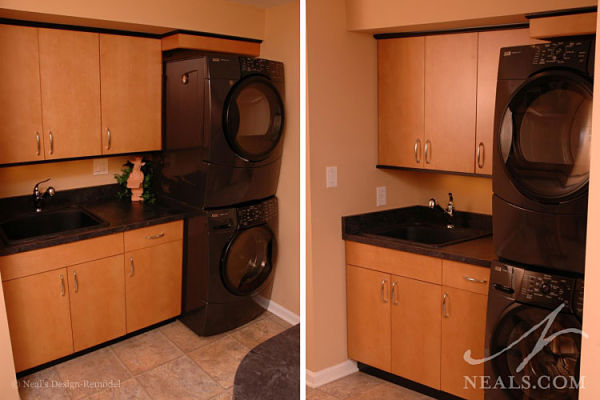 9. Child-Friendly Space
Need a place to entertain the kids and for games? A basement can be child-friendly if carpeted and decorated in bright colors, for all kids-toddlers, teens and beyond.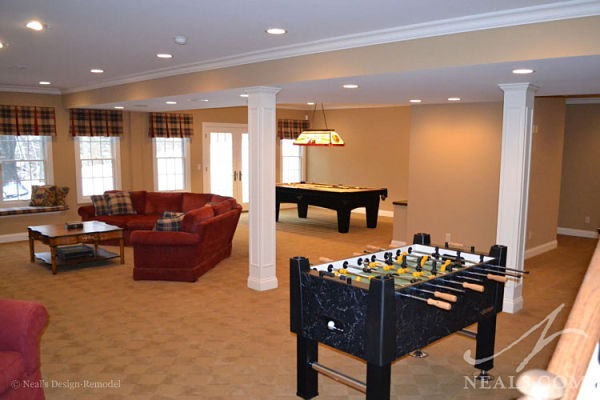 10. Wine Storage
If you're passionate about wine, proper storage can be built into a basement. Depending on your passion, storage can range from racks in a climate-controlled wine cellar to a temperature controlled glass wall of bottles, organized by vintage and region.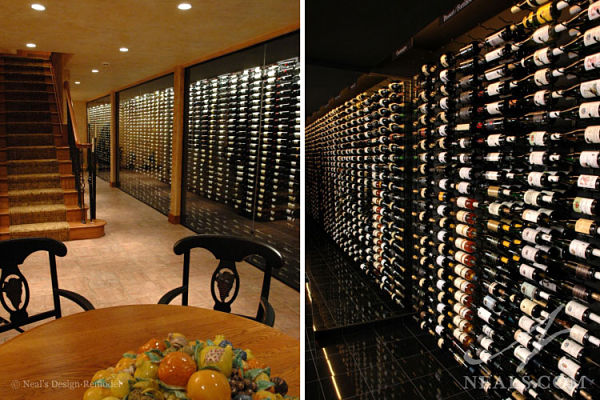 11. Exercise Equipment
No time for the gym? Need a place at home to work out? It's difficult to store a stationary bike, treadmill or weights in a bedroom or family room. A room in the basement with bright colored walls and good lighting may be just the motivation you need to stay fit.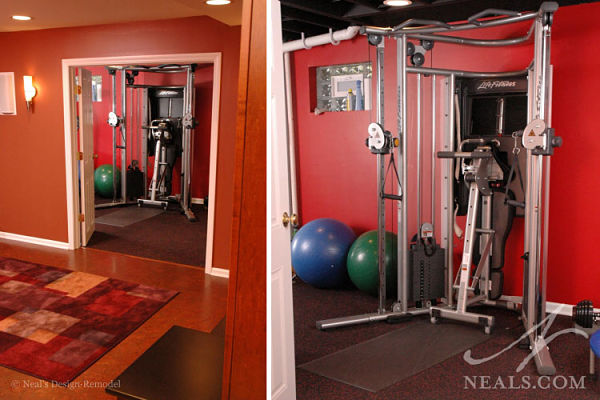 12. Special Occasion Storage
Items for entertaining such as barware, extra dishes, bowls and platters to feed a crowd, extra seating, spirits, special table linens or holiday ware can take up a lot of space if stored in a kitchen or dining room. We just don't use these items everyday but it's great to have them on hand when company visits. A basement bar may be a perfect storage solution.