http://info.neals.com/bid/291087/11-Must-Have-Accessories-for-Kitchen-Cabinet-Storage/Original Post 6/27/2014 Updated 1/13/2017
One of the goals for most kitchen remodels is to gain more storage space. Organization is very important to optimizing the way a kitchen functions. Custom cabinetry makers, such as Wood-Mode, have done their homework in researching the ways consumers work in their kitchens and have designed many accessories to solve their storage problems.
Based on our experience, here are ten "must have" kitchen cabinet storage accessories designed to make life in the kitchen easier and more enjoyable:
1. Pullout Pantries
Pantries are in high demand when people remodel. It's great to have a designated area for dry, canned and jarred food storage. Chef's pantries are multi-layered narrow shelf units that swing out and allow you to organize content efficiently. Wall cabinet pantries include both interior shelving and a shelf on the door. Full height pullout pantries can be located near appliances for both food and cookware storage.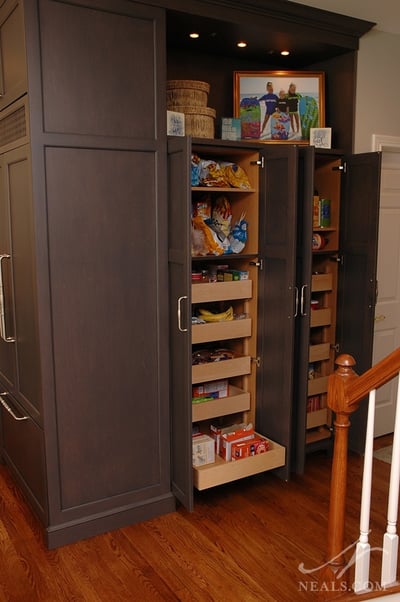 Pullout pantry drawers in a Loveland kitchen.
2. Pullout Base Cabinet Storage
Base cabinet pullouts are ideal for storing boxed, canned and jarred food. You can easily view contents and don't have to reach and move things around in a cabinet to find an item.

Pullout base cabinet in an Anderson Township kitchen.
3. Spice Storage
Storing spice bottles and containers, vinegar, oils and bottled flavorings is essential. A narrow cabinet with pullout storage for spices can be placed near a stove or on an island to enable a cook to conveniently use and view these items.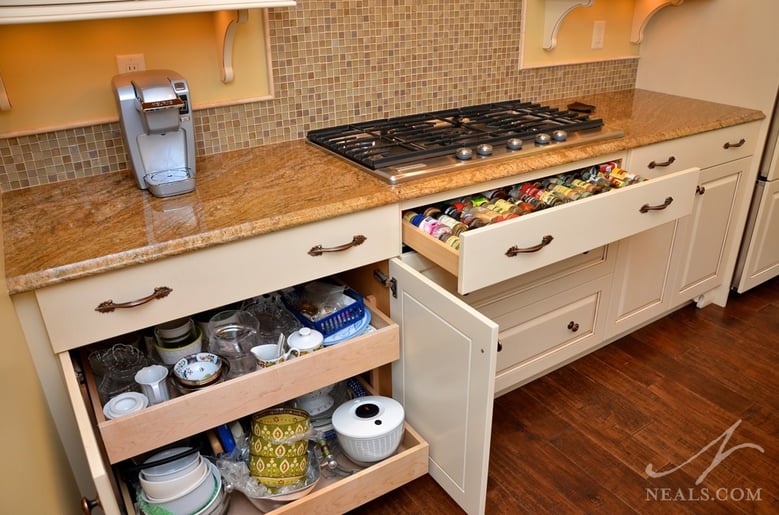 Pullout base cabinet and a spice drawer in an Indian Hill kitchen.
4. Mixer Storage
Most households have a stand mixer. This appliance has grown in popularity but requires storage space. It is heavy and often stored on a counter even if infrequently used because it can't be lifted easily when stored in a base cabinet. Storage shelves designed especially for mixers have solved this problem. They include a hinge that lifts and lowers the mixer shelf for access and a rollout storage drawer to contain all of the mixer attachments.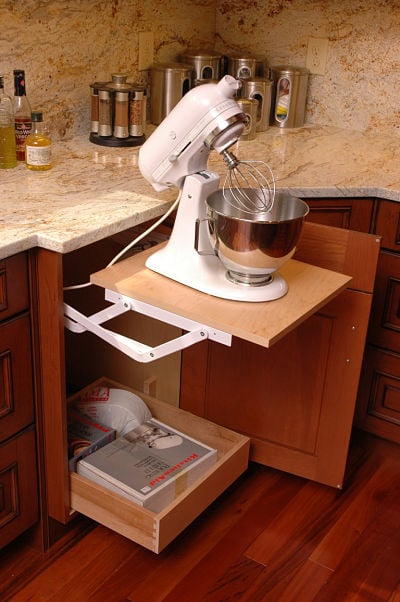 Mixer storage in an Indian Hill kitchen.
5. Corner Carousels and Rotating Shelves
Corner storage cabinets are difficult to access no matter what you store in them. Things always seem pushed toward the back of the cabinet. Carousels and
rotating shelves
are a "must have" to keep these cabinets from becoming a "dead zone" in a kitchen.
Carousels
with wire edging can be used in upper cabinets to keep contents secure when revolving.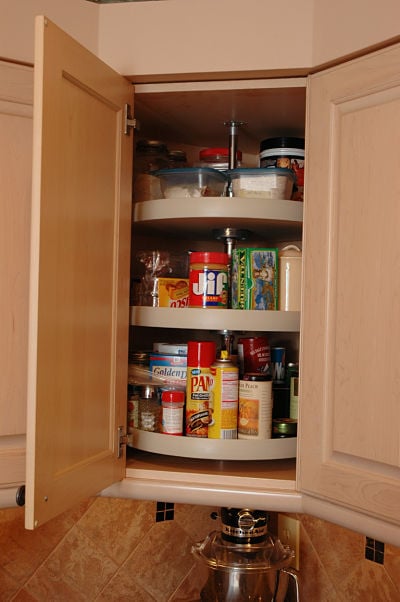 Corner cabinet with a carousel in a Wyoming kitchen.
6. Hinged Corner Turnout Shelving and "Magic Corner" Shelves
If carousels are not adequate for items you plan to store in deep corner cabinets, there are two other solutions. Corner turnout shelves are shaped and sized to fit within a corner base cabinet and are attached with glides that allow you to pull the shelf out and turn it to access contents. "Magic Corners" are hinged shelves on glides custom fitted to the space and gauged toward your storage needs.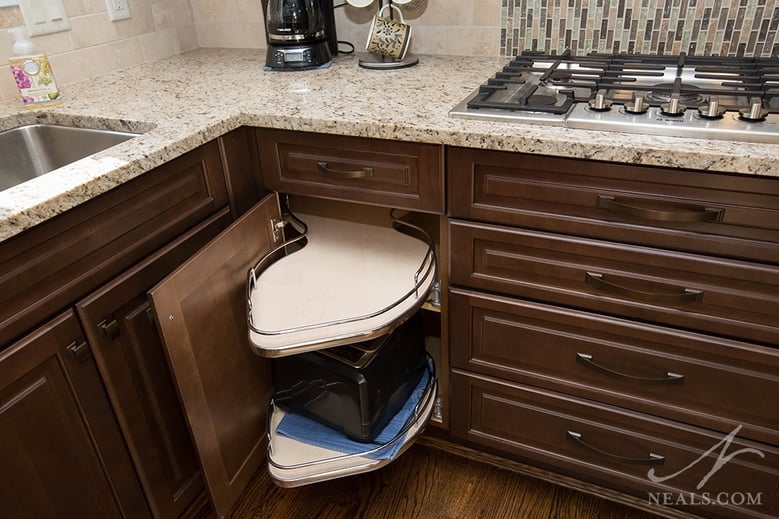 Corner turnout shelves in a Mason kitchen.
7. Pullout Towel Storage Cabinet
Towels can be an eyesore in a kitchen and need a convenient spot to be stored and dried after use. A narrow pullout cabinet with a towel rack placed near a sink will solve the problem.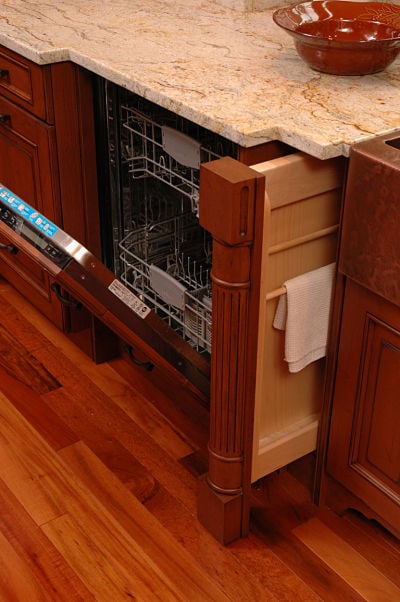 Pullout towel storage in an Indian Hill kitchen.
8. Waste Basket and Recycling Center Rollouts
A pullout cabinet designed to hold two waste receptacles provides a handy place for disposing of kitchen waste. The same type of cabinet can be used to sort recyclables.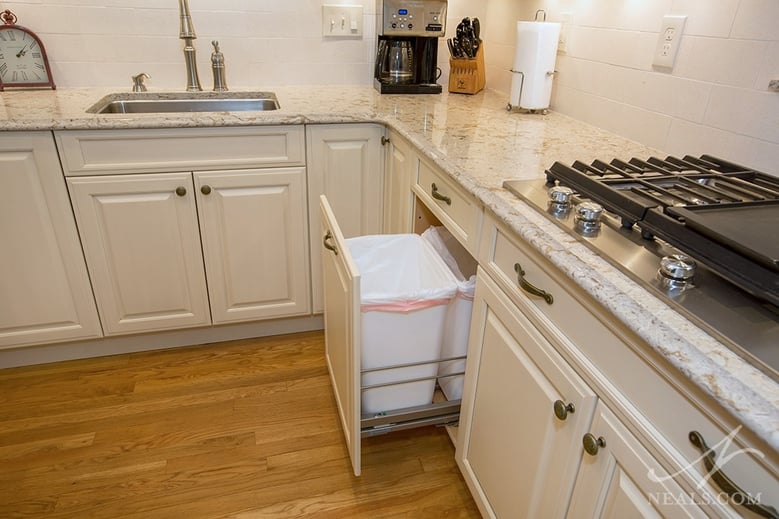 Waste basket rollout in a Villa Hills kitchen.
9. Drawer Storage
Large deep drawers are places to store pots, pans, baking dishes and even everyday china. Drawer accessories include:
movable dividers
Small apothecary drawers
Knife blocks and cutting board pullouts
Spice drawer insets
Compartmentalized drawer dividers
Silverware storage organizers
Wood organizers for dish storage
Slide out interior doors for cabinets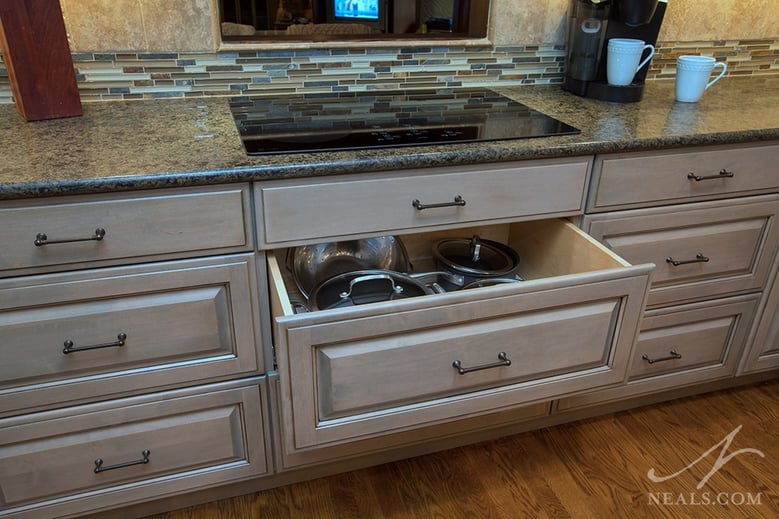 Deep drawers for pots and pans in a Montgomery kitchen.
10. Open Storage
Functional kitchen design also incorporates open storage for items like wine, plates, platters, cookbooks, etc.. These are items cooks like to keep within reach for convenience and cabinetmakers have include slats, racks and baskets within their lines.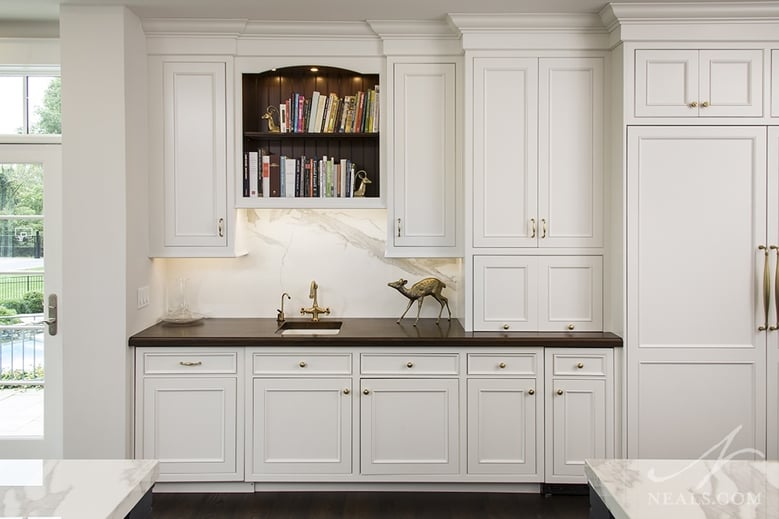 Open shelving for cookbooks in an Indian Hill kitchen.