Updated: 7/11/17 | Original Post: 4/16/2013
Gone are the days of paneled walls, suspended ceilings, glaring florescent lights, remnants of linoleum and felted rugs. The basement has become an extension of the home's livable space. Homeowners now get creative with their basement remodeling by adding features that reflect their interests and lifestyles in ways that may be too difficult (or simply "too much") on the main floors of the house. If you're looking for basement remodeling design ideas to transform your lower level into prime living space with character, here are a few we recommend considering.
1. Game Room. Ever since American homeowners began to convert their basements into extended living spaces, one of the most popular uses has been a game room. In the 1960s and 70s one item that many families with school-age children wanted was a ping-pong table. Indoor games have changed. Today, homeowners may use a basement for a billiard table, poker table, or even as a spot for video games. They may even add a basketball rim, dartboard, or an indoor putting green.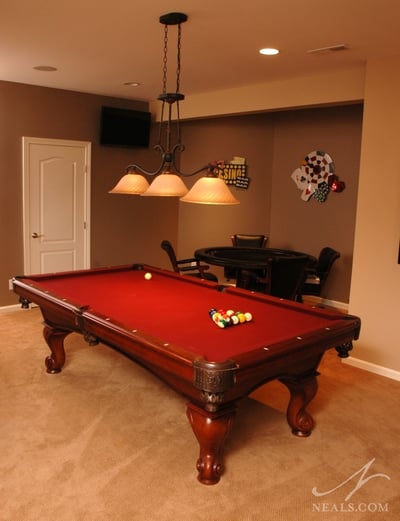 A room in this Newtown basement is dedicated to games.
2. Wine Cellar. If you are a wine connoisseur, it's great to have a wine cellar where you can store your collection of reds and whites. A basement can provide proper storage space for an extensive wine collection and a large tasting table. Since larger wine collections often require a temperature controlled space, the basement is an ideal location for convenient placement of any dedicated HVAC systems that are needed.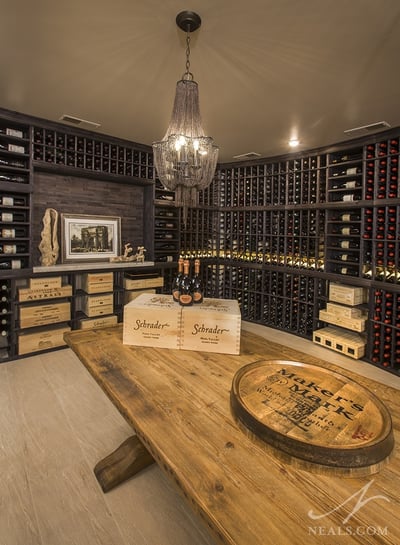 A dedicated, temperature-controlled wine room in an Indian Hill lower level.
3. Themed Bar. If you love to entertain and have a particular vision or interest in creating a unique space, a themed bar can provide the atmosphere for enjoyable conversation and memorable occasions. We've helped homeowners with lower level remodels that play off a theme on large and small scales. Whether you like the idea of a pub or saloon, like the bourbon bar below, or your very own sports bar at home, there are lots of ways to bring a theme into your space.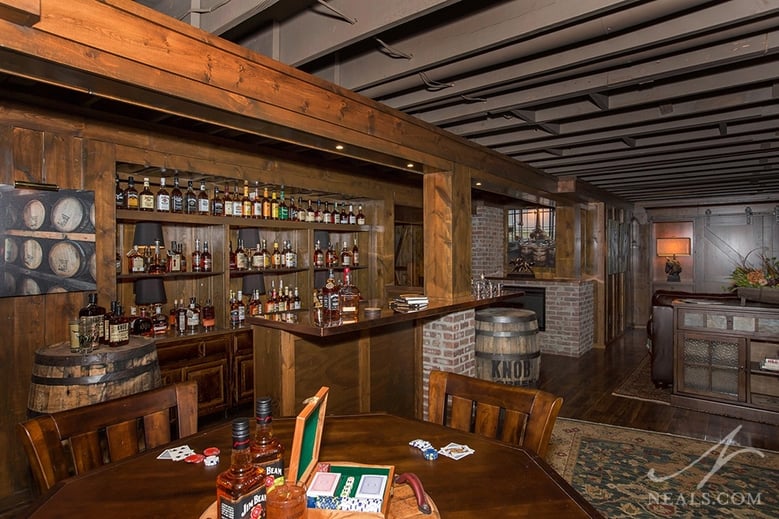 This Glendale basement has a bourbon bar and horse racing theme.
4. Home Theater. Many of us enjoy gathering with friends and watching movies or sporting events at home. You can now find flat screen TVs up to 84" on the market in addition to custom-sized screens for projectors. Add surround-sound, comfortable theater seating, maybe a popcorn machine, and enjoy the show.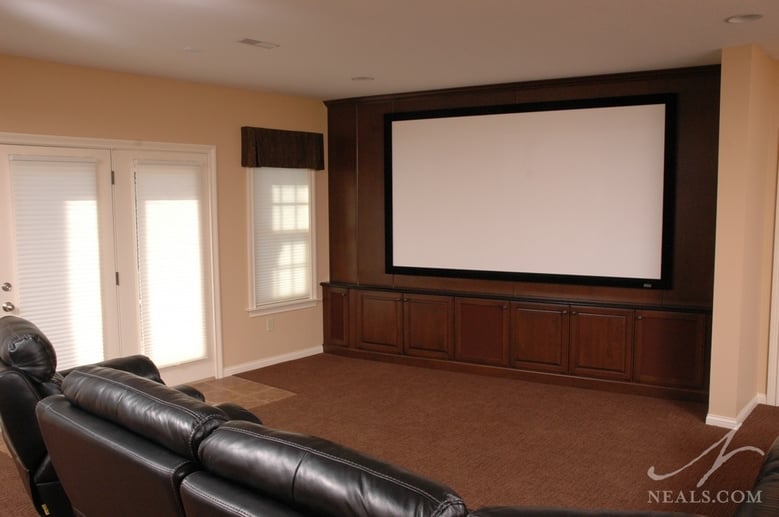 This Covedale lower level features a home theater with a projector, large screen, and comfortable chairs for a small group.
5. Family Room. A family room is often an informal living space designed for a number of functions. Generally there is a television, seating area, shelves for books, games, collectibles and family photos, and possibly a place for a computer or storage for children's toys. The family room can be thought of as the more relaxed, casual little brother of the sitting room, and a finished lower level can be the perfect place for it.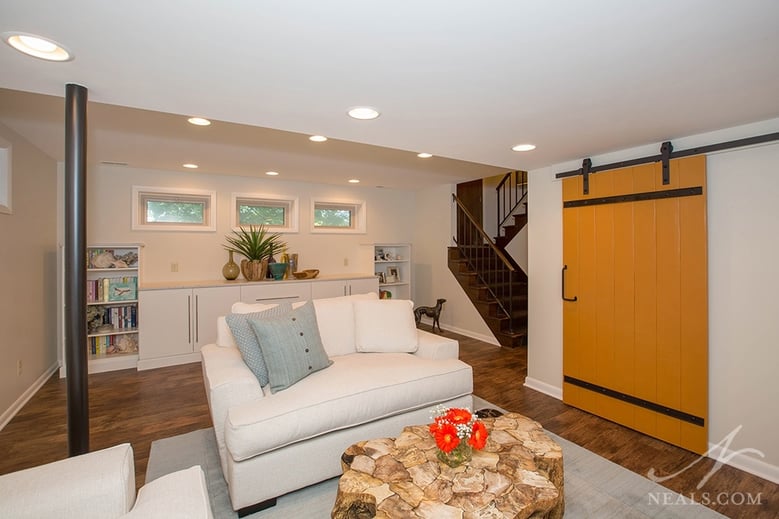 This lower level in Cleves is a comfortable and bright family room.

6. In-law Suite. Multi-generational households are an increasing trend. Whether you're welcoming adult children back home, or you're caring for an aging parent, the traditional "in-law suite" can take on a variety of forms in the modern home. There is an obvious need for privacy and adequate space for sleeping and bathing when households combine. Often times, the basement has just the right amount of flexibility to provide that space.
7. Exercise Room. No time for the gym? Working from home? Your basement may provide a solution that will allow you to work out on your own schedule in a comfortable and private environment. Home gyms require very little beyond the equipment, but good lighting, an entertainment system, and a mirror to check your form are all good things to have on the wishlist.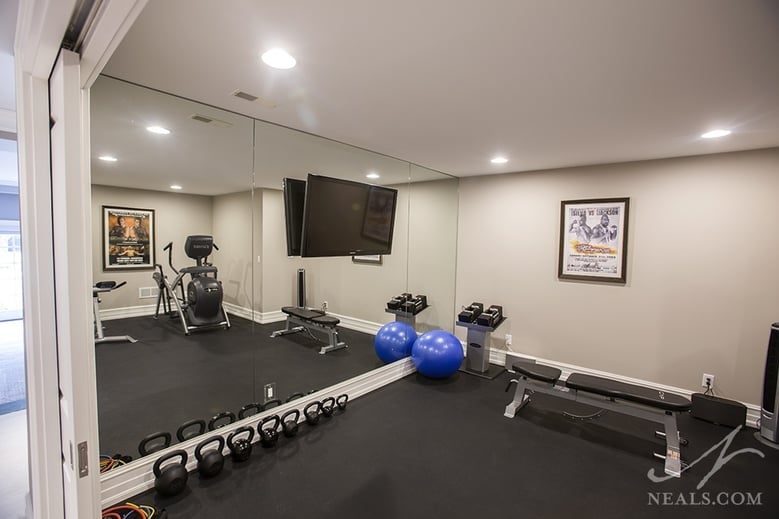 A room in this Indian Hill lower level was converted to a home gym with a mirror and impact-resistant flooring.
9. Hobby Room. Hobbies bring out the kid in all of us, and it's great to have a special space dedicated to the activities that keep us happy and relaxed. A hobby room is simply a place where you can work without distraction and without the worry that your things will be moved or displaced, like they might if you were using your dining table on the main floor. A hobby room sounds like a luxury, but all it really takes is a bit of space with some cabinets and a place to work.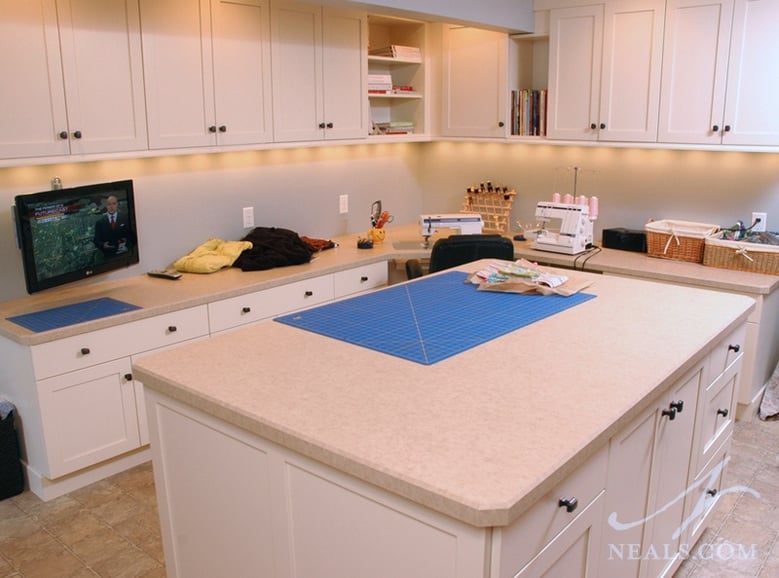 A room in this basement was outfitted with a work table and cabinetry for a sewing and craft space.