Many homeowners are investing in luxury upgrades to their master bathrooms. Why? Because master bathrooms are our personal space and we want that space to be a place where we can relax and rejuvenate ourselves, and also be a place that reflects our individual style.
Function, aesthetics and personal comfort are important in luxury master bathroom spas, but it's more important that they be designed around your lifestyle and personal needs. Keep in mind that a luxurious master bathroom doesn't have to be a huge space. A well designed floor plan and choosing the right products will help you create a comfortable personal retreat.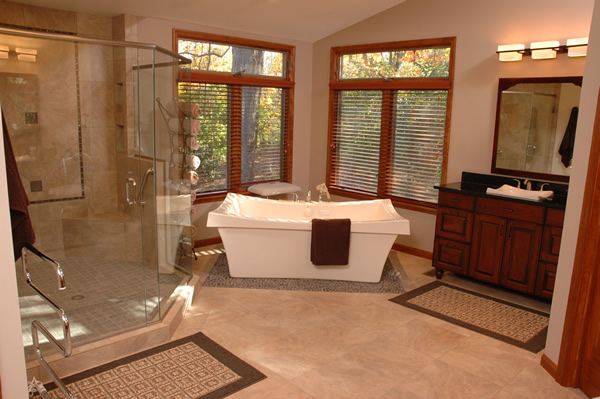 Based on our experience with homeowners in the Great Cincinnati area, here are four luxury master bathroom spa design ideas and trends to update your space:
1. The Ultimate Shower.
One of the first things to consider in your remodeling plan is the shower. More people are foregoing tubs in favor of a larger shower. A 3'x3' shower is adequate space but a 4'x5' shower will provide more comfort and room for a bench, niches and showerheads.
Frameless enclosures or custom walk-in showers without doors ease maintenance and add glamour. Fixed showerheads and handheld sprays offer a range of options for water flow.
Larger tile is being used on shower walls for both function and style. Designers have been featuring 3"x 6" subway tile and 6"x6" field tiles in showers. Large tile is easier to maintain and becomes a focal point when installed on an angle. Shower wall tile can include glass mosaic accents or be a full wall of mosaic tile.
Small mosaic tile and nonskid tile can be used on shower floors to provide traction and prevent slipping and falls.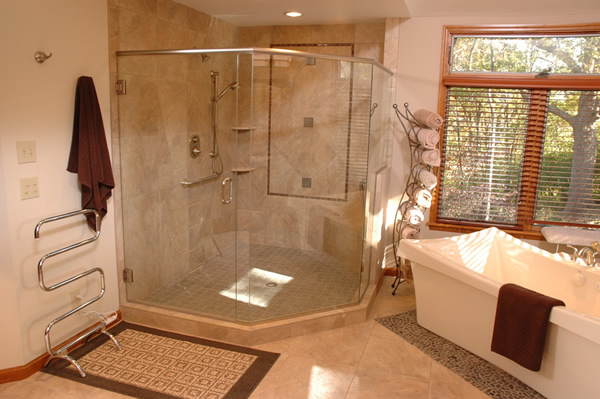 2. The Luxury Tub.
The main purpose of a spa is relaxation. Tubs are a great way to calm stress and soothe sore muscles. Soaking tubs, rather than tubs with jets, are the current trend. Platform tubs are smaller for ease of access and can be trimmed in beautiful tiles. Freestanding tubs are also popular because of their shapes and the dramatic architectural impact they create in a bathroom.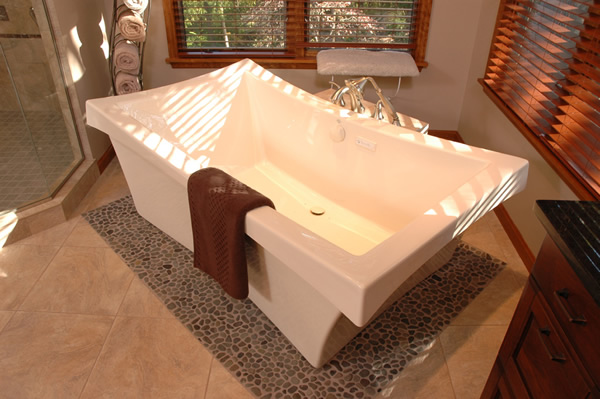 3. The Elegant Vanity and Cabinetry.
Furniture style vanities and consoles add a rich look to a master bathroom. Here are some things to consider:
Vanities are being raised to kitchen height, 36 inches from the floor to the top of the counter, for comfortable access.

To create space for a larger vanity, some homeowners eliminate the tub.

Marble counters are very popular because of the elegant classic look marble creates in a room.

Granite, with its beautiful lines and sparkle, is also popular.

Quartz is easy to maintain and new designs are stunning and resemble marble and granite patterns.

Vessel sinks add sculptural interest but require a taller or wall-mount faucet.

Bathroom cabinetry is important for both storage and the architectural element it adds. Tall cabinets and crown molding are being used in luxury bathrooms.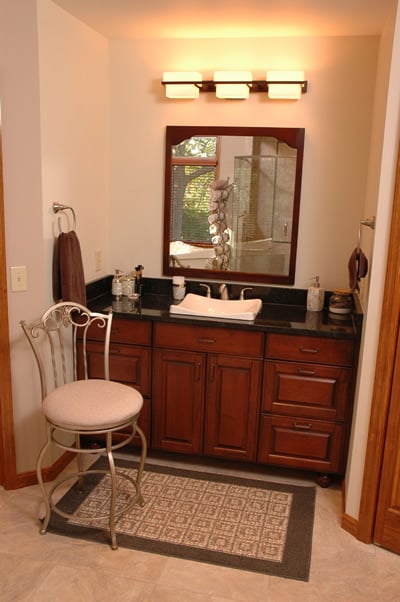 4. Posh Accents.
Adding comfort features and a little "bling" help complete a luxury master bathroom spa. Consider these "wish list" items:
Heated floors warm up a bathroom on a cold morning or evening.

Lighting creates an ambience for relaxation or for grooming. Chandeliers set the mood and wall sconces provide lighting for make-up application and shaving.

Small-framed mirrors add elegance.

Glass mosaic tile accents make the room glisten.
Whatever options you choose, begin your remodeling project by consulting with a designer who will help you avoid pitfalls and suggest products and materials to help save money in the long run and add value to your home.