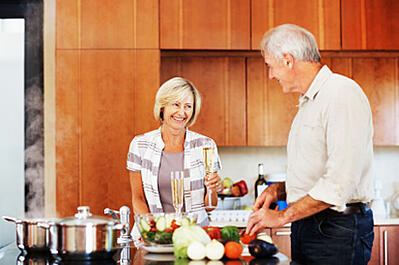 More and more older adults are choosing to stay in their homes past retirement, a decision typically known as "aging-in-place". This choice often comes with a certain degree of attention to the home environment, and while it doesn't always mean a large renovation, adding senior-oriented features can be a great opportunity to update the design of the home.
Some of the basic items to give attention to, particularly for safety, are:
One-story living

Non-slip floors, especially in entryways and bathrooms

Low maintenance interior and exterior

Good lighting

Levered door hardware

Handrails for any steps

Hallways and doors at least 36 inches wide

Accessible bathroom appliances
These basic considerations, however, are open to a world of possibilities! There are many stylish products on the market that fit the needs of older adults. Integrating these items into the design of the home in general is an easy accomplishment when you know that's the goal.
In a general sense, aging-in-place spaces should be designed for the empty nesters, but allow for that occasional family gathering or social club meeting. Work areas, especially the kitchen, should be designed to be as efficient as possible, and include appliances appropriate to daily living. Homeowners with a mind to stay in their home for the long-term should also weigh their long-term needs against design trends - they may love the new free-standing tub they see in magazines, but is it feasible for them physically?
With careful planning and a focus on making the home both comfortable and safe for many years to come, the old family home can become a revitalized space that doesn't have to be left behind as you age.