The newest and best design trends coming in 2015 were recently debuted at the annual Kitchen and Bath Industry Show (KBIS). For over 50 years, KBIS has showcased the latest industry products, trends and technologies. We've picked some of our favorite kitchen products from this year's show for you to consider for your kitchen.
KBIS Picks for the Top Kitchen Products of 2015
The KBIS organizers select a series of the "best" products at the show as standards in the industry for the coming year. Winners were selected based on functionality, quality & durability, flexibility, aesthetics & style, and innovation.
Best of Show: Tech Top Wireless Charging Surface - Bring wireless technology into your kitchen with LG's new Charging Surfaces. With the charging base embedded into the countertop surface, you will be able to charge your LG phone without being restricted by outlets or cords and you won't be giving up any valuable counter space. It's as simple as putting down your phone.
Best of Kitchen (Gold Medal): Brizo Articulating Faucet - A streamlined design that is inspired by the classic architect's lamp, this faucet is created to make the most of function and style. The structure itself is able to move in the standard side-to-side motion, but the height can also be adjusted. The stylish faucet also features a detachable spray wand to allow full range of motion in the sink.
Best of Kitchen (Silver Medal): Brondell Integrated Faucets – If you've been getting your drinking water somewhere other than your tap, then Brondell has your solution. Brondell has released their line of Integrated Faucets that will dispense filtered drinking water as well as your normal tap water from a single device. Best of all, they can be installed in your existing faucet space. You won't have to drill any holes or rely on your refrigerator for pure drinking water; it's all here in one faucet at your kitchen sink.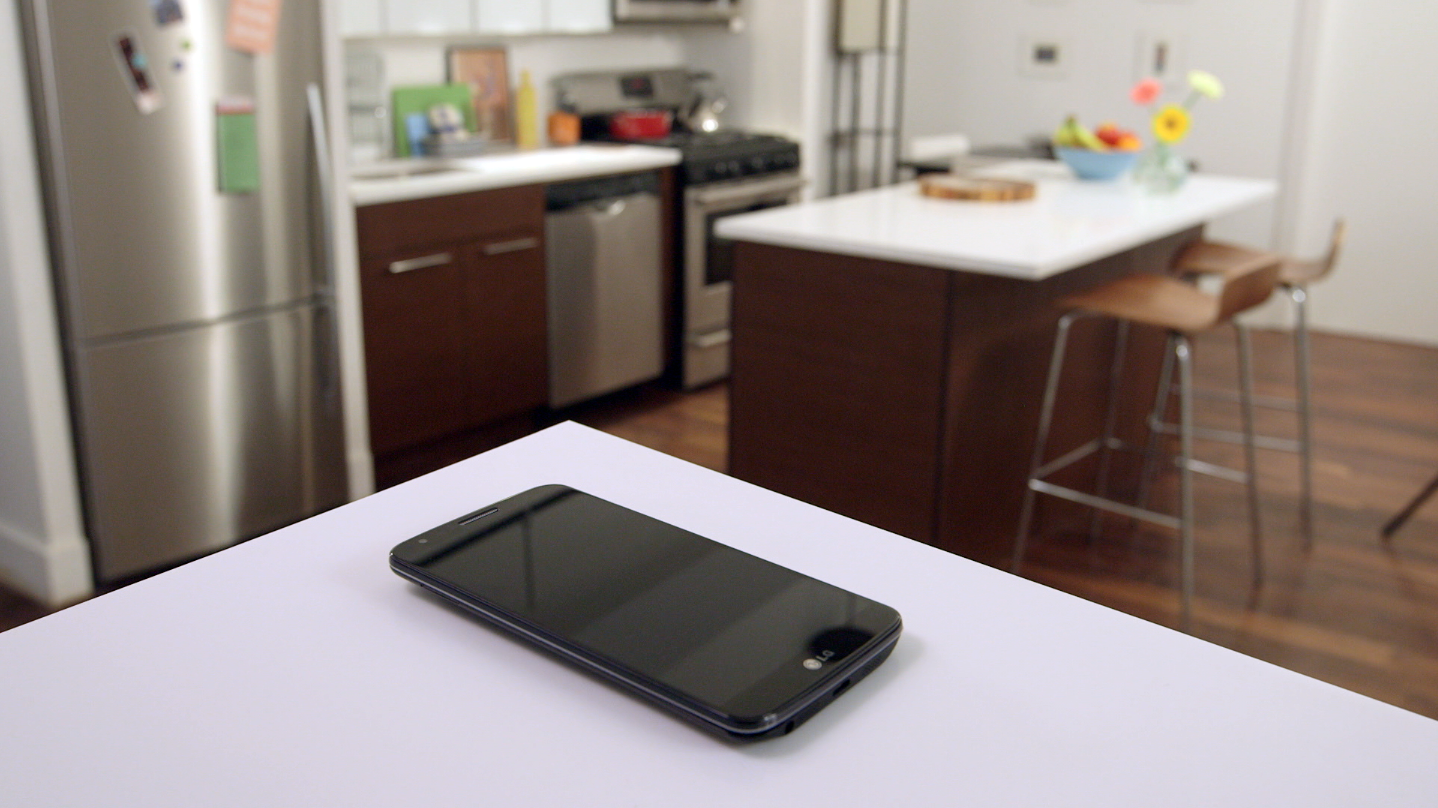 When a phone or other portable device is placed on the Tech Top Wireless Charging Surface, the device is charged using inductive energy. Photo from LG Hausys via KBR.
Neal's Favorites for 2015 Kitchen Products:
Overall Design Theme
A huge theme we're seeing in kitchens in 2015 is WHITE. Using white to create the contrast of light and dark in kitchen elements is a great way to give your kitchen a sleek, polished feel. Combining white cabinetry with a dark countertop brightens up the room and adds a classic ambiance.
On the other side of the coin, pairing dark cabinetry with a light backsplash and countertop gives a cozy feeling. The lighter elements to bring brightness to prevent the look of a potentially dark kitchen cave.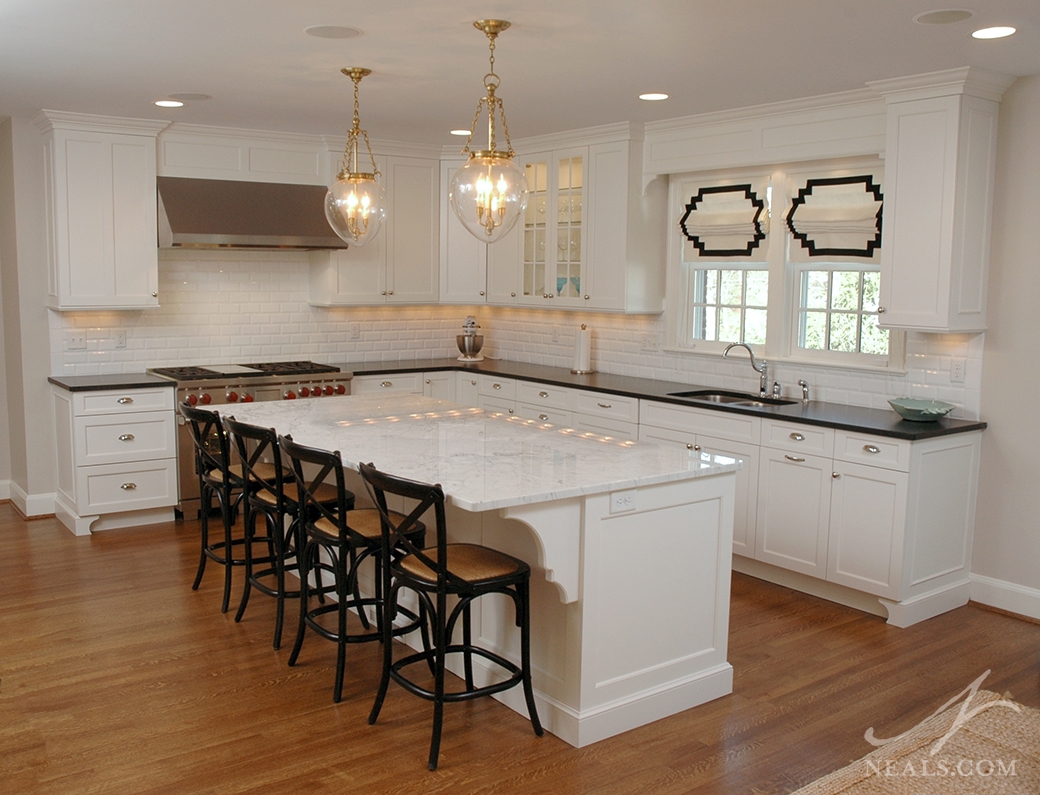 The use of dark countertops and bar seating ties together the white elements in this Neal's kitchen.
Surfaces
The tile designs offered by Artistic Tile are great products to put a unique spin in any kitchen. Whether you use the tile as a backsplash or as flooring, Artistic Tile's range of patterns are more distinctive than traditional, rectangular- or square-based tile designs. Use new and creative shapes like these to spruce up a room, or to accent a subdued floor or backsplash. We use Artistic Tile as a backsplash accent in one of our Design Showroom kitchens.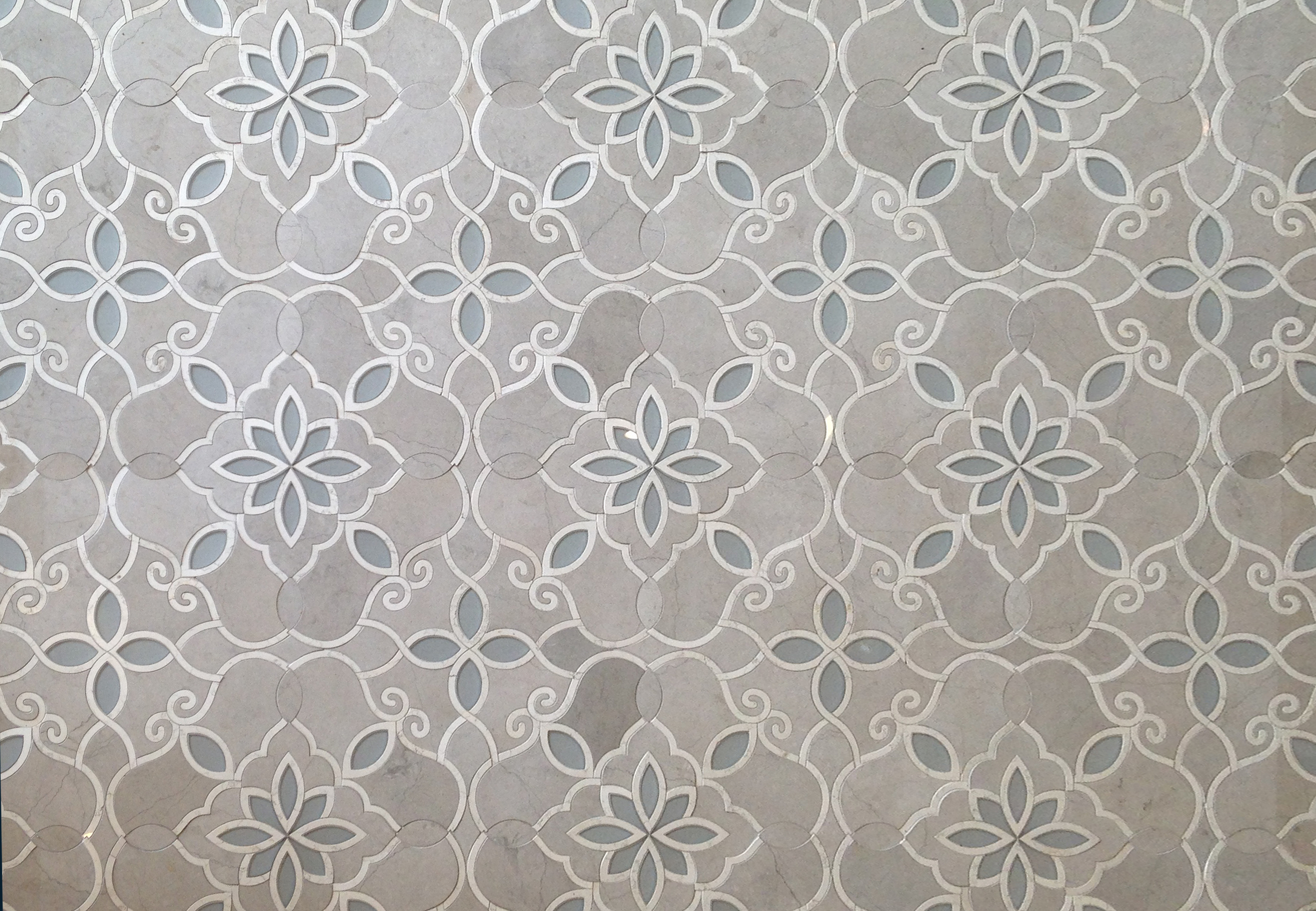 A unique Artistic Tile pattern is a great way to put your own spin on a traditional surface. Photo courtesy of Louisville Tile of Cincinnati.
If your wood floors could use an overhaul, consider one of the 12 new collections from Carlisle Wide Plank Floors. Wide plank flooring can add a more subtle modern feel to your home, and can help make a smaller room look bigger. (The same rule applies to tiles; in a small floor space use larger tiles to make the room appear bigger.) Available in prefinished, unfinished, and in a wide range of hues, you're bound to find a style that matches yours.
See the full list of kitchen surfaces featured at KBIS.
Appliances
LG's first ever Door-In-Door Mega Capacity refrigerator is made to optimize space and convenience for a busy home. Engineered keep the least amount of cold air from escaping, the Door-in-Door feature is accessible from both inside and outside the main doors to allow for an easy loading process. The inside set of doors are clear, so you are able to see what's on the other side without having to hold the doors open while you're hunting for the perfect midnight snack.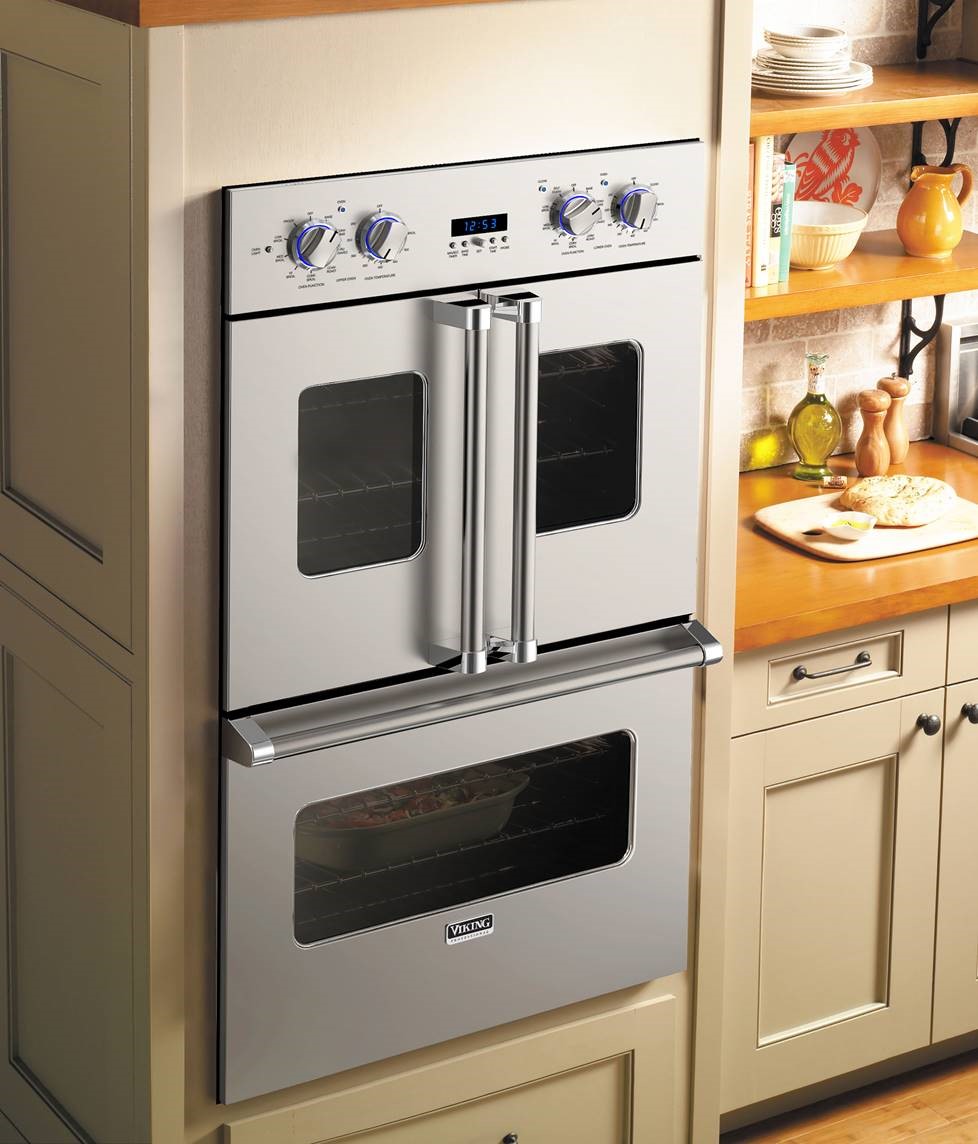 This French-Door Double Oven offers side swing doors, inspired by commercial kitchen ovens, turning this traditional oven into a modern amenity. Photo courtesy of Custom Distributors.
The Viking Professional French-Door Double Oven is a professional-grade update to any cook's kitchen. The 30-inch, stainless steel, built-in oven features side-swing doors rather than drop-down doors. Some models even come with a convenient door opening system where when one door is opened, the other will automatically open as well. The Viking Range features 11 cooking modes, so you'll always be able to find just the right setting with this gorgeous oven.
Last year, we featured products from Sub-Zero in our Ideas for Wine Storage post. Whether you missed that post or it wasn't quite enough to talk you into new wine storage, maybe this recommendation from KBIS will. Featuring new widths and new technology to keep your wine perfectly preserved, Sub-Zero has a wide range of new products being released in 2015. For example: precise temperature control in two zones (separated for red and white wines) dual evaporators, and a new coating along the racks to prevent the bottles from vibrating.
See the full list of kitchen appliances featured at KBIS.
Storage
Wood-Mode offers many brilliant ways to creatively and effectively get the most out of your cabinet space. With everything from carousels and rotating shelves to pull out cabinets and specialty mixer cabinets, you'll never have trouble finding a place for everything in your kitchen.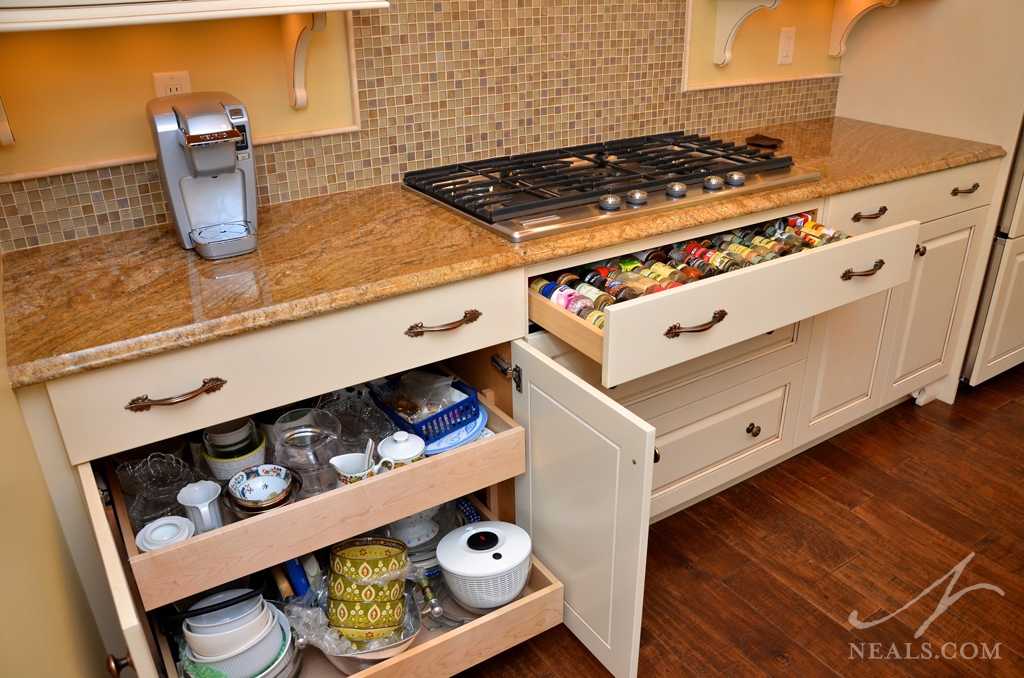 Custom gliding spice racks and shelves throughout your kitchen can make commonly used items more accessible.
Faucets
The new Artifacts Kitchen Faucet Collection from Kohler offers the bold look the brand is known for, but with a show-stopping traditional style. This faucet line will bring to your kitchen all the innovative faucet technology you would expect from Kohler, and will be available in a range of finishes that can be matched to other Kohler products, so it is easy to get just the right combination of function and style.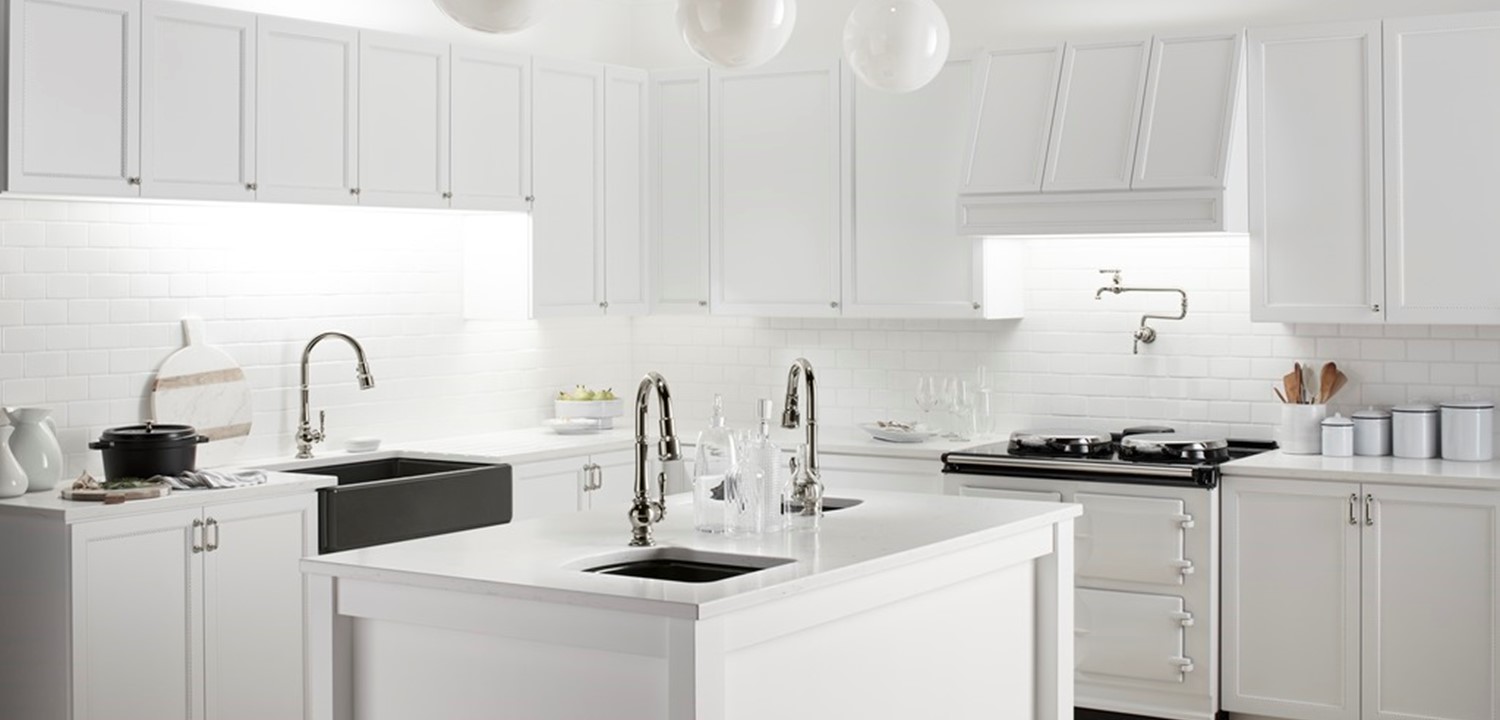 The Kohler Artifacts Kitchen Faucet Collection offers personalization through the ability to mix faucets to create a matched but custom scheme in your kitchen. Photo courtesy of Kohler.
Other Products
Adding custom lighting will, literally, brighten up any room. This year's biggest trend in custom lighting is coming from Meyda. K+BB highlights Meyda's 72 inch white coral chandelier which brings with it a sophisticated oceanic feel.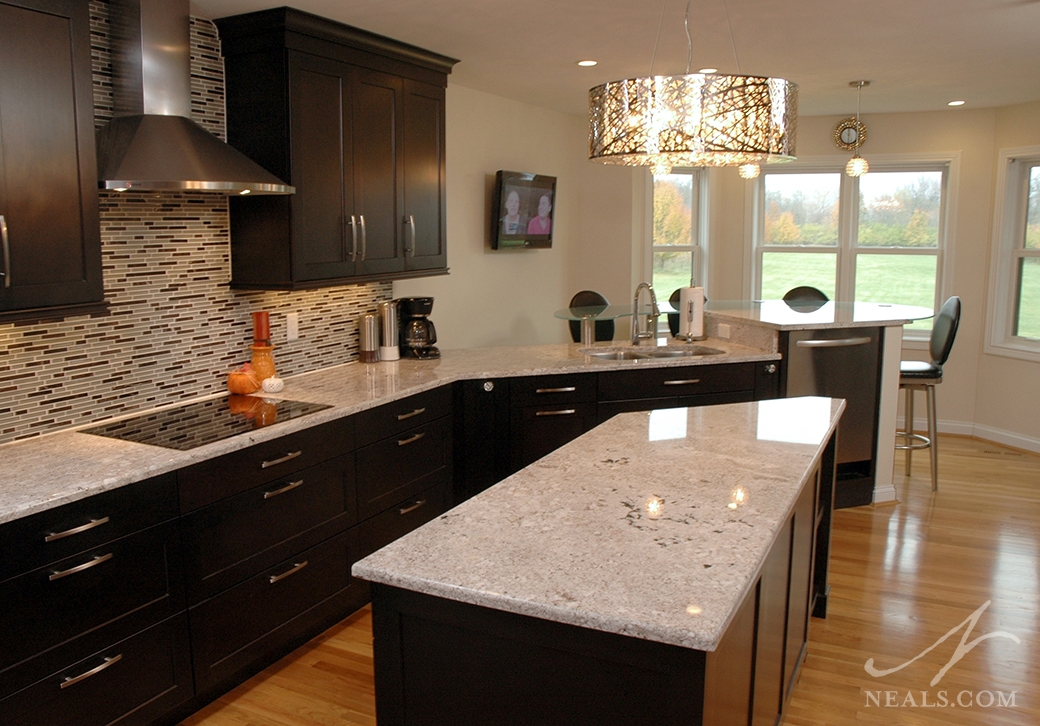 A custom light fixture hanging above the island in this kitchen is a great way to draw the eyes upwards, and brightens up the dark wood in the space.
See the full list of other kitchen products featured at KBIS.