The newest and best design trends coming in 2016 were recently debuted at the annual Kitchen and Bath Industry Show (KBIS). For over 50 years, KBIS has showcased the latest industry products, trends and technologies. We've picked some of our favorite products from this year's show for you to consider for your kitchen.
KBIS Picks for the Top Kitchen Products of 2016
The KBIS organizers select a series of the "best" products at the show as standards in the industry for the coming year. Winners were selected based on functionality, quality & durability, flexibility, aesthetics & style, and innovation:
Best of Kitchen (Gold Medal): Walker Zanger for Kaza Concrete -This all-new tile collection incorporates artful concrete design with a sensitive balance of style and innovation. The tiles form allows designers to create a multitude of patterns, allowing flexibility and individuality, as well as a wide range of uses.
Best of Kitchen (Silver Medal): Liebherr for Undercounter Pullout Refrigerator – This new undercounter pull-out refrigerator combines high energy efficiency with optimal storage space, and can be adjusted in height to match that of the countertop for perfect alignment with your kitchen design. The UPR 503 offers maximum ease-of-use thanks to its SoftTelescopic system of self-retracting and fully-extendable tiered storage compartments.
New Appliance Trends from KBIS
Adding to the excitement of the Best in Show awards, KBIS is an opportunity to see some of the upcoming trends in kitchen products. Ken Rieman of Custom Distributors reports several new kitchen appliances with great, updated technologies for the modern kitchen.
GE Monogram introduced a built-in-the-wall Pizza Oven that cooks at 850 degrees, and has no oven door. The integrated baffling system and other technology prevents the heat from escaping into the kitchen. A truly modern appliance, it also sports a touch-screen user interface.
Gaggenau used local Vegas Chefs to demonstrate the Sous-vide cooking style in their display booth. Sous-vide is a super low and slow cooking method that is used in conjunction with a sealed bag, seasoning and extremely low heat. The result is super infused meats and other foods that are cooked to perfection and can be kept at the desired doneness level in the refrigerator until you are ready to serve. Once ready all you need to do is take the food out of the bag, quickly sear the meat and serve. This has long been a secret of the professional chefs and this style of cooking can now be done with the newest line of Gaggenau ovens.
Miele introduced a new "knock to open" dishwasher as part of their Lumen series (shown below). You can put a custom wood panel on it with no hardware and when you want to open the door you just knock twice on the wood panel and it mechanically opens. When you want to close it, lift the door toward the top and the motorized pull closes it for you.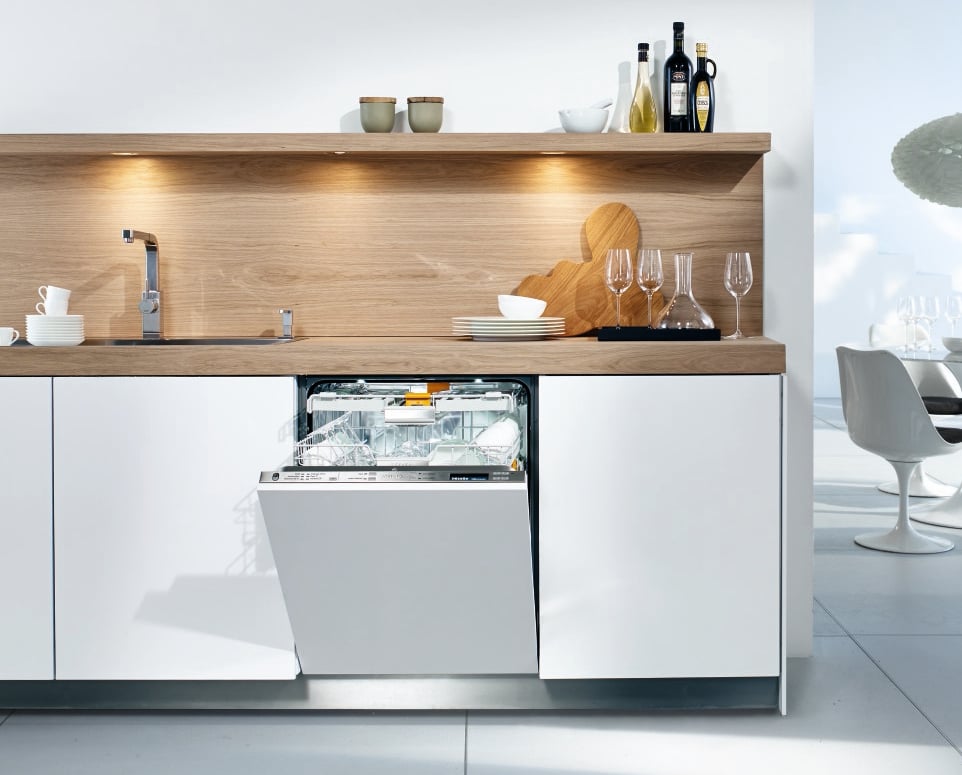 Fully-Integrated Full-size Dishwasher Custom Panel Ready from Miele
For more about kitchen appliances and how to select the right appliance for your space, see our previous post outlining the standard sizes and options for all the major kitchen appliances.
Picks for 2016 Kitchen Sink and Faucet Trends
Amanda Karhoff of Kohler points to the Artifacts line of kitchen faucets as a continuing trending series in 2016. The line, inspired by turn-of-the-century charm, is loaded with task-oriented features including Kohler's unique Three-Function Pull-Down, Magnetic Docking System, and an easy-to-clean surface that withstands mineral buildup. The Artisan faucet line is available in Polished Chrome, Vibrant Stainless, Polished Nickel, Oil-Rubbed Bronze, and now Vintage Nickel for an authentically antiqued character with layers of detail.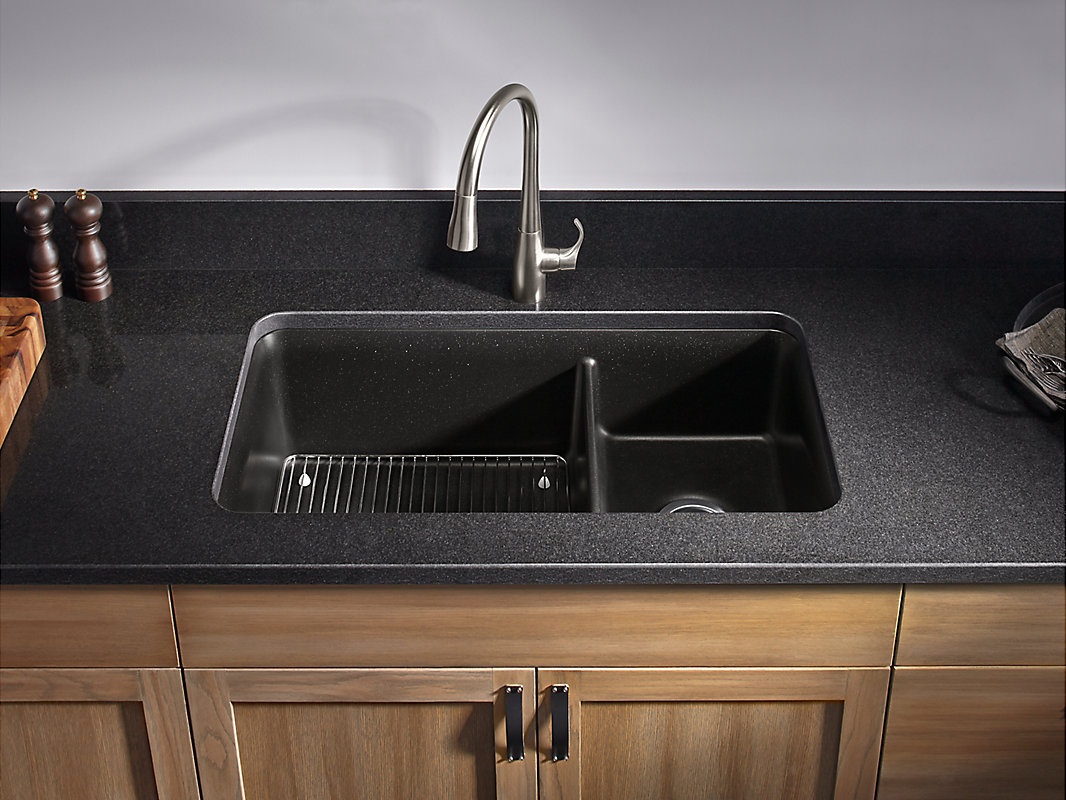 Cairn undermount sink made of Neoroc by Kohler
The new Cairn undermount sinks, also from Kohler, are made from Kohler's exclusive Neoroc material, an impact-, stain-, fade- and heat-resistant solid surface material. The Cairn's design bridges the gap between traditional and modern with a transitional profile, so it fits a variety of kitchen styles, and won't need to be changed if the homeowner's style preferences change.