Step into the Neal's Design Showroom, and you'll quickly see that cabinet hardware is a big topic. With thousands of options on the market, from simple low-end choices to high-end custom or handmade options, there's a pull, knob or handle out there for everyone. Yet, even with all the possibilities, sometimes it can feel like too great of a commitment to pick one and go. Sometimes a varied solution, combining different types and styles of hardware, can get your design where you want it to go.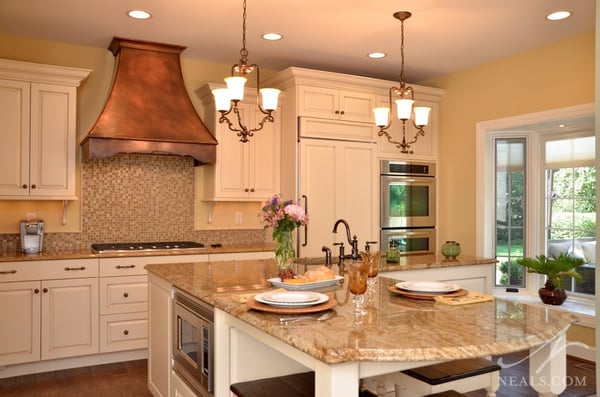 This French country kitchen design uses knobs, drawer pulls and a large pull for the fridge, all using stylish scroll-work or curve details.
Choosing cabinet hardware while selecting the style of cabinetry can solve potential problems down the road, and help complete the overall look of your kitchen. One option for creating a unique hardware scheme in your kitchen is to consider each zone of the space an individual area with its own set of needs and design. For example, drawers near the prep area might be more efficient if you had a wide drawer pull to easily grab to access what you need, while the drawers where you store your table linens can be stylish knobs. Remember that appliances with applied cabinetry fronts, such as the fridge and dishwasher, will need more robust hardware that can handle the weight of a heavier door and not feel too dainty.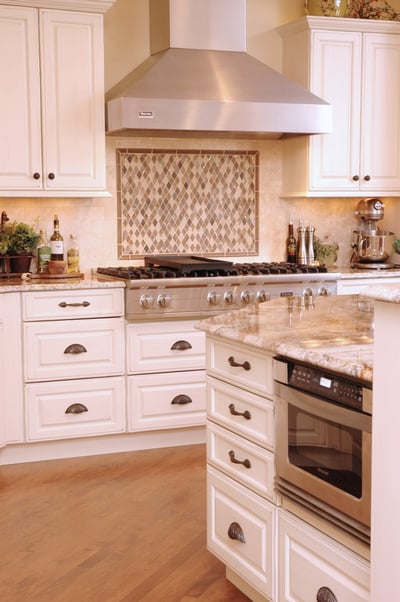 In this kitchen, the drawer size dictated hardware type while reserving knobs for the cabinets above.

Also consider the look and size of the cabinetry. This is where a kitchen designer can help by limiting your options for only the hardware types and sizes that work with the cabinets you've selected. Every type of hardware has a different need for hand space, since you grab them all a bit differently. This might be especially important around the cooktop or sink, where you might need to access a drawer but not be able to really give much attention to how you're grabbing the handle.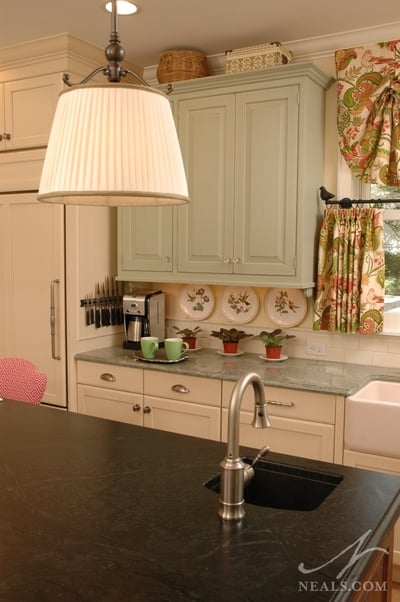 To create an eclectic look, each of the cabinet styles in this cottage-style kitchen use different hardware.

Many hardware manufacturers will offer a variety of hardware types (pulls, bars, knobs, etc.) in a style series and in a selection of finishes. This can make the process of selecting multiple hardware pieces for your kitchen significantly easier. Just find the general style series you like and pick out the various pieces you need for the various sections of cabinetry. For a more unique look, however, consider mixing styles across multiple series or looking for "one-off" or artisan pieces that can highlight a certain area or cabinet. This can create an eclectic look that works well with farmhouse or cottage-style kitchens in which a "pulled together" look is desired. Just as every outfit has different jewelry needs, so do cabinets.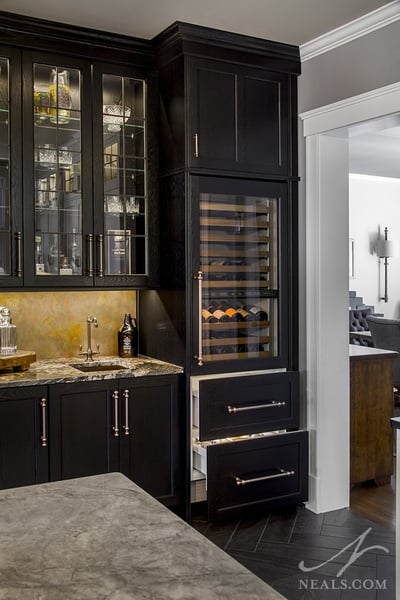 The three different pulls used in this wet bar design are united by finish and general shape.

It's also possible to pick a finish, and narrow down to a general shape or detail to select a mixture of hardware. Bar pulls are great for this, since they are versatile enough to be used on either cabinets or drawers, and come in various sizes for small cabinets or large appliance doors. If you have more than one cabinet color in your kitchen, consider choosing one or two options for the entire kitchen, then changing the finish according to the cabinet color.