A fun way to add character to your kitchen is with a kitchen hood. Whether you want to disguise it or make it a focal point, there is a way to perfectly transform your kitchen using a hood. Here are some ideas for both contemporary and traditional designed kitchens.
Shape and Material
Depending on the size and capacity of your range, you will need to find a hood that matches the output. These hoods play an important role in your kitchen, so choosing shape and material with functionality and style is important. Size is another factor to consider when looking for your perfect hood. The output of your stove unit should match the input of your hood. The standard when determining fan size is CFM, or cubic feet of air moved per minute. Minimum, for every 12 inches of stove width, a fan hood should move 100 CFM. For a gas stove, the higher the BTU of the burners, the higher the CFMs should be on the hood. Your Neal's designer will work with the appliance distributor to ensure the specifications match up.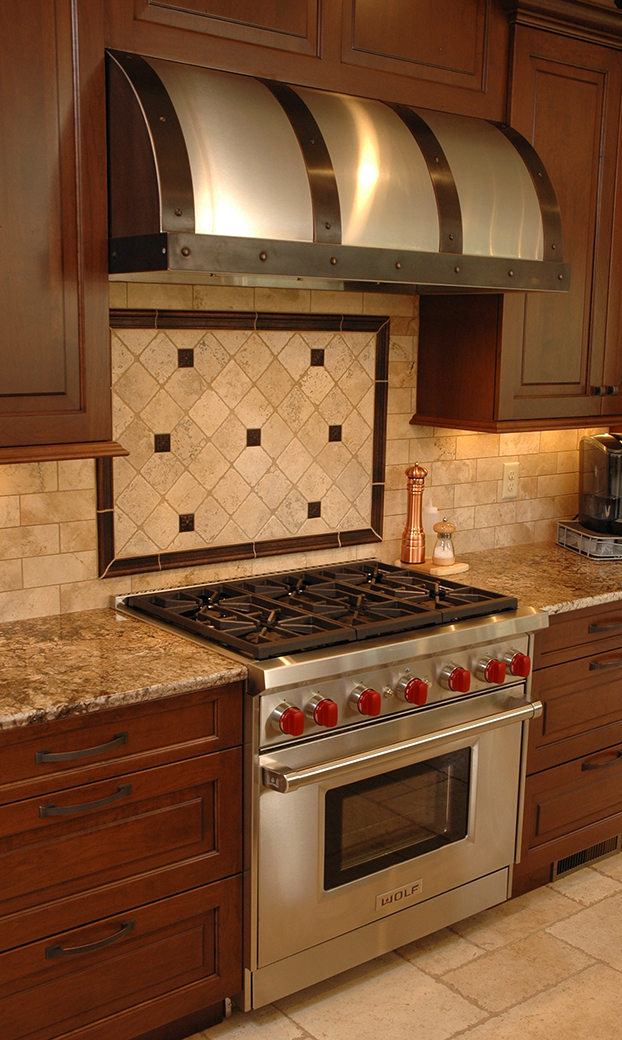 Create a focal point with your hood by using a custom awning-shaped under-cabinet hood. These can be customized in all sorts of ways to match your kitchen.
Under-Cabinet
In most kitchens, you will see a standard Under Cabinet hood. These are smaller and less noticeable, but can be easily designed around and customized to fit your kitchen designs' needs. For example, it is possible to build a wood hood out of custom cabinetry. However, you will need to insert a separate blower inside. The manufacturer and designer can do this so that they blend seamlessly into rest of the room. Adding customized cabinets over these hoods and blowers can present a more traditional look by adding moldings, scallops or serif to the wood that match the existing cabinets.
Wood hoods can easily become a focal point in your kitchen by using an awning style hood design to draw the eye. If flashy isn't your style, the versatility of the design of a wood hood can allow it to blend in and minimize the appearance of the hood. To create more contemporary feel, allow the hood to stand out by opting for a stainless steel finish instead of covering it with cabinetry. These models usually have a blower already, so everything is included in one unit; no need to add cabinetry to cover the installation. The wood hoods are incredibly customizable to fit perfectly into any kitchen space.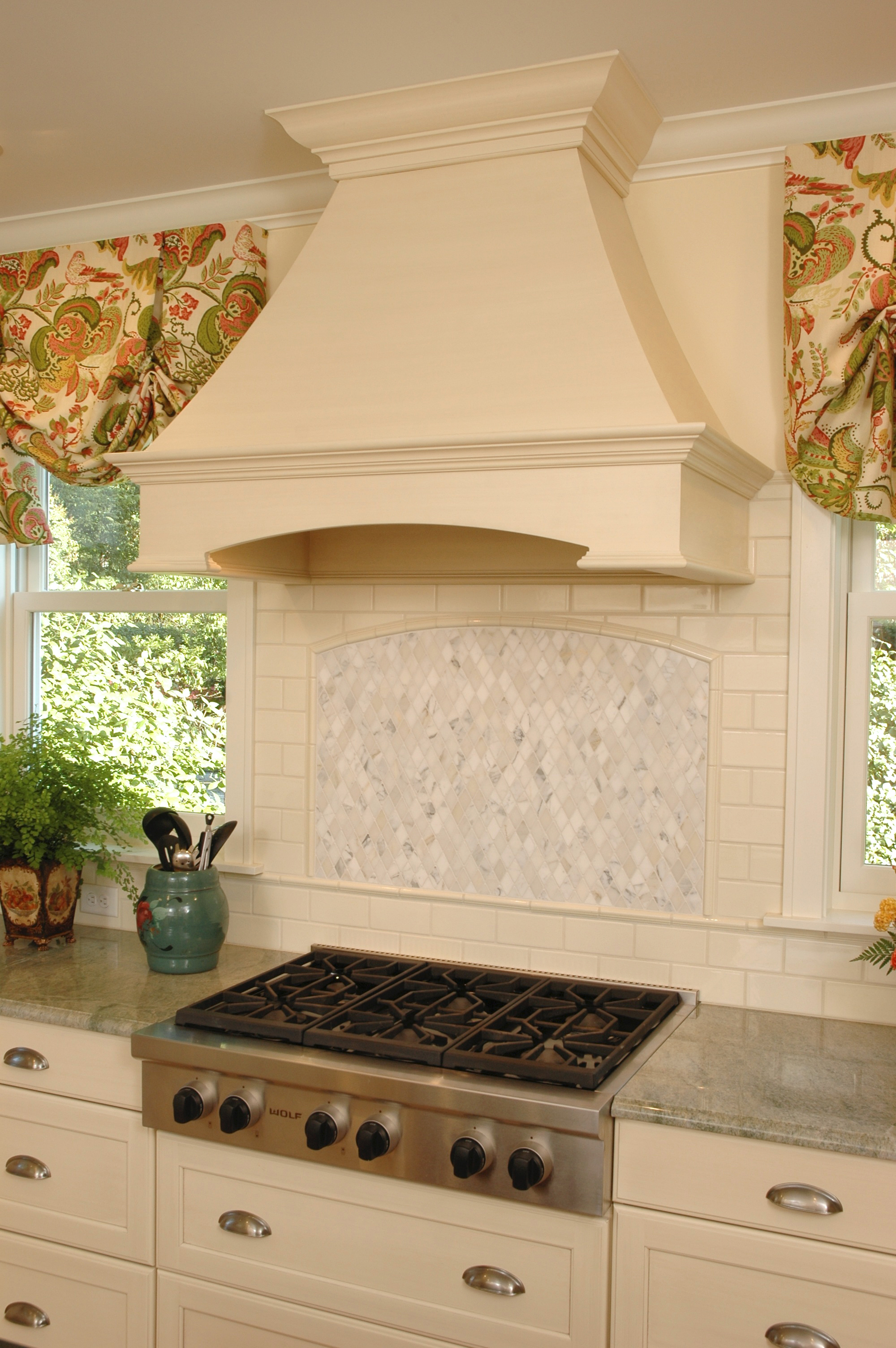 A chimney wood hood like this one can be customized to fit the style and cabinets of your kitchen.
Chimney
Chimney-style hoods are made to be visible and a focal point of the kitchen. Chimney hoods tend to have a longer, more narrow vent that drops straight from the ceiling along the wall and then fans out over the range. These also usually include the blower within the unit. Wood hoods can still be used here, and are still very customizable. This style allows for a more traditional look than the Stainless Steel. For a more contemporary look, try Stainless Steel. This material is more flexible to create different shapes for the hood than wood, allowing you to customize the hood itself. Geometrical and curved designs are available in the Chimney-style hoods to add extra flair and add new lines to the design of your kitchen.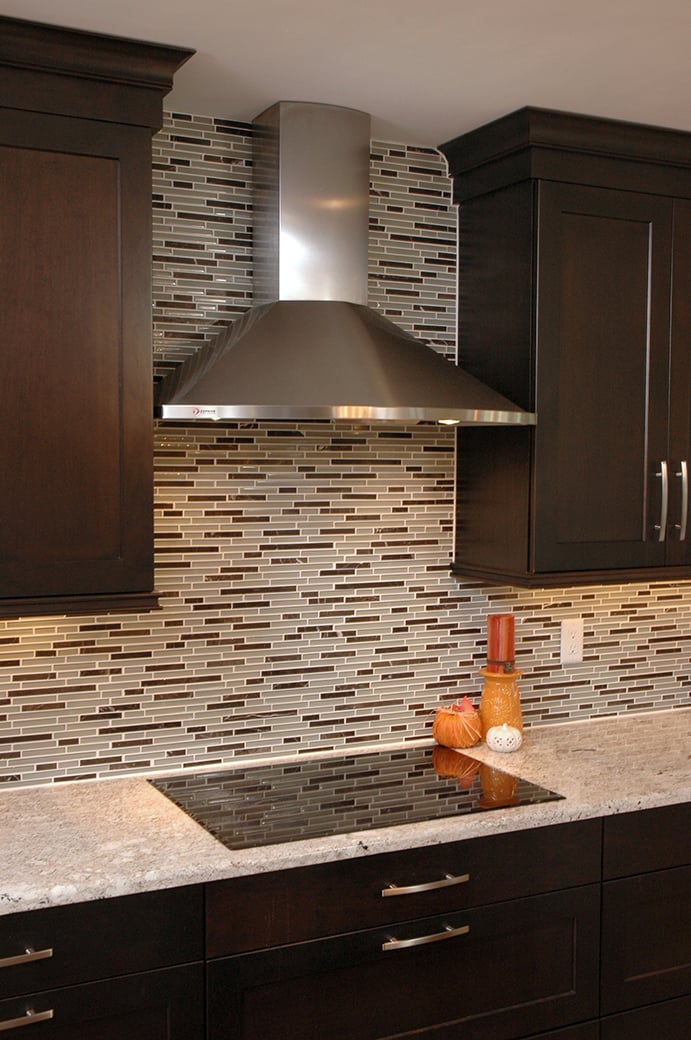 The stainless steel Chimney hood keeps with the sleek and contemporary design of this kitchen, and complements the dark finish of the cabinets.
Wall Mount
Wall Mount hoods can vary in design but will also come down from the ceiling and spread over the range, however, usually with a less narrow vent. These are more customizable to fit the theme and design of your kitchen. If you want the style of a Chimney or Wall Mounted hood, but not the flash of stainless steel, you can cover these in much the same way of an Under Cabinet hood. By adding brick or wood over the chimney, you can create a more traditional feel to a contemporary appliance.
To go all out on a contemporary design, these hoods can also come in geometrical and curved styles; but can also be found in copper, and colored styles to further customize to your taste.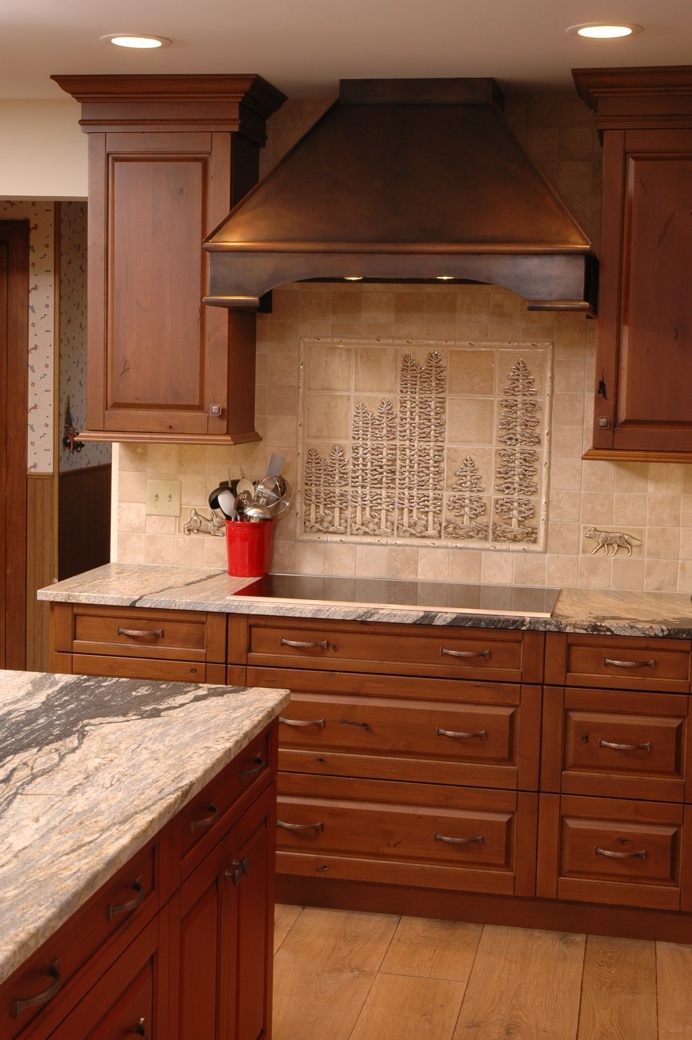 This example of a copper hood used in a traditional kitchen shows how a contemporary piece can update a traditional look.
Over Island
Ideal for a range that is located away from a wall, these allow the contemporary look to flow through the kitchen and let the cook look out over the rest of the house instead of directly into a wall. The most common hoods used over islands are the Chimney styles since they can stand alone.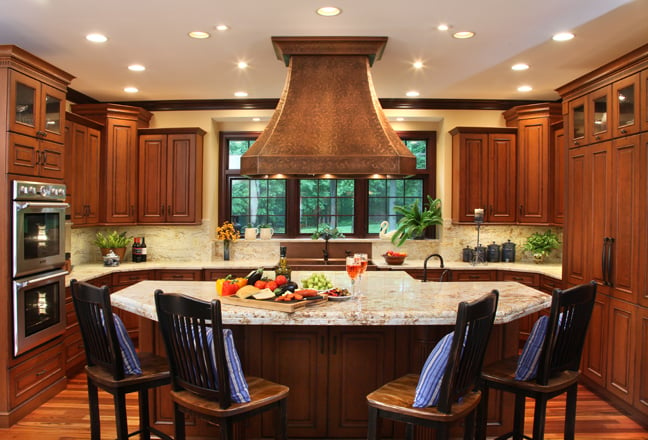 A copper Over Island hood draws the eye immediately to the island and creates a beautiful and functional focal point in the kitchen. [photo credit: Robin Victor GoetzGoRVGP.com]