As more and more homeowners opt to switch from tub and shower combinations to the walk-in shower model, it's become easier than ever to create a practical walk-in shower at any price point. If you're looking to go above and beyond, however, by having a custom shower that is more than simply practical, here are seven important design items to consider.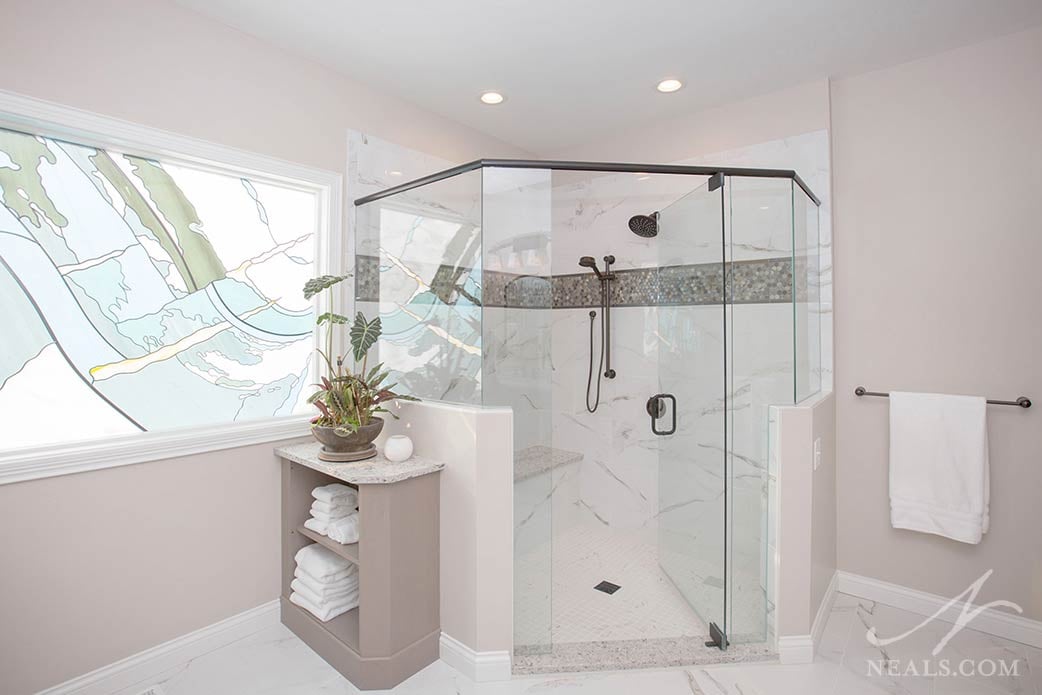 A custom walk-in corner shower in this West Chester bath remodel.
First, what is a walk-in shower?
The walk-in version of a shower is one that does not include a tub basin. Typically, there is a curb that separates the shower floor from the outside bathroom floor, but that doesn't always need to be the case. A walk-in shower exists separately from a tub, and depending on your needs, may be used in a bath without a tub at all.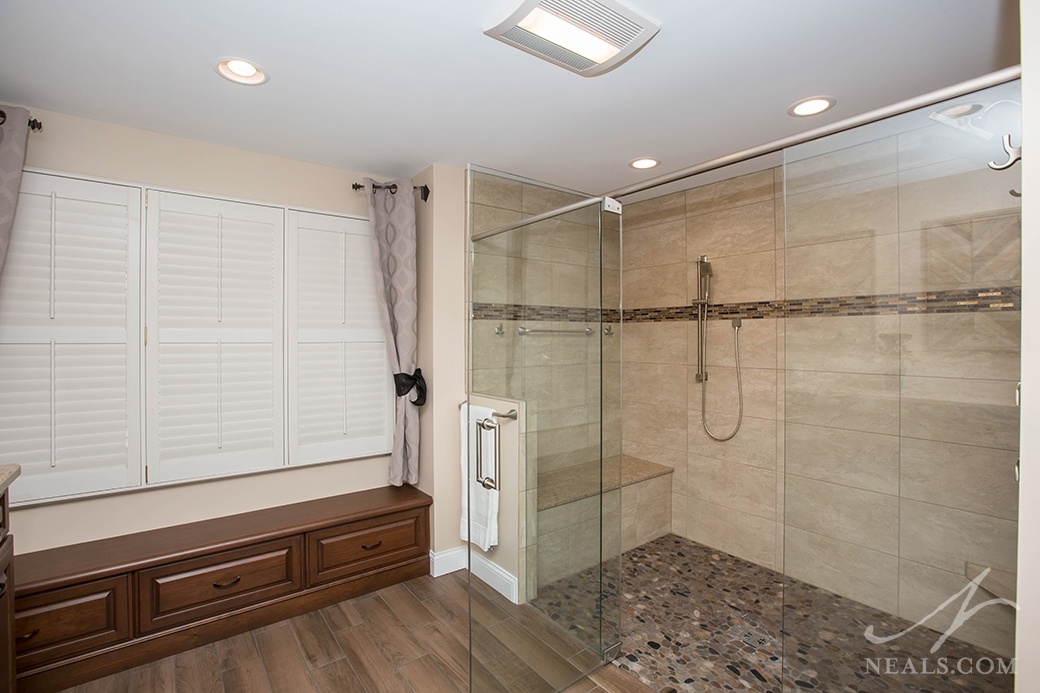 This over-sized curbless shower in a Morrow master bathroom works comfortably for two.
Shower Size
Most modern showers are a standard 3 ft x 5 ft space which is big enough for an average adult to not feel too cramped. Smaller than this, and the shower begins to feel like an after-thought. Larger showers, however, create a more luxurious experience. Your home's space considerations will likely dictate how big is too big, but even a shower stretched one more foot in both directions will feel like an ample space upgrade.
The more space you have in the shower, the more chances you have for additional features. Benches, second faucets and shower heads, more niches, and more lighting come with having more space. It's best not to design a gigantic shower that wastes space, so think about where the water will reach and where a bench might make sense, and consider those as guidelines to your shower's physical limits.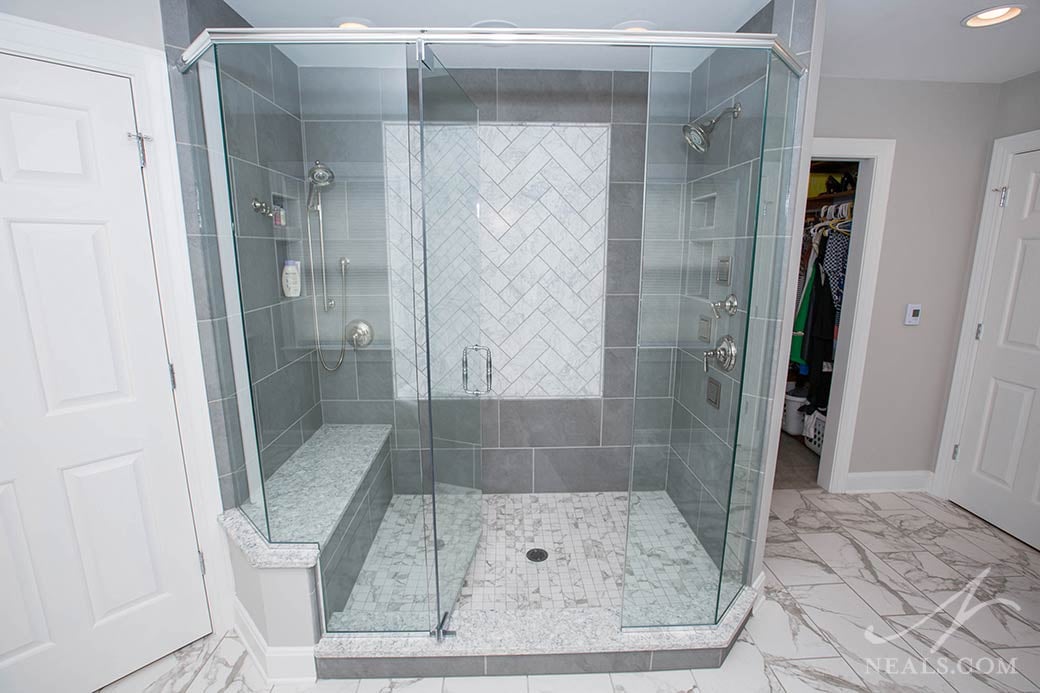 The square footprint of this Western Hills walk-in shower provides options for fixtures and style details.
Walls, Doors & Curbs
Your own sense of privacy and comfort are the primary dictating principles when it comes to the enclosure of your shower. Some homeowners are comfortable with all-glass enclosures, while others prefer a mix of solid walls and glass. Paying attention to how the shower is positioned in relation to the door and any windows can help identify where additional privacy may be warranted. Glass can also be frosted or textured so that it is not fully transparent for a designer option that may provide a interesting and unique style note in your space.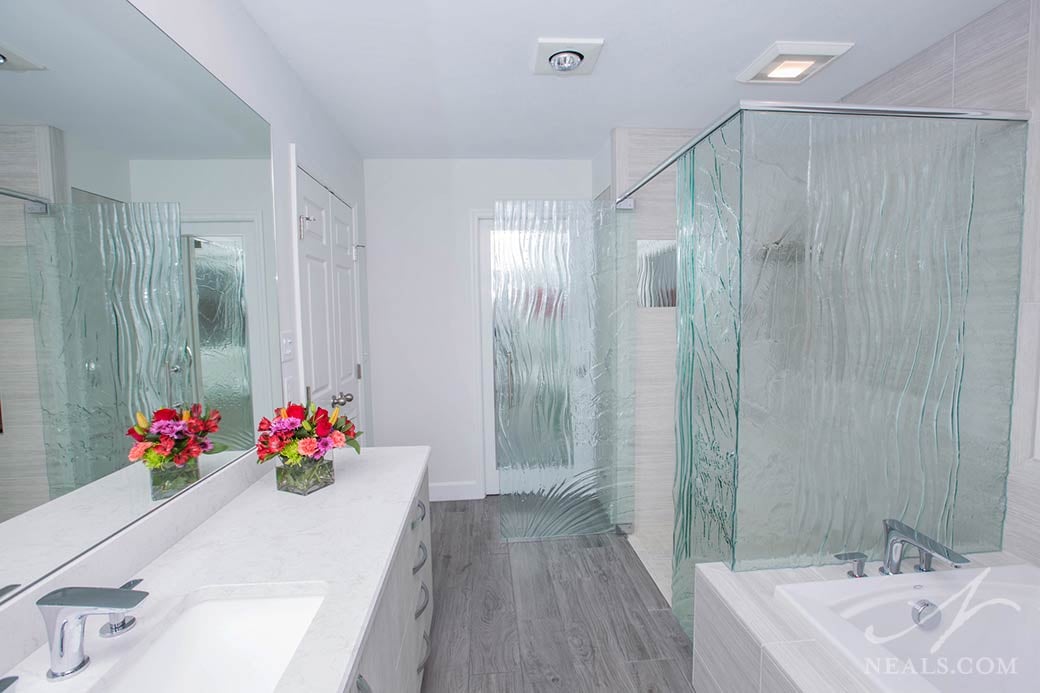 Textured glass on this Sycamore Township walk-in shower adds character and privacy.
Walls, whether full or half, can also provide privacy but also additional space for fixtures and niches. In some cases, these items can be placed on a wall so that they are not visible from outside the shower, which can allow the tile or other design details of the space to take center stage when the bathroom is viewed as a whole. A newer trend is to include a window in a full wall, which can ease feelings of being enclosed in the shower without losing too much in the way of privacy.
Other enclosures that don't rely on the traditional glass and wall combination are those installed in large niches or given their own room. For these showers, lighting and ventilation will be very important, but the design options gained from having three solid walls on which to add tile, niches, benches, and fixtures increase the feeling of spa-like luxury.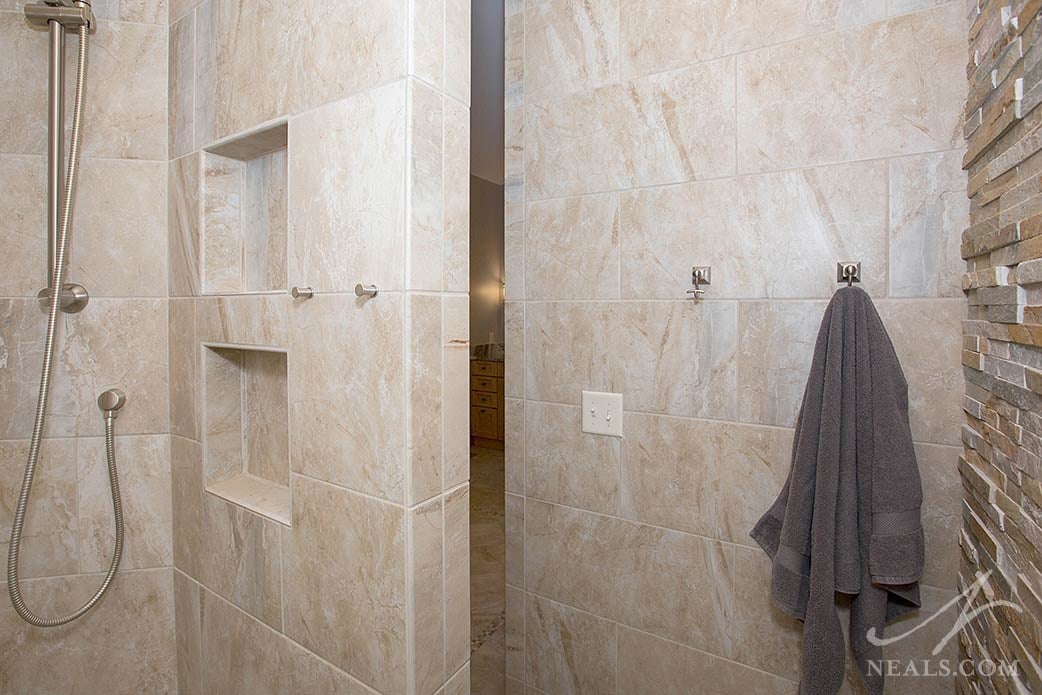 The shower in this Western Hills master bath uses a small vestibule to remove the need for a door.
When thinking about the layout of the walls, also consider if the shower is large enough that the shower head can be placed in a way that a door isn't necessary. This works well for long showers or if the shower's shape allows for a separation between the water elements and the entrance.
A shower may also be designed as curbless, meaning that the floor between the shower and outside the shower has no barrier. A curbless shower is ideal for bathrooms aiming for a universal design or for aging-in-place, since this eliminates a possible tripping hazard. The size of the shower and the position of the shower heads are important factors to the practicality of a curbless shower to avoid getting too much water on the floor outside the shower.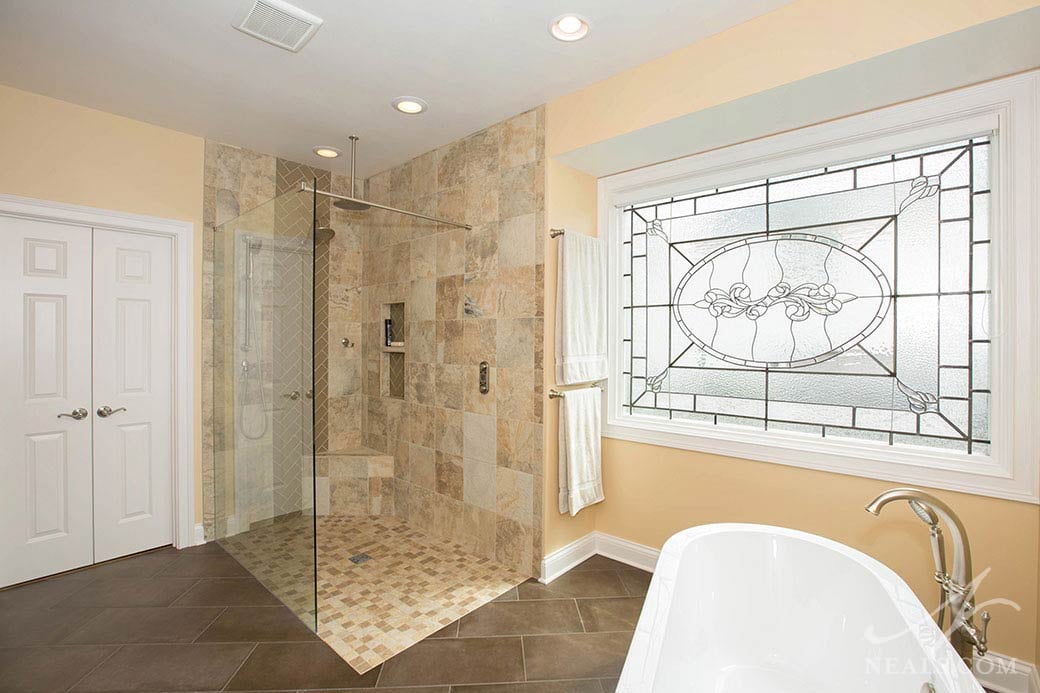 This curbless and doorless walk-in shower adds modern appeal to this traditional Sycamore Township master bathroom.
Shower Heads
The options for shower fixtures is an extensive list. From simple downward heads to handheld showers with variable stream settings, to relaxing rain heads, there's a shower solution for every need and mood. Remember, however, that every fixture needs plumbing, and that can add up in your budget. To narrow down to the items that make the most sense, think about the way you need to use the shower, both in the practical sense (getting ready for work), and the casual sense (winding down after a long day). When you do those things, how would you prefer to do them? Can a single, fixed shower head perform all the functions you need, or will you need more?
Steam showers are a luxury option for many homeowners. A steam shower is created by installing special steam-heads that pumps steam from a generator into the shower. The shower must be fully enclosed in order for the steam to remain in the space. If you believe a steam shower is the right choice for you and your bathroom, it's important to address that in the shower design right away so that it can be properly designed for the steam and additional fixtures.

A venting window above the door in this Indian Hill shower allows it to easily convert to a steam shower when needed.
Benches
A built-in bench is a great inclusion for any shower. Many homeowners may feel that a bench falls into the realm of luxury, but they can also offer many practical uses. Combined with a nearby hand-held shower head, a bench creates a comfortable spot to sit and wash at ease.
Benches can be a variety of shapes and sizes, including taking up the width of a whole wall, or just as a ledge in the corner. The shape, size, and position of the bench can all be tailored to the shower and homeowner's preferences. The size of the shower itself will provide a guideline for the scale of the bench. After that, benches should be planned according to the placement of shower heads, faucets, any walls, and sometimes according to outside-the-shower considerations. A tub deck, for example, can extend into the shower to create a bench.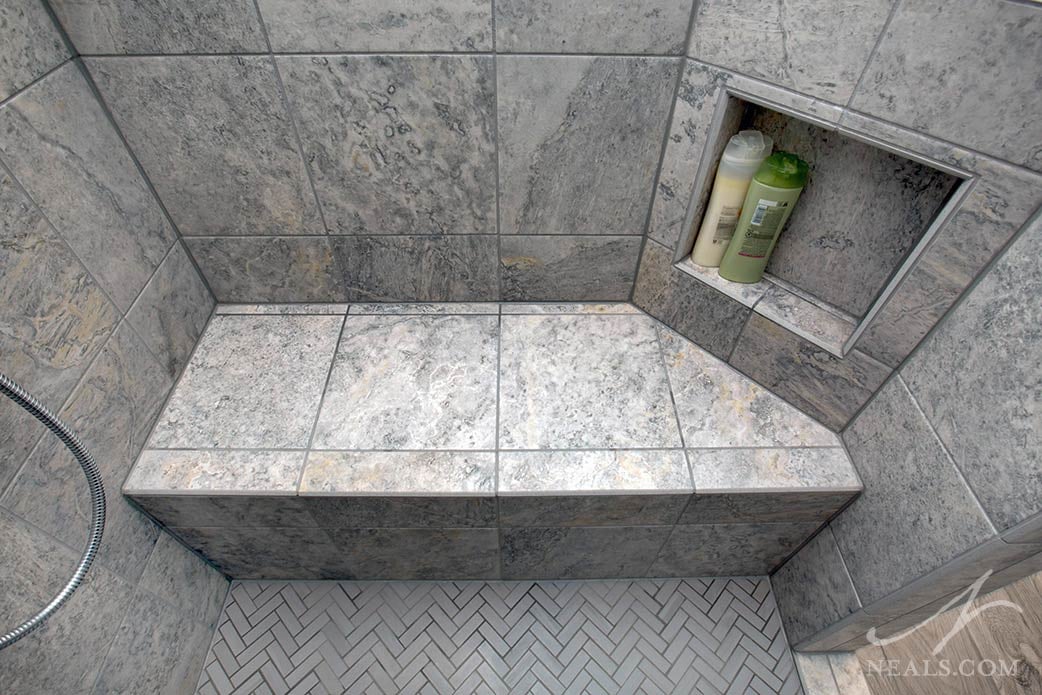 Tucked against the alcove made by a half-wall, the bench in this Mason bathroom is a practical inclusion.
Niches
One of the most important features of a shower that can get overlooked when the design and look of the shower starts to take over the planning is the actual place your shampoo and soap will go. It's unfortunate to be in a beautiful, roomy shower, but have to put your shampoo bottle on the floor. Niches are a great solution for this.
A shower niche can be a simple square or rectangular space in the wall just tall and deep enough for your bottles. It could also be oversized and function as an accent with a special tile in the back of it. Niches create additional labor in the shower creation, especially when several tiles need to be custom cut, so it's a good idea to really understand your needs and wants with a niche before work begins to avoid costly adjustments. The result, however, is a feature that adds a tailored, functional look to the shower.

The large niche in this Loveland bathroom provides another area to use accent tile in a shower.
Lighting
Ample shower lighting is crucial to helping you see what you're doing and keeping the shower safe. Lighting can also set a mood when you wish to relax and unwind. Think about being able to light your shower in layers to get the most options. You need task lighting the most, but on occasion, you may want an alternative option for more ambiance. This could be as simple as using a dimmer switch, or including a combination of fixtures placed throughout the bathroom.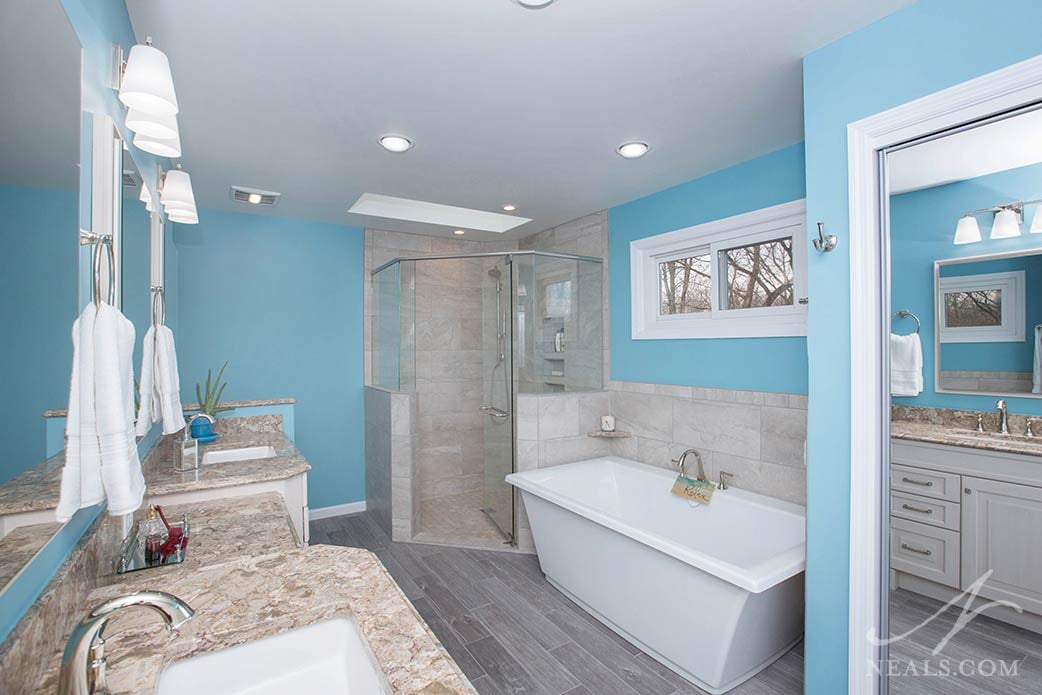 This Indian Hill master bathroom is an example of excellent layered bathroom lighting.
Outside the Shower
One last thing to keep in mind with your walk-in shower is what happens directly outside of it. Where are your towels kept? Is there a hook or towel bar in reach? Is there enough room for you, or will you be crowded? Is there a mirror or window nearby that could make you feel awkward? Keep in mind that the shower, even a well-appointed luxury one, is just one part of the whole bathroom, and while it's important that it holds its own, it also has to play well with the other elements in the room, and function well for you.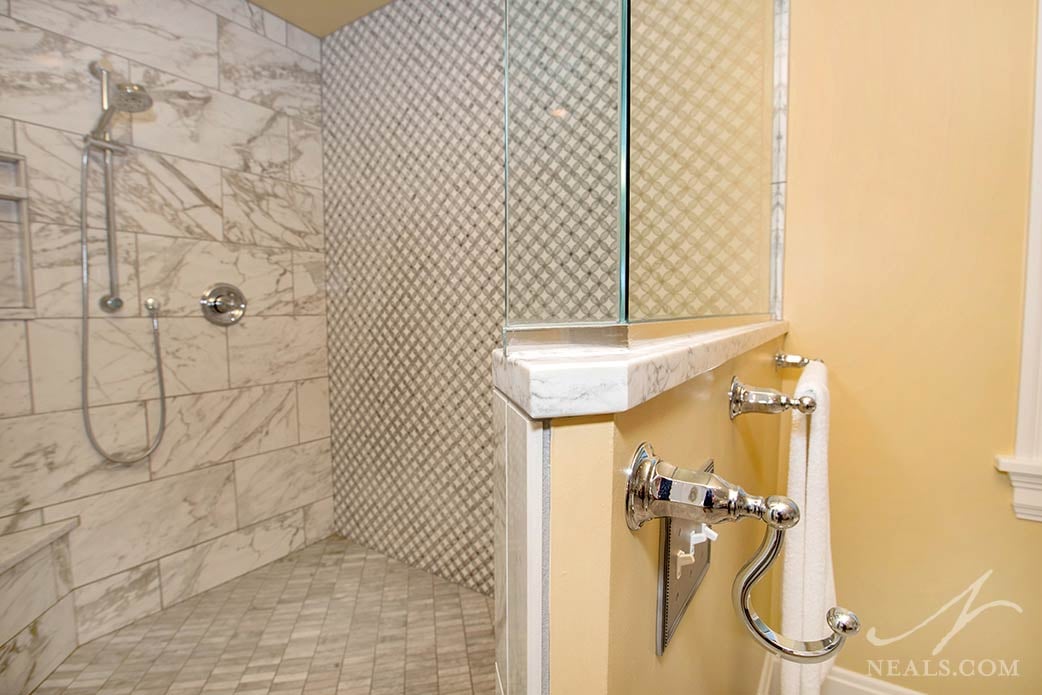 A towel hook stands at the ready just outside this Hyde Park walk-in shower.
Note: This post is an updated and edited re-post of one originally published on 7/11/2017.