Built-in bookcases can be installed in any room of a home where handy storage is needed and can be customized for both fit and function. A bookcase recessed into a wall will optimize both storage and floor space. Custom bookcases can be installed directly onto a wall or be designed as a piece of furniture to serve as a focal point in a room. Bookcases can unify other elements in a room such as a fireplace or media equipment.
Here are eight creative ways built-in bookcases can be used:
1. Frame a Fireplace
Fireplaces add ambiance and warmth to a room but can be dwarfed by an expansive wall and furnishings. Bookcases can be used to frame a fireplace to provide balance and create a focal point.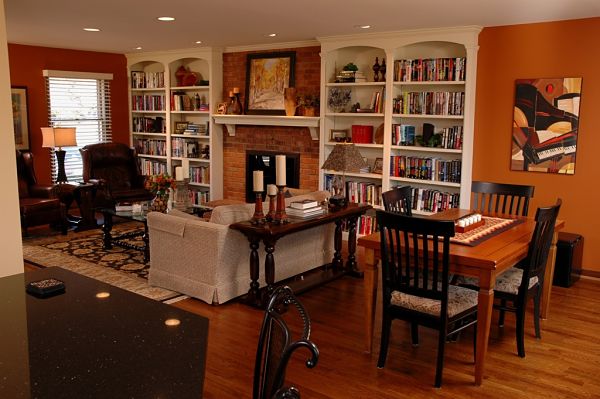 Built-in bookshelves unify a wall with a fireplace in an open concept floor plan that includes a kitchen, dining area and living room. The crown molding and arc of the upper shelves add architectural interest to the room. A mantel over the fireplace was matched to the shelves. Six tiers of shelving provide ample storage for books and collectibles.
2. Create a Bedtime Story
If you enjoy reading at the end of a day, it's great to keep books at hand. Bookcases are often a bedroom essential for avid readers, both children and adults. Built-in bookcases take up less space in a bedroom and can be recessed into a wall. They can also be combined with recessed drawers to create storage space for clothing or provide a shelf for a flat screen television.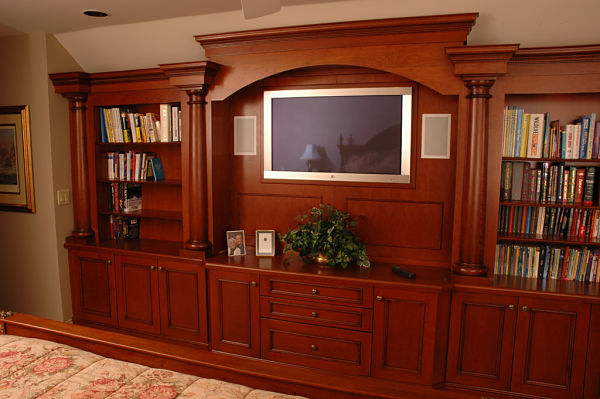 These elegant custom bookcases anchor a multipurpose wall unit in a bedroom.
3. Define Spaces
Custom bookcases can be used in an open concept floor plan or a large room to separate and define spaces. They can have open shelves that function for two areas or they can be enclosed units with shelves and/or doors to hold and conceal contents.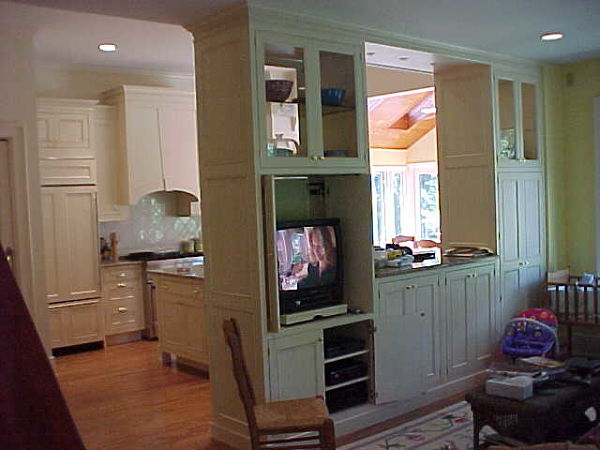 Custom cabinetry and shelving separate a kitchen and family room in a home with an open floor plan. Shelves at the top of the unit have glass doors on both sides to allow light to pass through and the items on display can be viewed from both sides.
4. Stack a Secret Door
We enjoy building challenging projects that reflect the ideas and tastes of our customers. A "secret door" that separates a library from an exercise room was a unique bookcase we created for a lower level living space.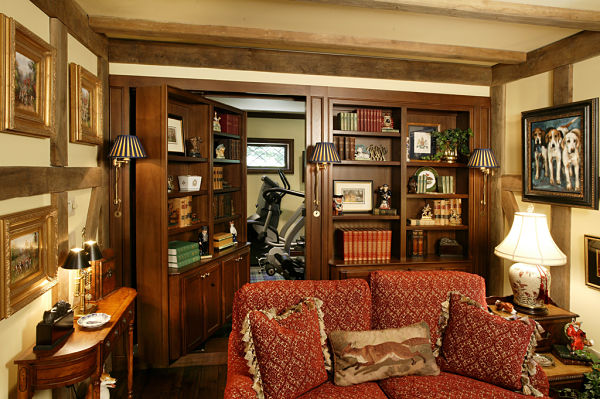 The owners, natives of England, desired to display their collectibles of antiques and artifacts in the lower level living area. The hidden door was the solution to their desire to keep the exercise room out of view.
5. Customize for Media Equipment
Media equipment requires special shelving for components and to hide unsightly wires. Built-in bookcases with adjustable shelving can protect screens, speakers and cable equipment. A television can be adjusted within the unit for optimal viewing.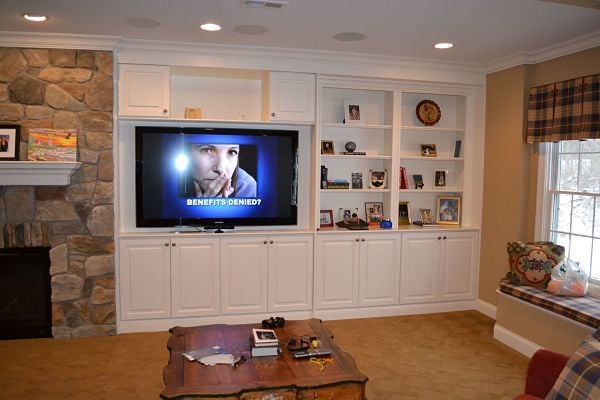 A recessed bookcase was designed expressly for this room. The unit was sized for the television screen and components. Exterior trim and moldings were matched to the fireplace.
6. Optimize an Office
Every office requires a bookcase even in "The Digital Age." While there is less paper to file today, home offices require printers/fax machines, computers, ports to recharge devices, reference material, storage cabinets for supplies, organizers for correspondence and places for personal items.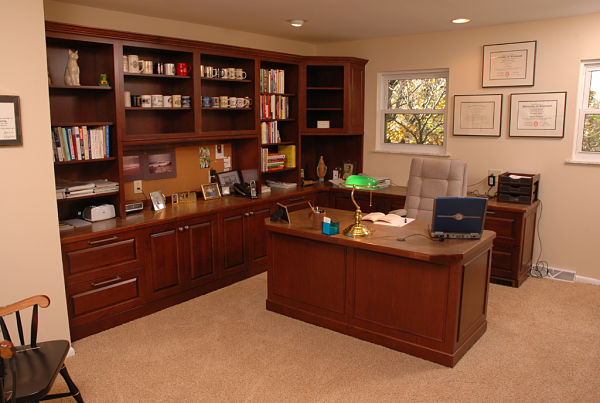 This large office bookcase unit has ample storage for files, books equipment and collectibles.
7. Contain Creativity
It's important to have adequate storage especially if you have a home based business or hobbies that allow to you express your creativity. Bookcases can keep all the items you use at hand and organized.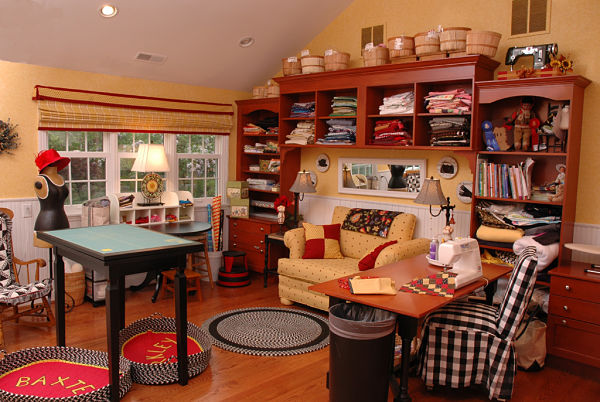 A custom bookcase wall unit was designed to keep fabric and supplies accessible. Fabrics are organized by color and there is a place for notions, patterns and reference books.
8. Show Your Stuff
Bookcases are great for display. They can be customized for contents and be equipped with glass shelves that allow light to filter through and puck lights to illuminate collections.
Floating glass shelves and lighting in a custom bookcase displaying a rock collection.