If you're planning to remodel your kitchen there are many details to consider. You may be thinking about the appliances, cabinets and countertops you want for the room. These are generally the most important items in a kitchen remodeling project. Then there are fixtures, tile and flooring to consider. But it's often the small design details that add style, function and aesthetics to a kitchen.
Here are seven kitchen design details you may want to include in your plans and discuss with a kitchen design professional.
1. A mix of patterns and textures
Whether a kitchen is monochromatic, dark and light or a blend of colors, patterns and textures add interest. Patterns are most often used in backsplashes, countertops and flooring. Texture is the visual or tactile feel of a surface and can be relief, rough or smooth. Textures in kitchen design include the texture of cabinets, counters, tile, floors and even ceilings.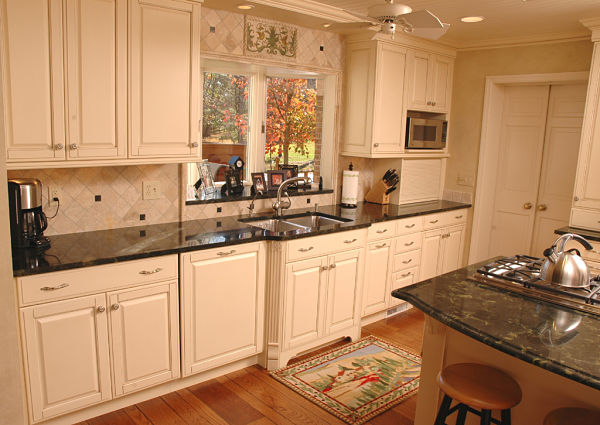 Patterns and textures create stunning effects in this kitchen. The beadboard ceiling is relief texture. Square backsplash tile was set in a diagonal pattern with smaller accent tile. The tile pattern was replicated on the wall above the sink and a patterned inset if framed with rope relief tile. Carved cabinet trims and crown molding add more texture to the room. The granite counters have movement in the veined pattern. Wood flooring adds more texture.
2. Complementary and analogous room colors
People are often intimidated by selecting paint colors for their homes. We're afraid of making the wrong choices. It's hard to pick colors from small paint chips and cabinet and tile samples. What looks good in a showroom may not have the same effect in our home. Color can be wonderful and exciting when it works to enhance a kitchen. Colors don't have to be complicated. An accent wall in a bright hue can add warmth to the room. Consider viewing a color wheel to get an idea of how colors can be combined. Complementary colors (those opposite from each other on the wheel) and analogous colors (those next to each other) generally work well together.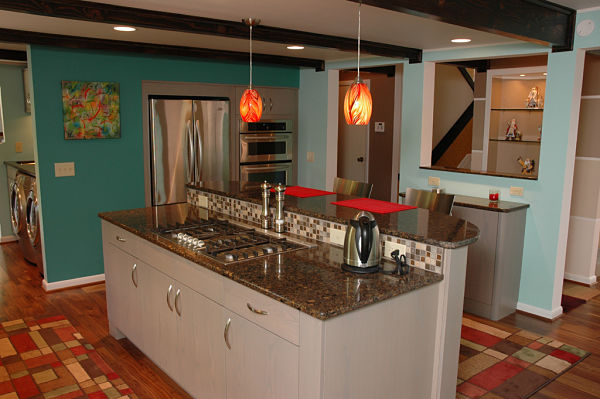 Two shades of aquamarine were selected for this kitchen. Orange and red, which are complementary colors, were used for the accents in the lights and rugs.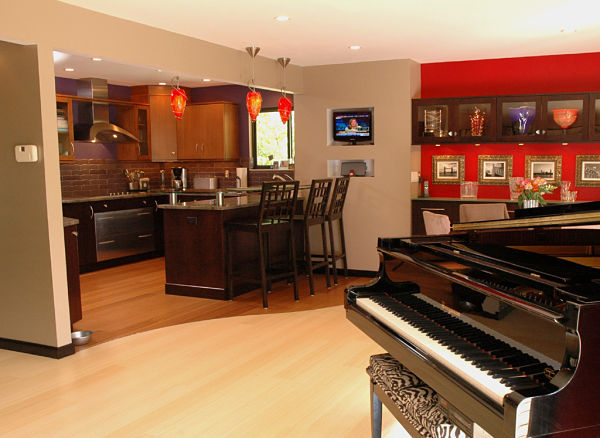 Red and purple are analogous colors and add excitement to a contemporary kitchen.
3. Trim and molding detail
Trim and molding detail can have a dramatic effect in a kitchen. Trim can be used to finish otherwise unadorned cabinets. Crown molding with a curved profile can create an illusion of height in the room when installed against the ceiling.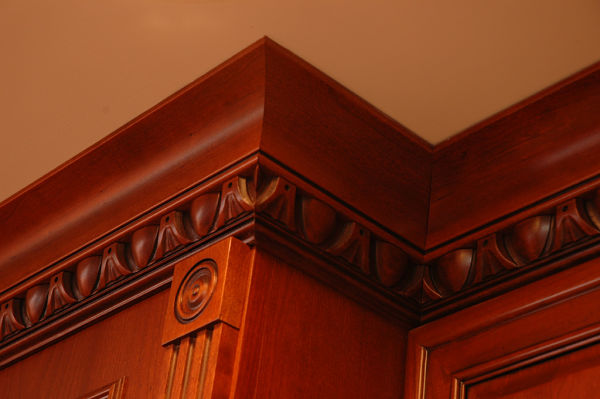 Curved crown molding and carved trim embellishments add style and interest to kitchen cabinets.
4. Places for collectibles
Collections tell a story. They tell your story. A collection of beautiful pottery, baskets, artwork, cookware or cookbooks should be displayed. Open shelving or cabinets with glass doors are perfect for creating a display. Also, consider hanging storage for pots and pans.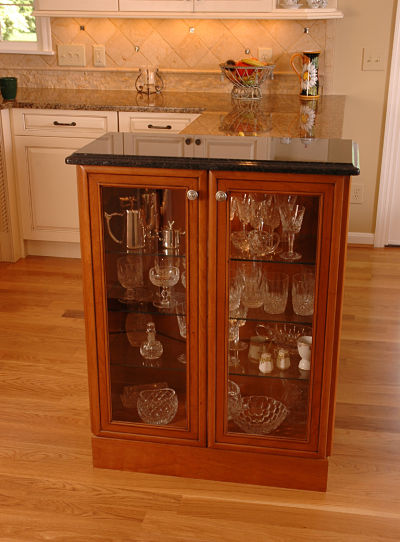 A collection of crystal, silver and china is displayed at the end of a peninsula in a lighted glass door cabinet. Glass shelves were used to illuminate the contents throughout.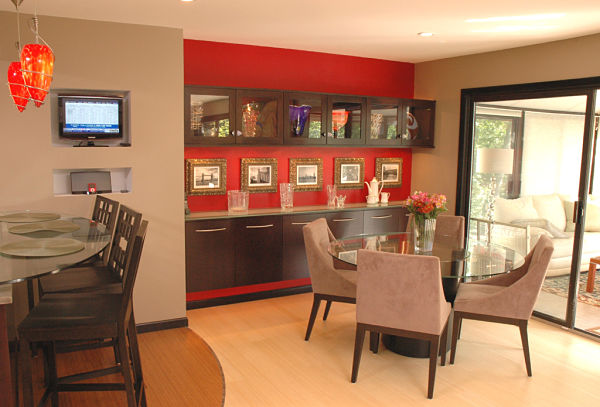 Glass door cabinets over a buffet in an informal dining area display a collection of blown art glass pieces.
5. Hood styles
The hood you select for a range or cooktop often becomes a focal point in a kitchen. There are literally hundreds of products to chose from in many shapes, sizes, materials and finishes. Stainless steel hoods can stand out on their own. If you want a custom look, a hood can be fitted with cabinet panels to help it blend into the room.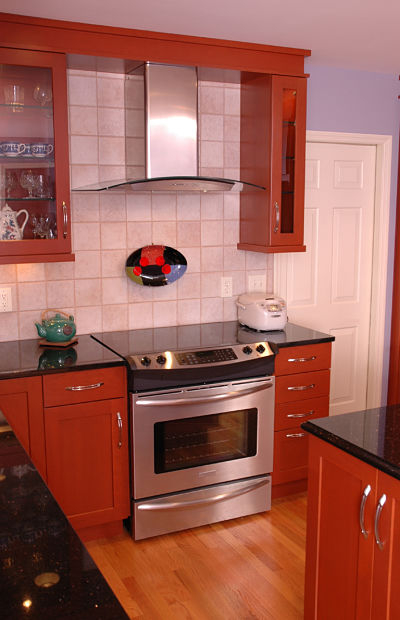 A sculptural hood makes a design statement in a transitional kitchen.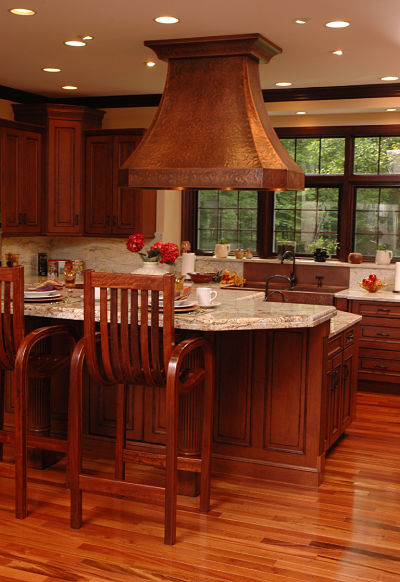 A hammered copper hood is a focal point over a tiered kitchen island.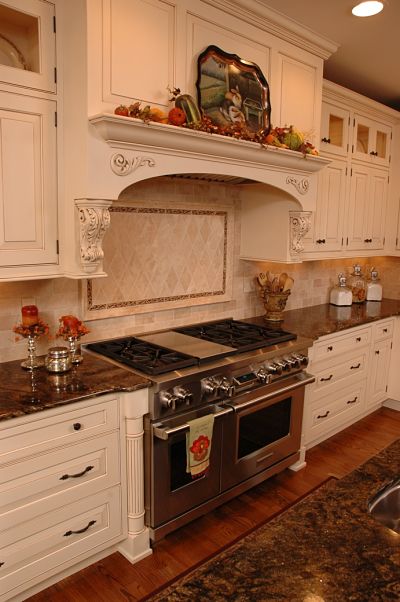 A custom paneled hood with a shelf, corbels and trims blends into the perimeter cabinet of this traditional kitchen.
6. Appliance panels
Cabinetmakers, such as Woodmode, include panels to cover appliance doors in their cabinet lines. The panels help to create a uniform look in a kitchen. This option is worth considering if you plan to select appliances from different manufacturers that may have variations in finishes. Another advantage of concealing refrigerators and dishwashers is that fingerprints and drips often show up on surfaces. Covering these appliances reduces the need for constant maintenance, especially with stainless steel doors.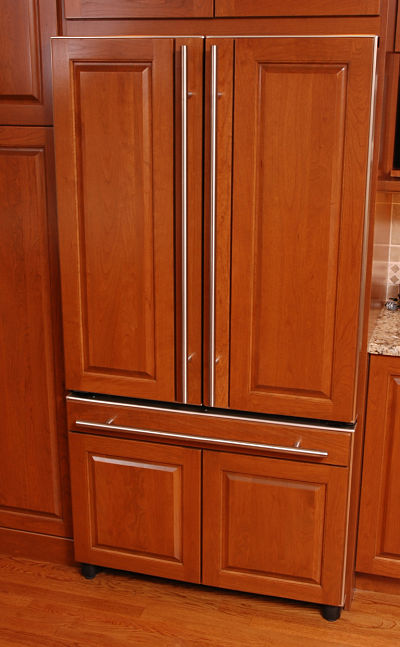 Wood door panels conceal a refrigerator.
7. Counter space near ovens and refrigerators
We generally think about counter spaces around a sink and in food prep areas. Counter space near a wall-oven, range or microwave oven and a refrigerator can be equally important for setting down baking dishes or keeping cooking supplies at hand.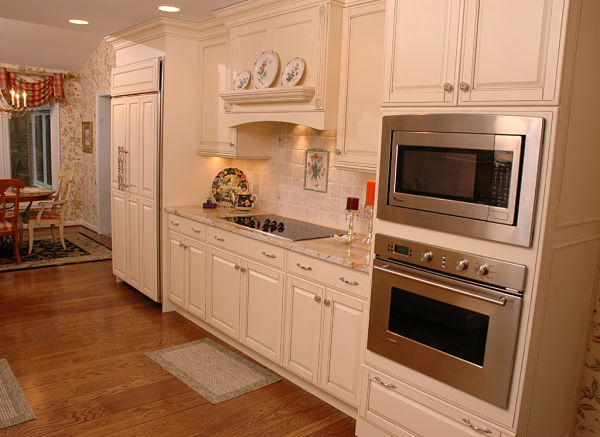 Counters flank the cooktop and are placed near the refrigerator and wall-ovens by design in this traditional-style kitchen.