When planning a kitchen remodeling project, homeowners often ask us about the latest design trends (nationally and here in the Cincinnati area), which products and features to consider, and what's the best use of available space. A kitchen, in our view, should be both functional and aesthetically pleasing to the homeowner. It's a special gathering place for family and friends, and we use it every day.
If you're thinking about remodeling your kitchen, here are ten design ideas worth considering:
1. Consider the basics.
Stainless steel appliances, granite counter surfaces and hardwood floors continue to be favorite features in kitchen design. A range with double ovens or built-in wall ovens, are "must haves" for a family or anyone who enjoys cooking and entertaining.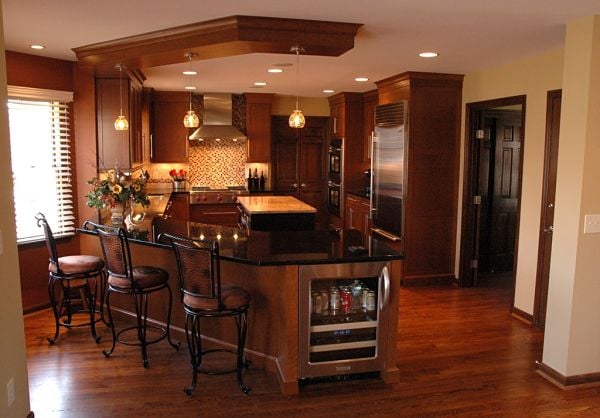 2. "Strategic storage" is an asset in any kitchen.
When determining the placement of cabinetry, think about the way you use your kitchen. Store items you need near your "work stations". We've listed storage tips to help you select cabinetry.
For convenience and organization store pots, pans, baking dishes and bowls in drawers.

Narrow cabinets will hold cutting boards, griddles and baking sheets.

Include storage for canned goods, dry foods and root vegetables.

Pull-outs ease access to pantry items and dishes.

Plan storage for cooking essentials such as spices, vinegars and oils by assigning these items to drawers, cabinets with narrow shelving, carousels or niches and open shelves placed near the stove or food prep area.

Pull-out cutting boards and tables can be used to extend food prep space.

Glass doors on cabinets will permit you to decoratively display contents but more importantly, they make it easy to view and access items.

Frameless, full access cabinets and drawers have larger openings for storage.

Self-closing hardware on drawers is a convenient feature when you are working in a kitchen.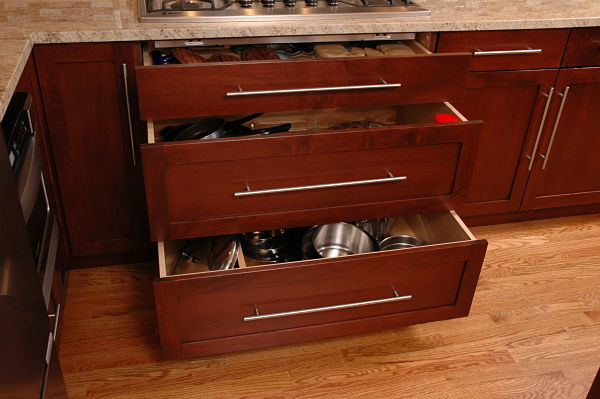 3. If you need more room in the kitchen, expand the square footage by incorporating adjacent spaces.
Most people remodel a kitchen to gain more space or to use the space more efficiently. A closet located off a kitchen or an underutilized formal dining room could be blended into the kitchen to provide more food prep space, a beverage bar or office. Opening a family room into a kitchen adds space for entertaining and improves the traffic flow in a home. An adjacent garage may also be an option for expanding a kitchen.
4. Add a beverage center.
Beverage centers provide a place for coffee makers, an electric teapot, glassware and storage. An undercounter refrigerator can be installed to store juice, water, milk and other beverages. An undercounter icemaker is great for entertaining. If you enjoy wine, add a wine cooler and a rack for wine storage. It may also be helpful to have a bar sink to prepare drinks and clean glasses.
5. Select kitchen cabinet styles that complement other rooms of your home.
One of the "hottest" styles in kitchen cabinetry is "Shaker". The simple lines of Shaker cabinets blend with many interior decor styles including classic, country and contemporary. Another trend that we're seeing in kitchens is the use of two-tone cabinetry.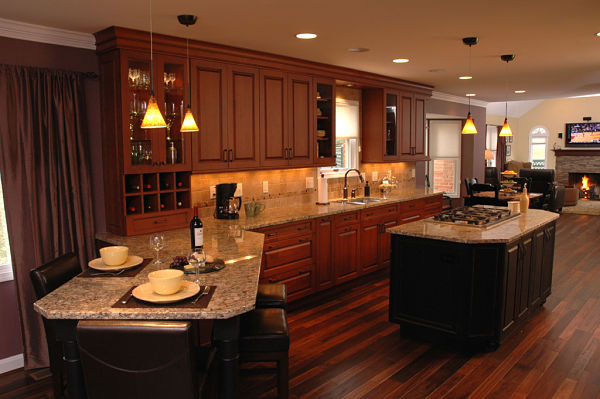 6. Consider "universal design" features when planning your kitchen.
Think about "universal design" when selecting appliances and installing cabinetry. Drawer dishwashers and refrigerators ease access. Open shelving and glass doors on cabinets make contents easy to see. Lower placement of cabinets makes items easier to reach.
7. Create an eco-friendly kitchen.
If you're interested in a "green kitchen" use sustainable products like bamboo flooring, concrete counters, recycled glass backsplash tiles and recycled wood to preserve natural resources. Buy ENERGY STAR appliances to conserve energy.
8. Tile backsplashes.
Mosaic glass tiles, especially those made from recycled glass, are used in kitchens to create an attractive backsplash behind sink and stove areas. Larger field tiles and subway tiles simplify maintenance. Combine mosaic and field tiles behind "splatter areas" for both appeal and easy clean-up.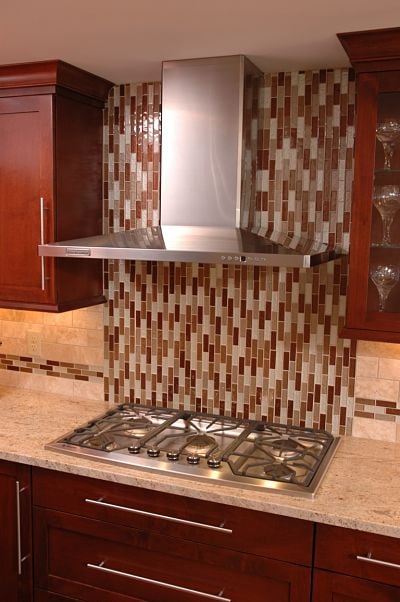 9. Accent lighting trends.
Pendant lights over an island or peninsula provide both task lighting and a decorative element to a kitchen. LED lights and compact florescent lights are energy efficient and can easily be placed under cabinets to illuminate workspaces.
10. Update your kitchen with a "value-driven" remodel.
In times when money is tight painting cabinets, replacing or cleaning hardware, adding molding, or upgrading light fixtures, flooring, countertops and appliances are some of the best ways to give new life to a kitchen.
What are your thoughts about local trends in kitchen design?