Transitional design mixes both traditional and contemporary elements. The mix may vary but there are five design elements that generally define the style of Transitional kitchens. These elements include cabinets, wall color, tile, stainless steel and stone and geometric forms used in counters, lighting, accents or furnishings. Here are some examples that show how these kitchen design elements define a Transitional-style kitchen.
The design elements of this Transitional-style kitchen include white Shaker-style cabinets, neutral blue-gray walls, floor and wall tile with glass mosaic tile set in a diamond pattern, quartz counters, stainless steel appliances and the geometric forms of the tiered counter and lighting fixtures.
Cabinets With Clean lines
Shaker and Mission-style cabinets are commonly used in Transitional-style kitchens. They are a departure from the flat slab door cabinets used in Contemporary-style kitchens or the embellished cabinets with carvings, appliques and corbels used in Traditional-style kitchens. Rectangular raised panel doors are also an option. Crown molding is often used to finish upper cabinets. Both wood stain and painted finishes can be used on cabinets.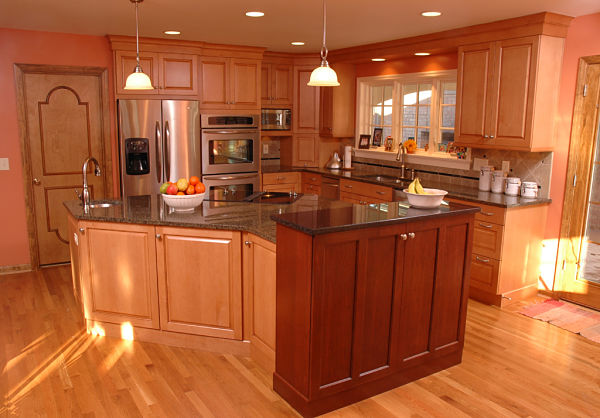 Raised panel cabinets and a Mission-style cabinet used for the tiered island define the Transitional-style of this kitchen. The cabinetry and flooring create a neutral ground in the room that is accented by the coral walls.
Neutral Wall Colors
In Transitional design, neutral wall colors provide a background for colorful accents. In a kitchen, cabinetry can take up a significant amount of wall space and can be the dominant neutral color in the room.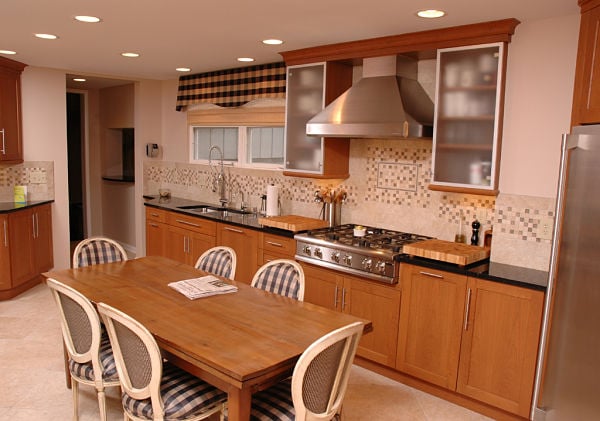 The neutral beige wall color selected for this kitchen makes the black and white check pattern in the window valance fabric, chairs and backsplash stand out.
Textures and Patterns in Tile
Tile can be a focal point or complement the lines of cabinetry or the material and hues of counters in a Transitional-style kitchen. Patterns can be created by the way floor or wall tile is set or the mix of tile used in the room. Subway, grid and diamond tile patterns are often used for wall tile in Transitional-style kitchens.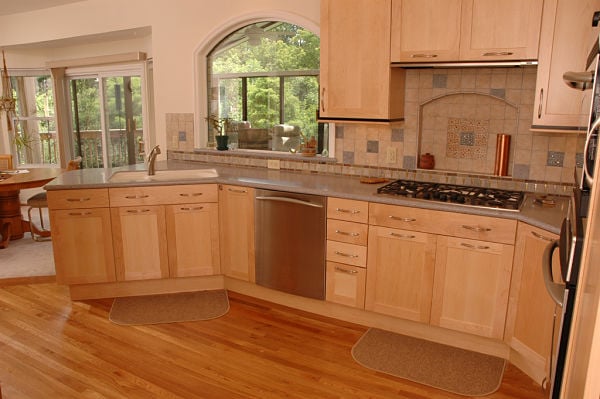 The tile backsplash is a focal point in this Transitional-style kitchen in a home with an open floor plan. Tumbled marble tile set in a grid pattern provides a field for hand-painted porcelain tile and stone tile accents. The arched niche behind the stove replicates the shape of the window in the room.
Stainless Steel Appliances and Stone Countertops
Stainless steel appliances and stone counters are used in Transitional-style kitchens to show the contrast of contemporary and traditional elements. They also have reflective surfaces that add warmth and interest to the room.
A stainless steel range with a chimney style vent hood and stainless steel backsplash add a contemporary element to this Transitional-style kitchen. The triple bowl sink, gooseneck faucet, cabinet knobs, finish on light fixtures and chairs complete the look. A dramatic granite counter surface is a contrasting element that adds interest.
Geometric Forms
Geometric forms are as important in Transitional-style kitchens as they are in Contemporary-style kitchens. Clean lines and alignment of cabinets, the shape of a counter, the shape of a vent hood, trims and light fixtures are some of the many geometric forms that can be used in a kitchen design.
Geometric forms were used throughout the design of this Transitional-style kitchen. The counter has curves and angles. Raised panel cabinets have a rectangular front. An arc trims a shelf above the refrigerator. Cone shaped lighting fixtures are hung on a curved track. The vent hood above the range is triangular. Seats have a circular base and square cushion. Accent tile in the backsplash was set in a linear and rectangle design.