Bathroom remodels are a popular home improvement project in large part because our ideas of what makes a comfortable and useful bathroom have changed considerably in the past several decades. Most homes are outfitted with a builder's idea of a good bathroom, which is often stunted by price limitations. In the projects below, we look at five bathroom projects that took a boring and basic space and turned it into a bathroom worthy of your dreams.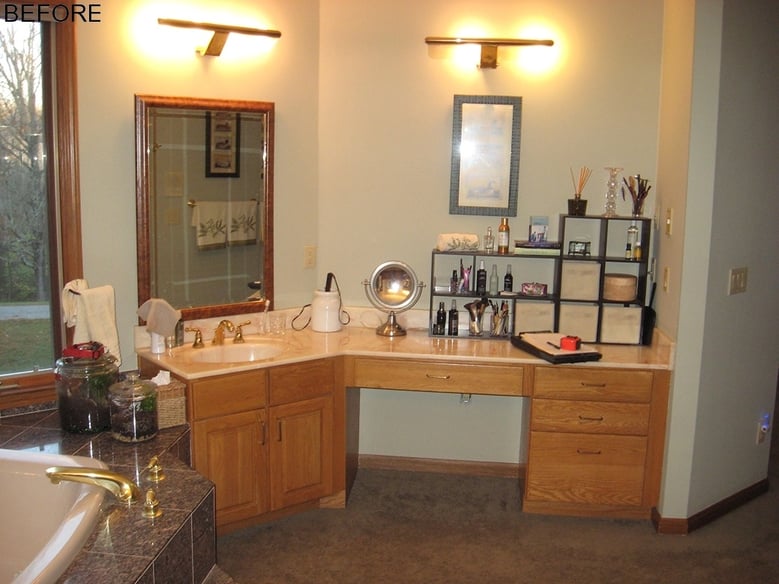 This master bathroom had the advantage of size, but excelled at little else. The original space felt dark, dreary and dated. The shower was difficult to keep clean, and the whole space needed an injection of style and function. The solution came in seeing the space transformed into a
contemporary bathroom inspired by the fusion of modern and traditional Japanese design. The focal point of the new bathroom is a traditional Onsen 48" Ofuro Soaking Tub, which sits on a teak platform and sets the room's tone. The new vanity cabinets (the room is flanked by his and her vanities) stores all the daily items that had previously been left out on the counter. This solution helps keep the counters free from clutter and distractions in true traditional Japanese style. Bamboo and slate finishes throughout create a warm, natural environment that feels like a meditative spa.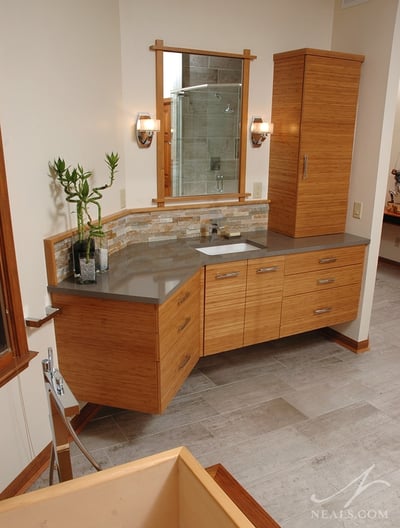 See more photos from this Sycamore Township bath remodeling project here.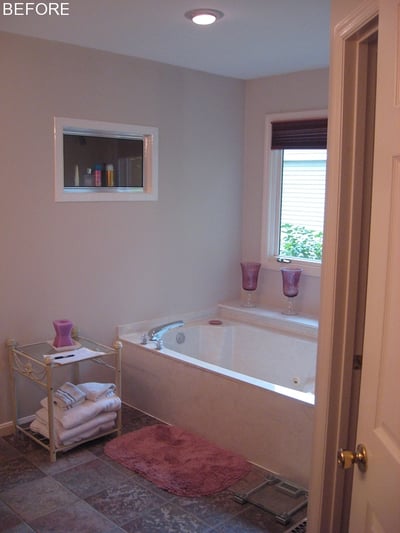 By shifting some walls and gaining more floor space, this lackluster masterbath was given new life as a sophisticated spa-like retreat. The homeowners no longer felt that the soaking tub was handling their needs, which is a common theme in many busy family homes. A new spacious walk-in shower takes center stage in the remodeled bath, featuring rippled glass panels that light up for a moody and modern twist. The space under the window was reworked into a bench with storage and display shelving. A mixture of neutral-toned materials throughout the space create an interesting but calm backdrop to the couple's daily routines, encouraging a slow and easy pace.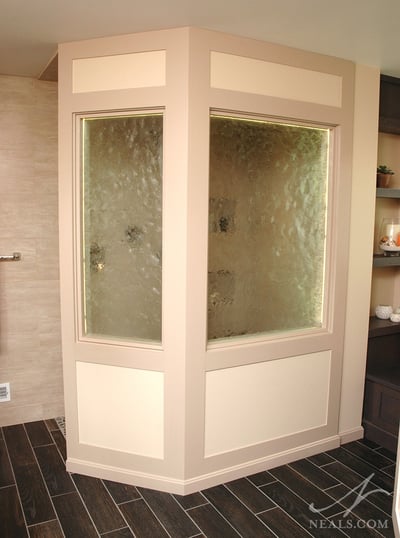 See more photos from this Sharonville, Ohio masterbath remodeling project here.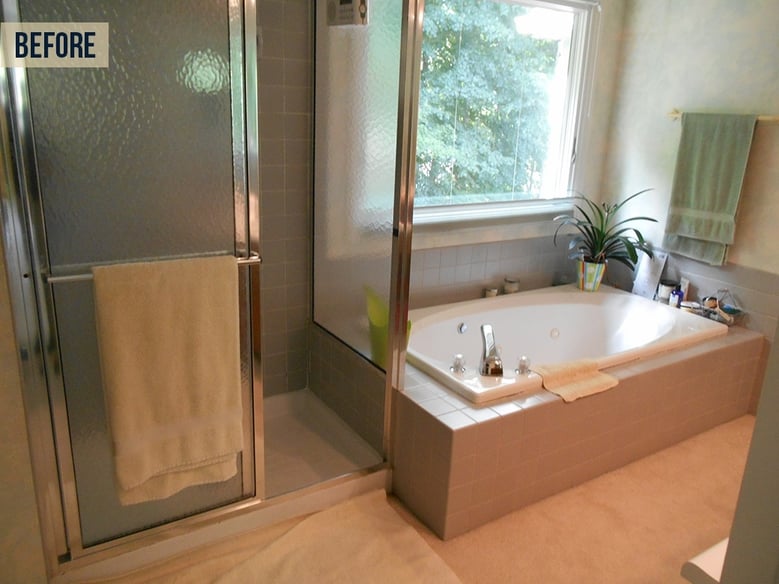 The colors of this run-of-the-mill bathroom were soft and welcoming, but the execution made for a fairly basic bath. Originally sporting a carpeted floor, generally not the way to go in a bathroom, and a plain, builder-grade shower, the sleek modern update brought an exciting breath of fresh air. The standout feature in the new space is the use of textured glass to form the new shower walls. Going along with that, texture can also be found in the pair of tiles installed on the wall and floor. The two tiles have a grained surface that adds depth in a low-contrast setting. The rest of the space was finished in light tones to allow the textured elements to speak for themselves.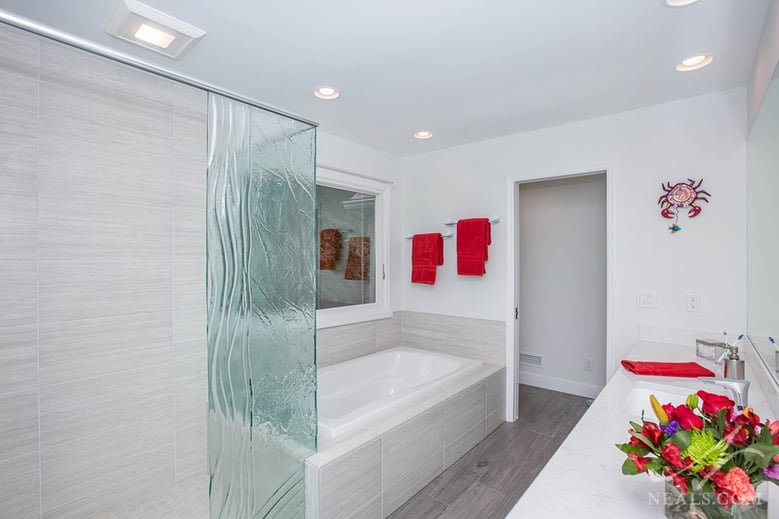 See more photos from this Sycamore Township bath project here.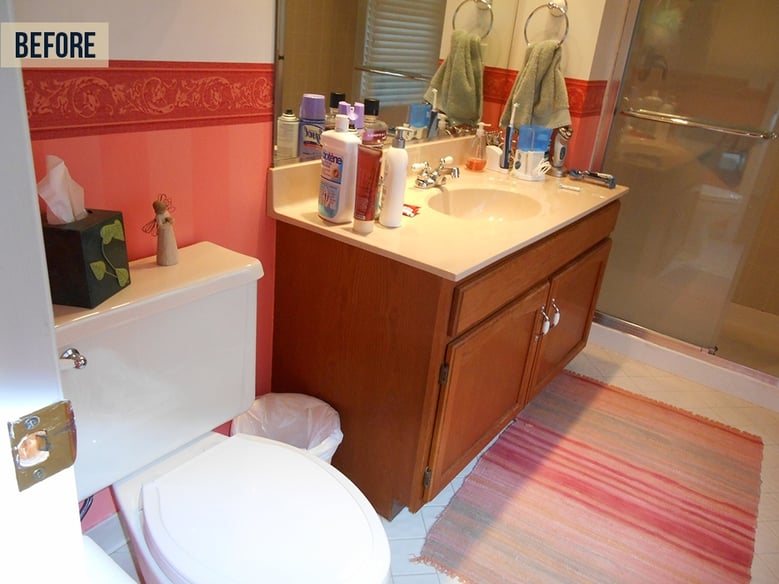 Originally, this master bathroom was tucked away past a small foyer-like space just off the master bedroom. The narrow bathroom beyond had a practical layout, but lacked style and felt like a closet. The main goal of this remodel was to create a unique space by combining the two spaces into a single room, increasing storage and usability. A cherry blossom tile mural was chosen as a focal point in the room, and artisan glass pendants in a matching color add a handmade quality. Traditional cabinetry and materials combined with contemporary details, such as the sleek, satin nickel hardware and modern, wavy track for the pendants, created a hybrid space that doesn't fall into a single style category.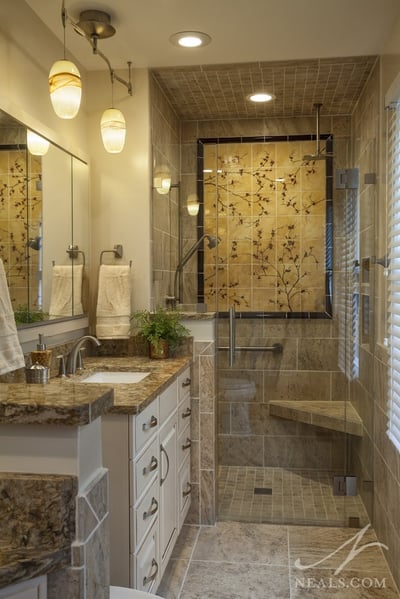 See more photos from this Loveland, Ohio bathroom remodel here.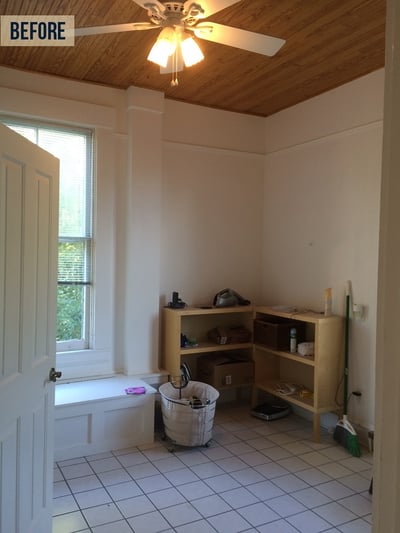 Originally, this Oakley home had no upstairs bathroom. Tired of sharing a single bath downstairs, the family opted to use the second floor laundry room to create a new master bath. Rift cut doors on the floating vanity, finished in matte gray with European-style pull tab hardware, are paired with pale beige porcelain tile, made to look like vein-cut stone, installed on the floor and in the shower. A glass-enclosed shower, and a large vanity mirror maintain the light, airy look of the space.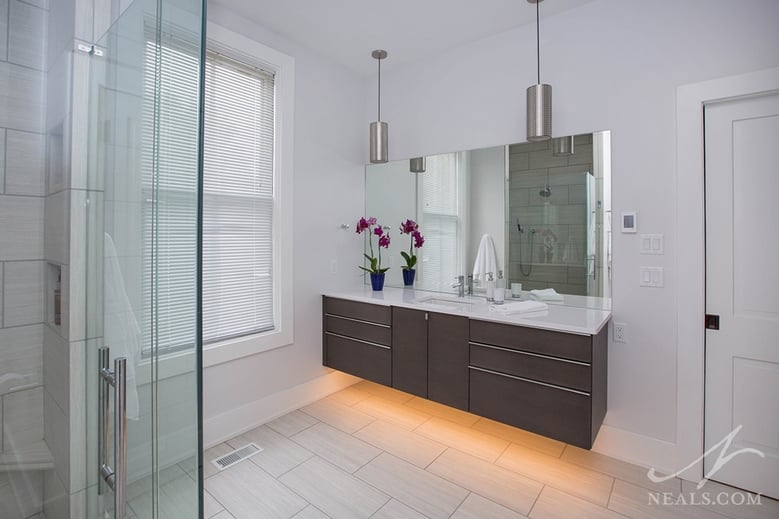 See more photos from this Oakley bathroom remodel here.