The L-shaped kitchen may be the most common kitchen layout in American homes. This layout occurs when the two primary countertops run along adjacent walls to meet in the corner. These two counters also house at least two of the three zones of the working triangle- the sink, the stove, and/or the fridge. Quite often, one of the arms of the L is an exterior wall where the kitchen window is situated. This layout is such a popular solution because it's so effective, both functionally and aesthetically. Below we highlight 3 past Neal's projects that all use the L-shape design.
Rustic & Refined

The L-shaped kitchen in this Maineville remodel is a classic in terms of the organization of the appliances. On the shorter wall, the cooktop gets precedence. A copper hood and tile backsplash created from modular tiles create a focal point. Following the counter around the corner, the sink, dishwasher, microwave, and fridge create a separate functional zone. The island functions as a convenient work surface between the zones. The pairing of traditional cabinetry details with an earthy color palette envokes the look of a southern ranch, giving a much more unique look to a rather typical L-shaped kitchen layout.
To see more of this project, click here.
Light & Timeless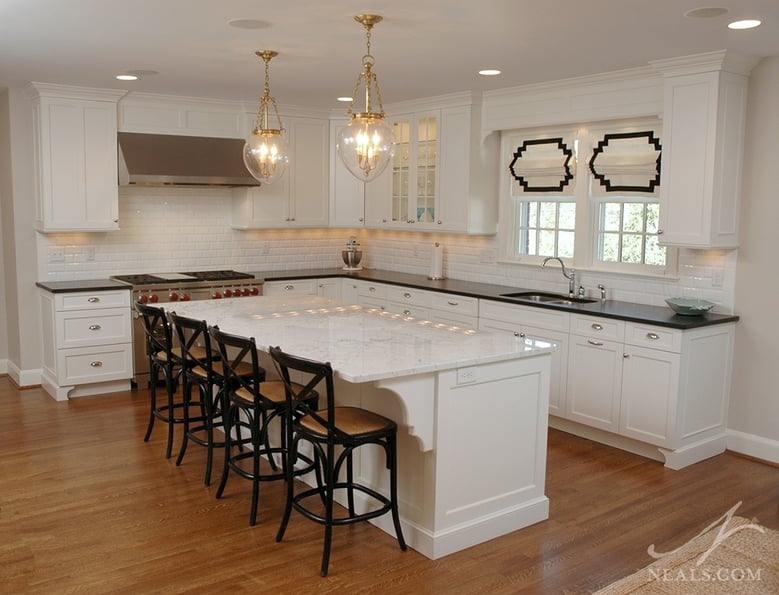 In keeping with the pedigree of this Hyde Park home, this kitchen relys on some key style choices for a kitchen that is both timeless and current. To maximize the amount of counterspace, only two points on the kitchen's work triangle are housed along the two walls. (The fridge is located across the room to the left.) The wide counter provides plenty of space for meal prep and homework to happen at the same time, further extending the kitchen's functionality. A black counter on the white cabinets highlights the L-shape, creating a graphic punch in this white kitchen.
To see more of this project, click here.
Balanced & Contemporary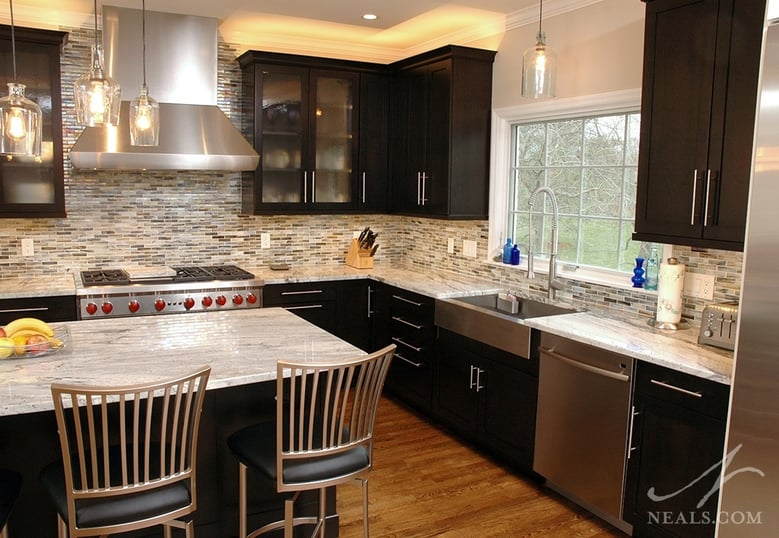 This contemporary kitchen in Springdale is a great example of how an L-shaped kitchen can be arranged for maximum functionality. Here, the fridge (you can see a sliver of it on the far right) anchors the end of the counter, and is situated out of the range of the island so that it can be easily accessed from any angle. The space between the fridge and dishwasher allows for a cabinet, but it also lightens the weight of the two stainless steel appliances being situated near each other. On the other side of the corner, a large professional-grade range is given plenty of working space on either side. The resulting arrangement makes the two arms of the L feel balanced- a key consideration in any kitchen.
To see more of this project, click here.