Getting Started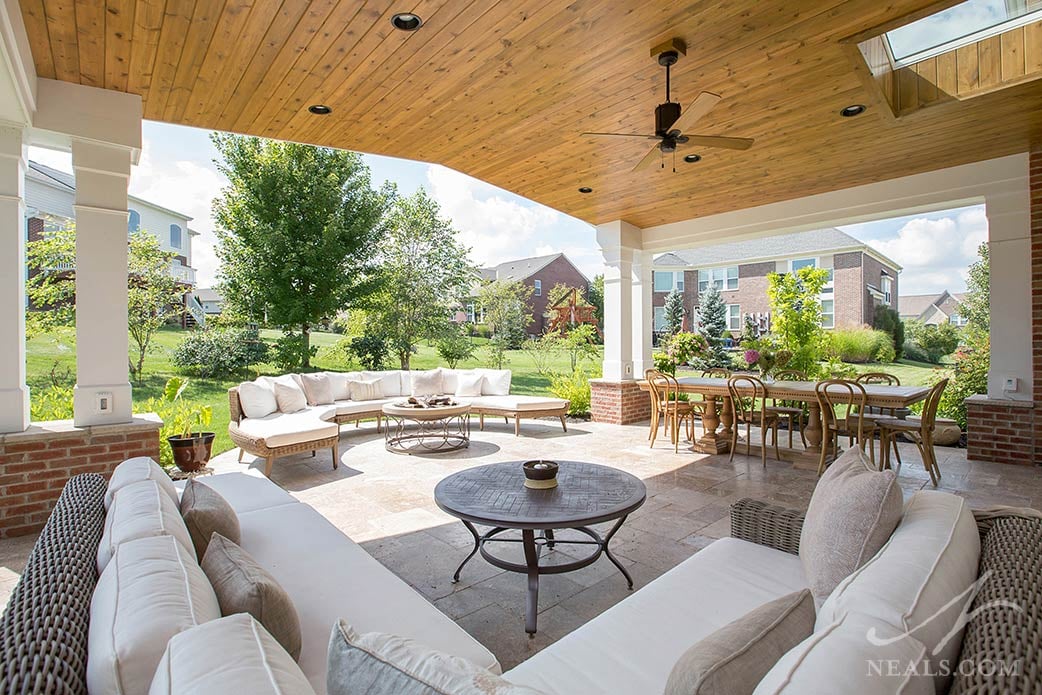 Covered outdoor living space.
In order to understand how a new outdoor living space will work for you, your home, and your property, it's important to begin the process by gathering some basic information about your property, the types of activities you enjoy, the neighborhood and locale, and the architectural style of your home. Moving forward with more specific planning knowing the answers to these questions will help narrow down your options, or know where to spend and where to save.
Note: These questions are presented with the assumption that you are considering a backyard transformation, but could be just as easily answered for front yard curb appeal projects.
Assess Your Yard
As you look around your yard, what do like and dislike? Do you have trees that you enjoy, or are the trees on your property obstacles or eyesores? Do you have a flat yard or is there a slope or hill? How large is the yard; how much room do you have? Would trees or existing landscaping need to be removed to add a new outdoor structure or patio? Would a retaining wall be needed or desired? Are there existing structures already in the yard or attached to the home that could be removed or possibly converted?
List Your Preferred Outdoor Activities
An outdoor living space can provide a place to relax, read a good book or can be geared toward activities such as swimming, gardening, barbecuing, entertaining or outdoor sports. What activities do you, your family and your guests enjoy doing outdoors? What types of space or features are required for these activities?
Identify the Needs of Your Neighborhood
It's always important to consider your neighbors and community when planning an outdoor project. What types of outdoor improvements have they made to their homes? Are homes in the neighborhood spaced close to one another? Will you require some screening for privacy? If you are thinking about adding a pool, will you need fencing? What type of fence is compatible with homes in your area?

If you live in a community with a homeowners' association, be sure to read the rules before getting too far into your planning. There also may be town building codes to consider if you're planning to add an outdoor structure or fireplace to your yard. A remodeling professional can assist you with local building rules, or you can contact your county or city zoning office.
What is Your Home's Architectural Style?
An outdoor living space should look and feel like an extension of your home and blend in with the exterior. Roofing, siding and trims of an outdoor structure should be compatible with the architecture of the house. The height and shape of rooflines are also an important consideration for how outdoor structures relate to the home. If you aren't sure what style your home is, you can look for "home style" guides on Pinterest or Houzz and find what seems closest.
Create a Wish List
Successful projects begin with a wish list. A wish list should identify the things you need and want in your outdoor living space and should be somewhat in line with the limits of your budget.

It may help to collect photos of outdoor spaces with elements that you like. Look through magazines such as Midwest Living and the outdoor living sections of websites such as Houzz and Neal's website. For more ideas of where to look for ideas and how to collect them, click here.
Talk with a Design Professional
If you believe that your plans may include adding a structure or deck to your property, a professional designer can help you create a plan to optimize the aesthetic appeal and function of your outdoor remodel. A professional designer will consider how the outdoor living space connects to the house, traffic patterns of users, safety, maintenance and ways to withstand the elements of nature.

There are many products available that make outdoor living spaces more functional and beautiful such as stone surfacing, decking, outdoor kitchen appliances, outdoor lighting, furniture, and fireplaces. A design professional is knowledgeable about these products and how they may work in your setting.

A landscape professional is another resource. Good landscaping involves creating garden areas that are suited to your locale and complement your home. If you have a small space, plantings should be planned so that the garden does not become overgrown. If destructive wild animals who eat plantings are a problem in your area, it's helpful to know which types of flowers and shrubs are resistant to them. Also, a landscape designer can help plan appropriate retaining walls and drainage for yards with slopes.
Backyard Options
Just as no two yards are the same, no two outdoor living remodels will be identical. Different conditions and topography on the property, different home shapes and sizes, and different needs all play a role in defining what your backyard remodel could be. The right outdoor living project for you and your family will consist of any combination of the following types of elements.
Additions that Compliment Outdoor Living
Three-Season Rooms: A room addition, typically with large windows, that is not winterized. These spaces can be used for a variety of purposes suitable to warmer weather, and are great alternatives to open porches in outdoor living plans.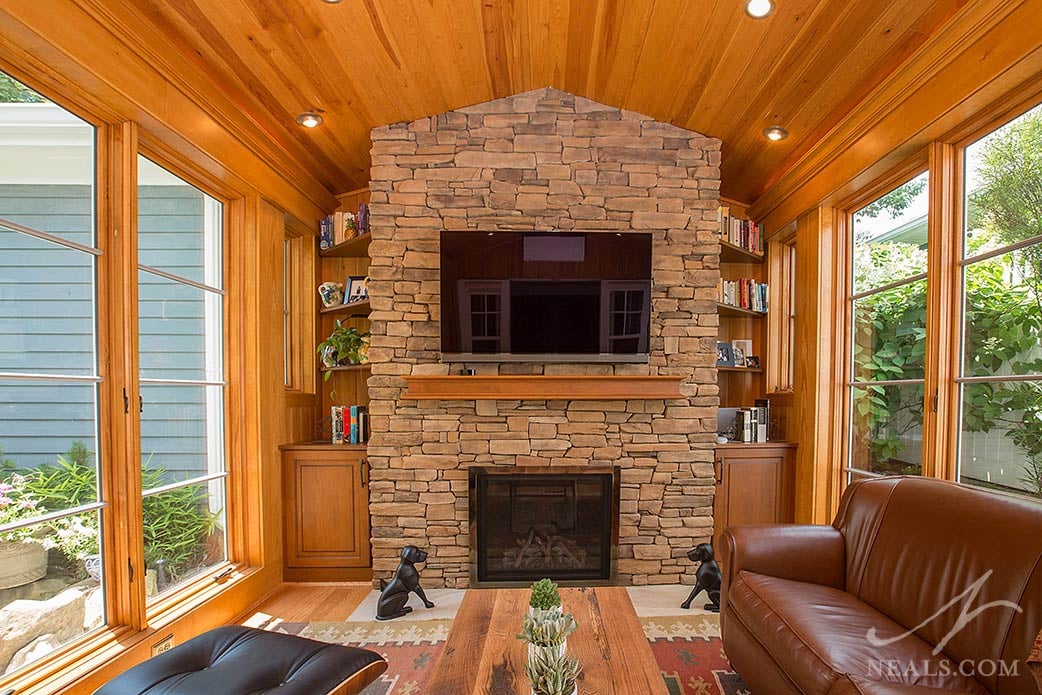 A sunroom with a fireplace connects with the outside via floor-to-ceiling windows.
Sunrooms: A sunroom is a winterized room addition with large windows, typically used as a sitting room and place for indoor plants. The walls are insulated and the room will be attached to the home's HVAC system so that it can be enjoyed year-round. Sunrooms don't have to have direct exterior access, but this is a useful feature to be able to include in your design.

Screened-In Porches: Additions with screens rather than windows, a screen-in porch is ideal for enjoying the outside in the warmer months without the intrusion of bugs. Automated, retractable screens can be installed making the space more versatile.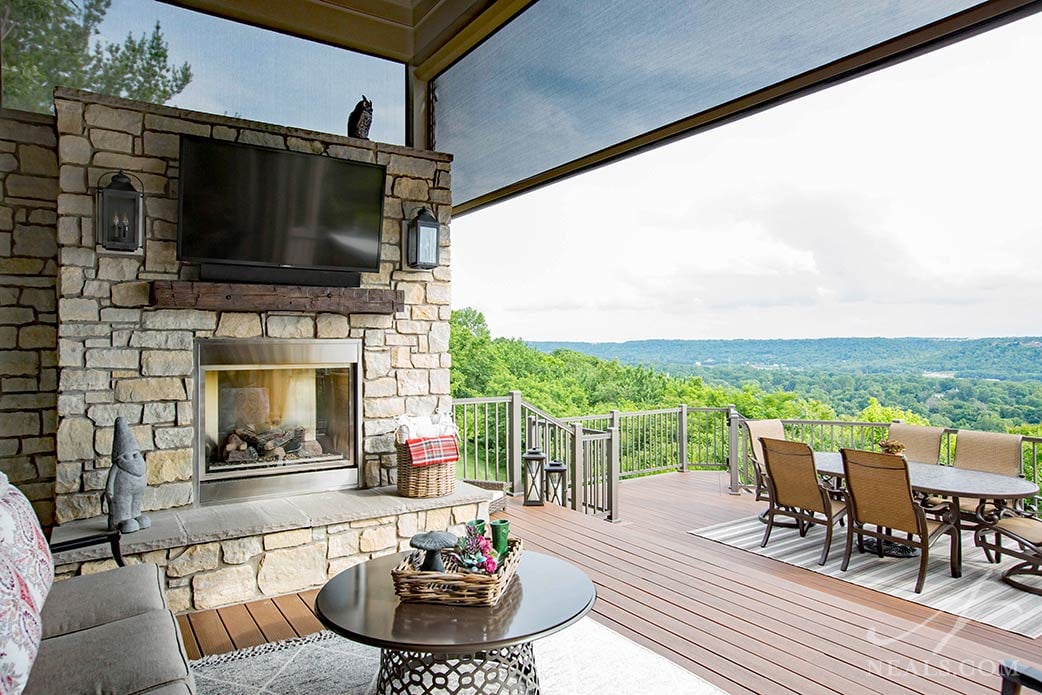 A retractable screen can be used to filter light and keep out bugs.
Attached Covered Structures
Porches or Verandas: Covered structures attached to the home over a door, porches can be used on the back and front of your property to expand your home's footprint with covered exterior space. A porch can use either a raised deck or a patio as the floor. A veranda is a long, raised porch with a railing and typically several columns, and is a traditional home feature ideal for entertaining.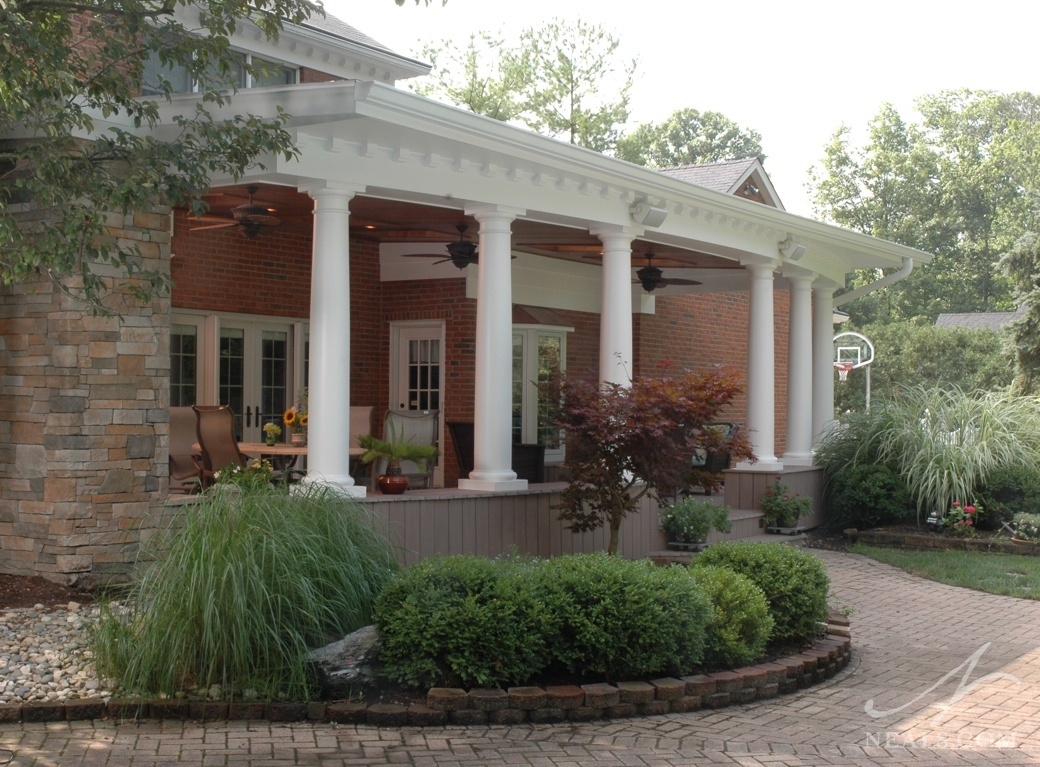 With its classic columns, this back veranda adds stately elegance to the home.

Covered Decks or Patios: When a roof structure attached to the home does not cover a primary door into the home, or if the space isn't meant to be used as a porch, it may be more accurately called a covered deck or patio. The function, however, can be quite similar to a porch.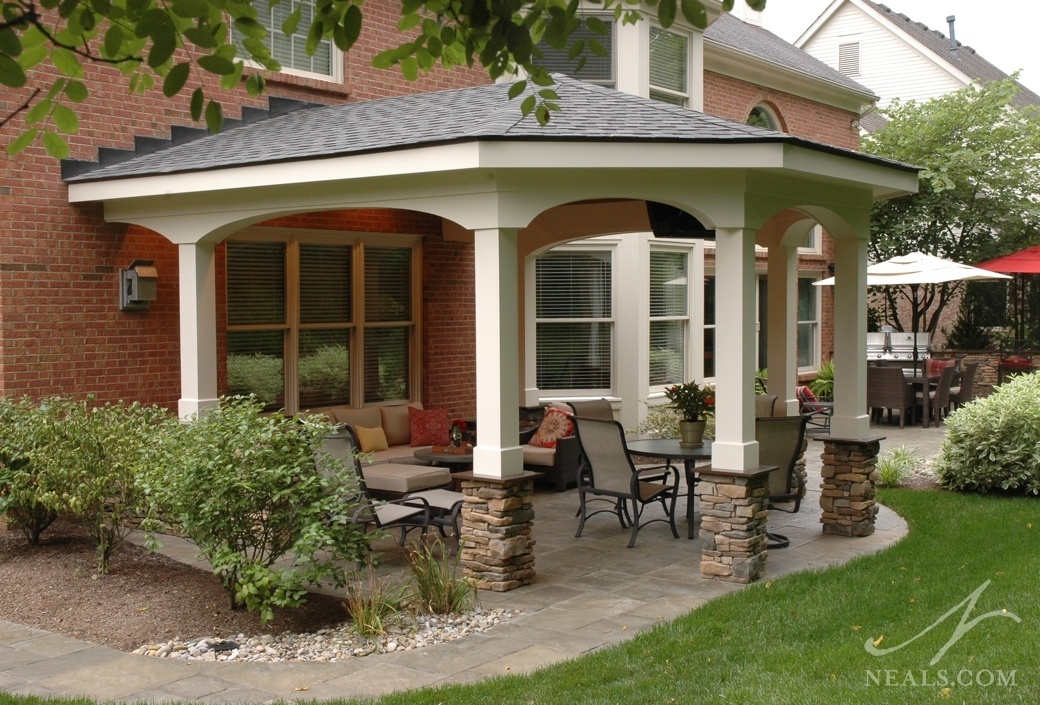 A covered patio creates an outdoor room along the meandering walkway.

Outdoor Living Rooms: When a covered porch or patio includes a fireplace, TV and is intended specifically as a sitting area, it can be considered an outdoor living room. This designation doesn't have to be exclusive to structures attached to the home, however. We cover more details about outdoor living room design in a later section.
Detached Covered Structures
Pavilions or Shelters: A pavilion or shelter is a free-standing structure with open sides that can be used for a variety of purposes. Though not a strictly-defined term, a pavilion is more likely to be made of stone and have a more substantial roof while a shelter is more likely to be wood construction. In general, most custom-made detached structures created for outdoor living can be considered either a pavilion or shelter.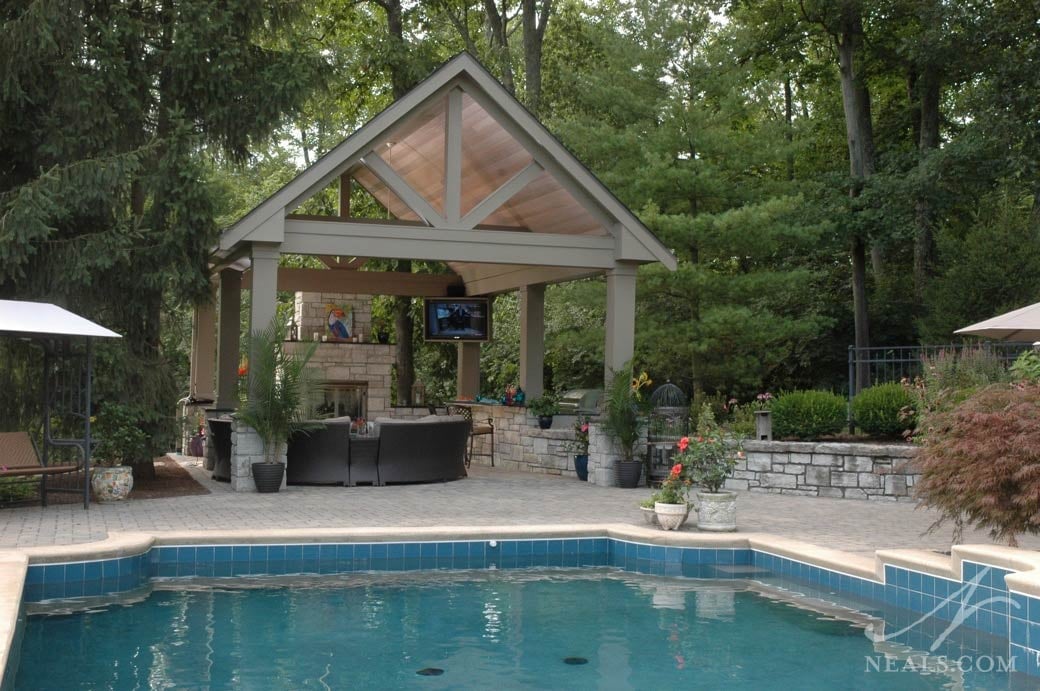 This shelter was designed to feel grand among the tall surrounding trees.

Gazebos: A gazebo is a roofed structure used for outdoor entertaining. A gazebo roof has a geometric shape such as a hexagon or octagon. They can be made of wood, brick or stone. They add classic charm and can be equipped with a variety of features.

Cabanas or Pool Houses: A cabana is a shelter built on a beach or near a swimming pool. Once used for shade or changing after a swim, a cabana can also be an ideal place for a shower, kitchenette or bar. Add an overhang and you will have shelter from the sun's rays.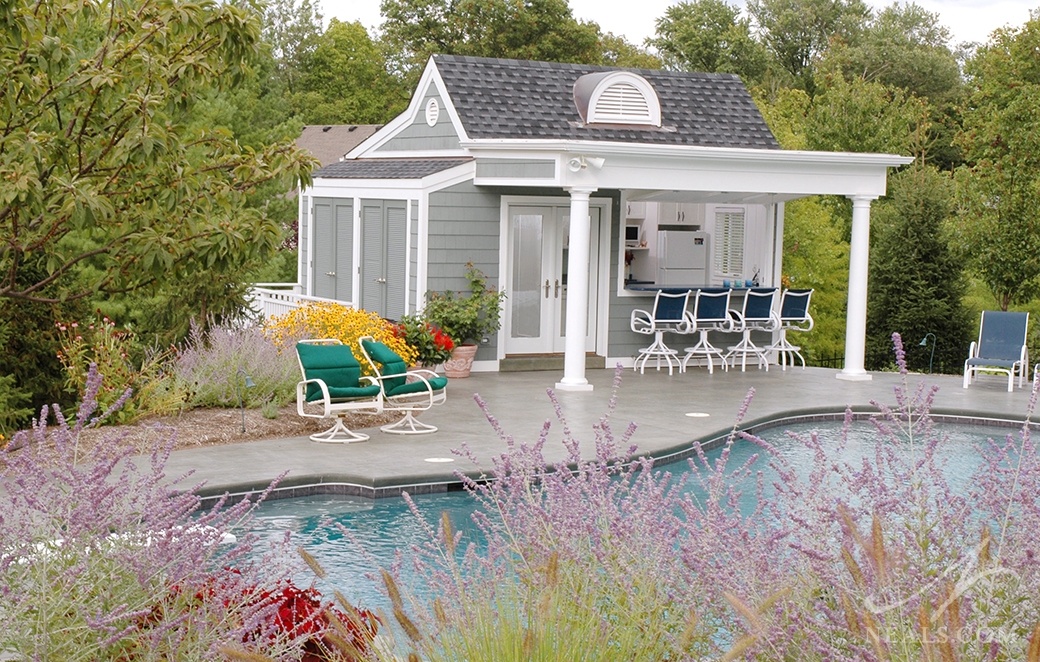 A cabana with a kitchenette is a great compliment for an active pool.

Pergolas: A pergola is a structure usually consisting of parallel colonnades supporting an open roof of girders and cross rafters. What distinguishes a pergola from an arbor is that it is used for moderate shading and is a larger structure.
Surface Elements
Patios: A patio is a surface installed directly on the ground using pavers, stones, or bricks to create a level area. A patio can be uncovered or provide the floor for a covered structure.

A round patio for seating, just off the back door.

Terraces: A terrace is an open, uncovered, raised area, often with retaining walls along the edges and stairs leading down to lower patios or yards. Terraces can be paved patios or used for multi-level gardening.

Decks: A deck is a surface made from wood or wood composite material that creates a level area. Depending on how high they are installed, they may require railing. Decks can be covered or uncovered, and may have multiple connected levels.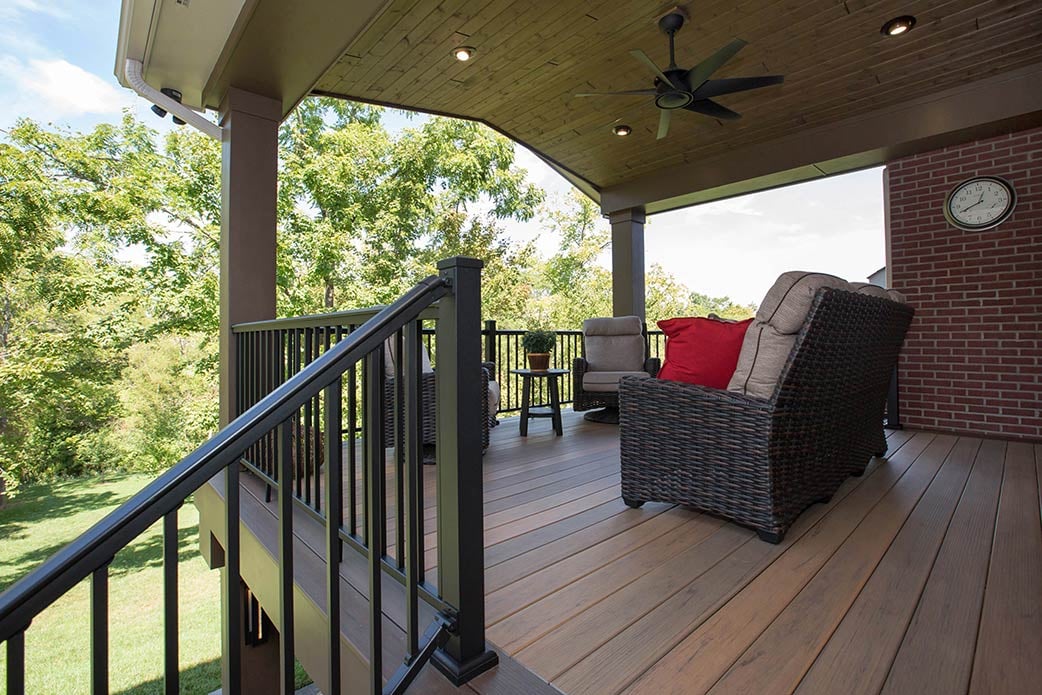 A covered, raised deck.
Walkways: Made from stone, paver stones, brick, or poured concrete, a walkway is a connection between outdoor elements. May also be known as a sidewalk. Walkways are useful for large outdoor living projects for helping direct people to different elements or make it easier to access features that are further apart.
Water Features
Pools: There are three different types of in-ground pools, categorized by what material they are made from. Fiberglass in-ground pool inserts can be created in a wide variety of shapes and sizes and have many advantages in cost, maintenance and long-term wear. Vinyl liner pools have a lower cost and can be used for custom pools, but require more maintenance over the long-term. Gunite pools are custom, allowing you to have a pool at any shape, size and configuration you want, but come with a higher installation cost and many more maintenance considerations. If a pool is on your wishlist, you'll want to carefully review these options with your designer or landscaper to determine which is right.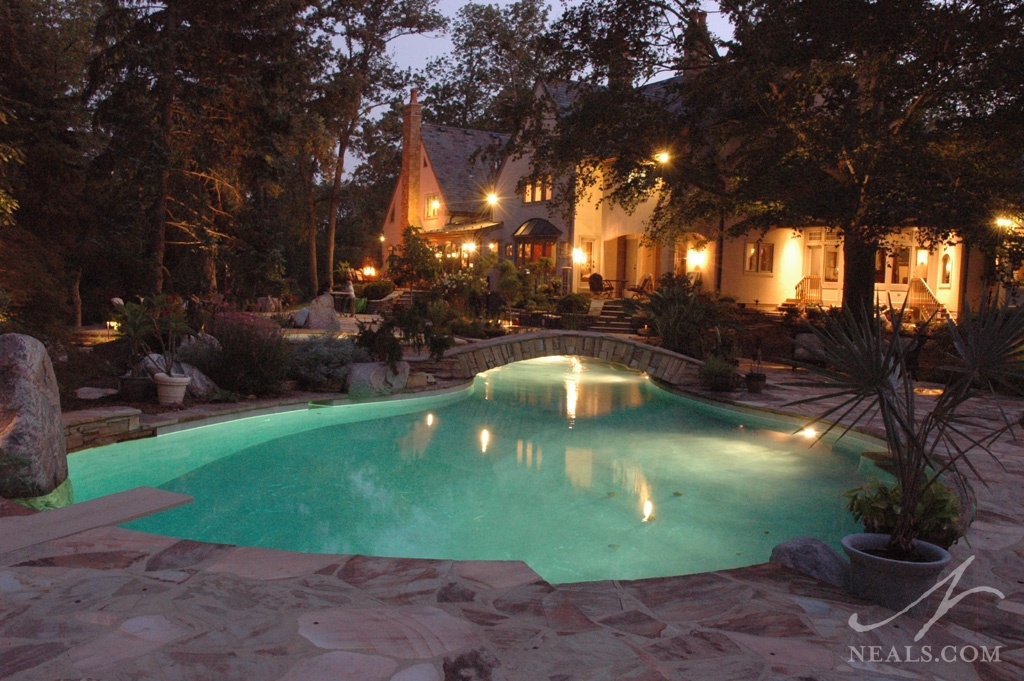 A custom pool makes integration with the surroundings more streamlined.

Fountains or Waterfalls: Decorative water features, either in the form of stand-alone fountains or as elements of a pool, can elevate an outdoor living space design. Water features require plumbing and pumps which will usually need to be concealed somewhere in the space, and should be controlled with a switch or knob so that they can be turned on and off as needed. One main purpose of including a water feature may be for the sound they make- the gentle rushing of water is a soothing sound for many- so it's important to consider this auditory factor when thinking of including a fountain in your new yard.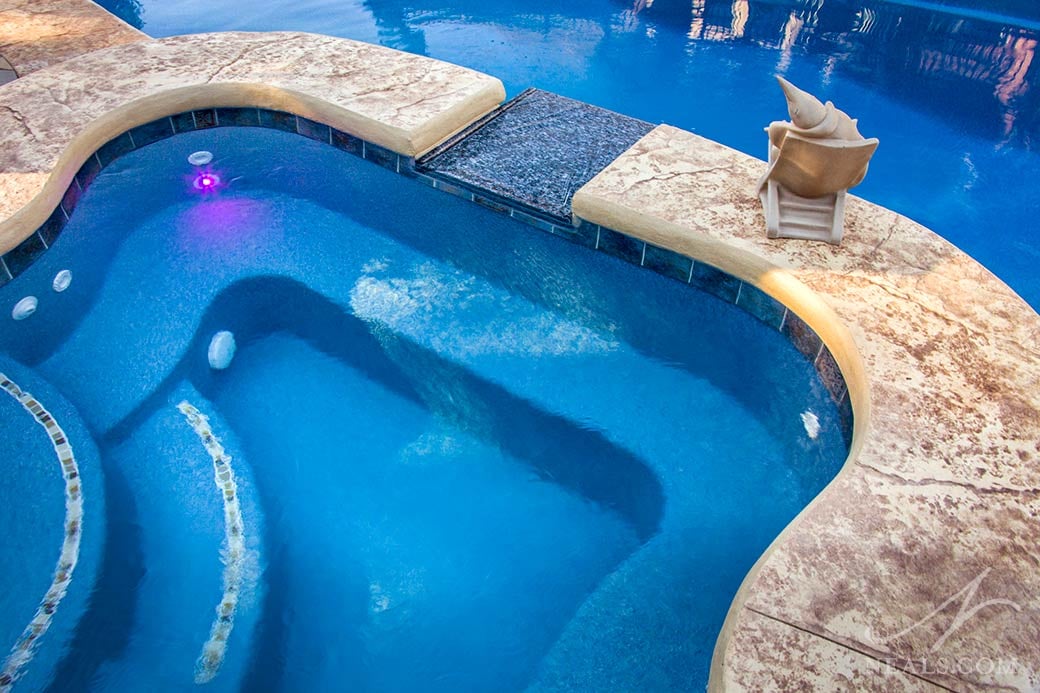 This hot tub is custom installed next to the pool.

Hot Tubs: A hot tub is a special pool unit with jets and a heating element that is designed for sitting and relaxing. Hot tubs can be stand-alone units or included in the design of a pool. Be sure to include a hot tub early on in your design process if you believe this is a feature you would like to have.
Fire Features
Fireplaces: A fireplace can be included in your exterior spaces quite easily. These can be either gas or traditional wood-burning units and can be styled in a large number of ways. Outside fireplaces require a chimney and can be created either as part of a structure or on their own.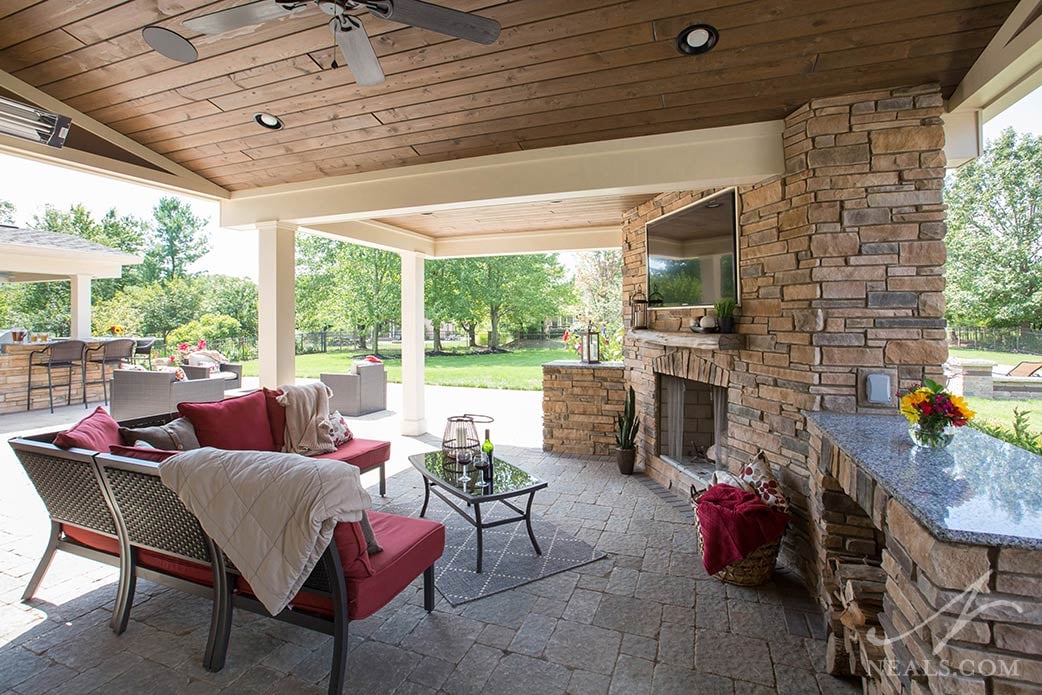 A fireplace provides a focal point for an outdoor living room.

Fire rings or Firepits: Open fire units can come in a few varieties. Firepits or fire circles are similar in concept to traditional campfires and can be created with paving stones and be in-ground or above ground. Fire rings or braziers are containers that a fire can be built in, often made of metal. Most firepit or fire ring features can be outfitted as gas burning units if building a fire from scratch isn't on your wishlist.
Landscaping Elements
Arbors: An arbor (or arbour) is a structure in a garden made by growing plants over a frame. Arbors are typically only decorative elements that add height to garden designs.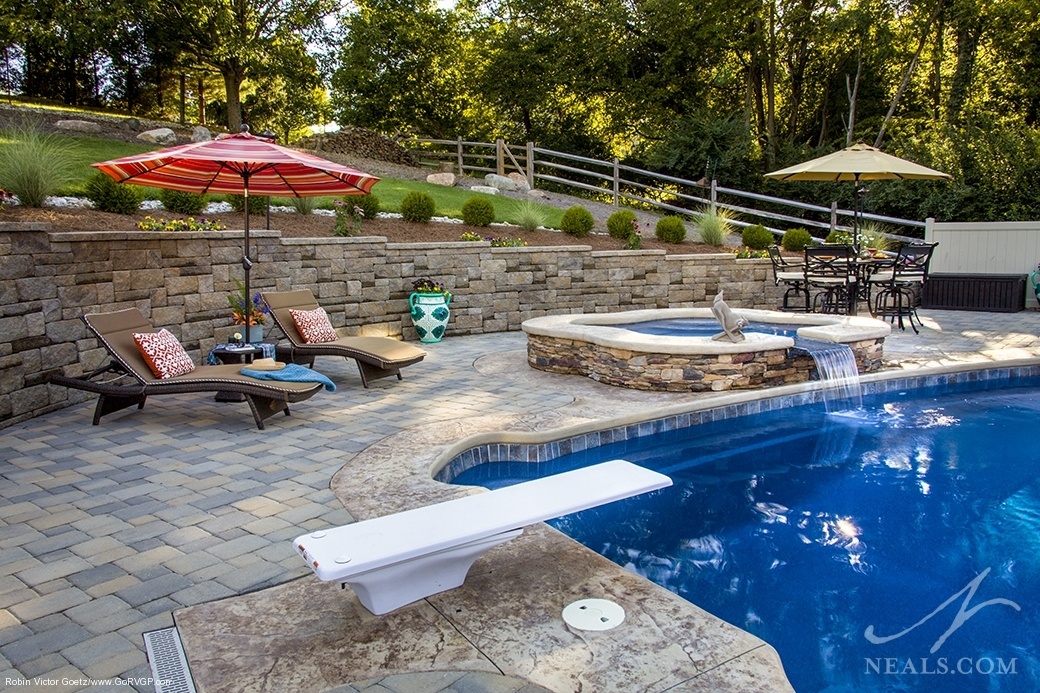 A retaining wall holds the hillside back to create a flat patio off the house.

Retaining Walls: Walls created with stone, concrete, brick or other hard materials that hold back land features. Retaining walls are used most often to landscape and transform sloped or hilly yards to be able to create level surfaces.

Yards: In a general sense, the yard is the non-paved land surrounding or adjacent to the home. In more specific terms, the yard is the open area, typically with grass. Keeping a yard on your property is useful for sporting activities and playing, but is also a landscaping feature for many properties.
Outdoor Kitchens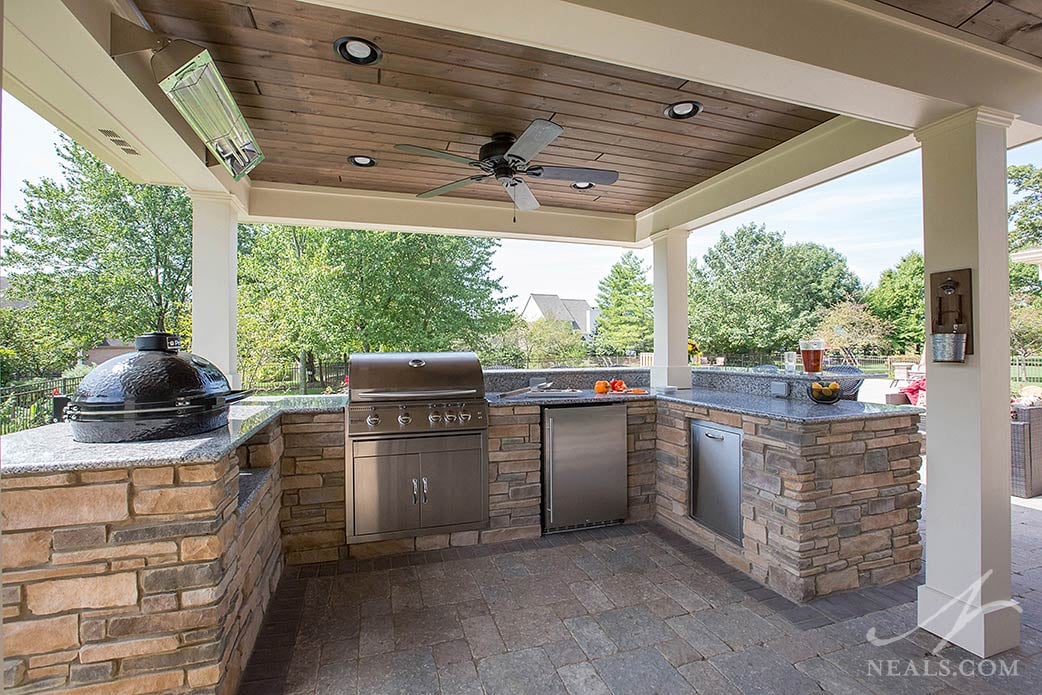 A well-appointed outdoor kitchen.
If you do a lot of summer entertaining at home or just enjoy cooking family meals on the grill, an outdoor kitchen is likely high on your wishlist. Outside kitchens can be quite similar to their interior counterparts with the variety and practicality of modern outdoor appliances available to homeowners. To start deciding what you'd like in yours, you'll need a specific list of the type of kitchen and entertaining activities you would like to be able to do outside.

Think about how you like to work in a kitchen. How much food prep space do you need? Would you want your kitchen to include seating for family and friends and for conversation when you work? How would you prefer to manage clean up? How much storage will you need outdoors or would you prefer to do all the prep work indoors and use the grill area strictly for cooking?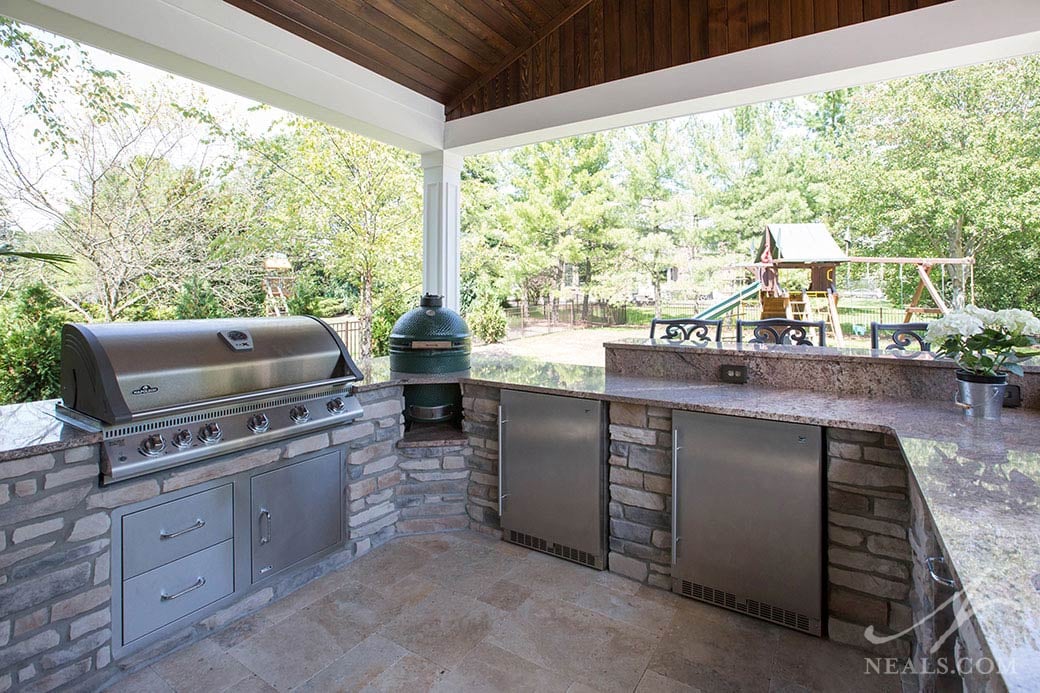 Granite counters and stone housing is a Midwest outdoor kitchen standard.
Outdoor Kitchen Design Standards
While you are not specifically limited only to the standard design concepts and styles used in outdoor kitchen spaces (specifically here in the Midwest), it's helpful to know what your design professional will have as a basic style template in mind as they work with you and understand your needs.
Appliances
Exterior kitchen appliances are generally stainless steel. There are specific models manufactured for outside use for most appliances. These are created with the understanding that the appliance will have to withstand exterior elements such as fluctuations in temperature and moisture.
Appliance Housing
Exterior appliances must be installed inside a structure. Since wooden cabinetry is not an ideal candidate for outside, many times the counter is created using wooden framing covered with a stacked or engineered stone facing. There are many styles of stone available, so locating one that works for your project and the look you want should be no problem. Brick and concrete are other options.
Countertops
Granite or quartz are the standard for exterior countertops. These materials are hard-wearing, durable, and resistant to water and sun damage. They are also easy to keep clean, and as long as they are properly sealed, they will resist bacterial or mold growth.
Outdoor Appliances

A built-in grill.
Grills
A quintessential element, the grill is the central appliance to any outdoor kitchen. Grills today have many options and accessories. One of the latest innovations is a combination grill that can be used for gas, charcoal and wood, but even a modest charcoal grill can have a place in a well-appointed outdoor kitchen. Once you find the model you want, your counter can be planned around it.

If you are planning to house your grill in a covered shelter away from a large opening, your kitchen design may need to include a ventilation hood to draw off smoke.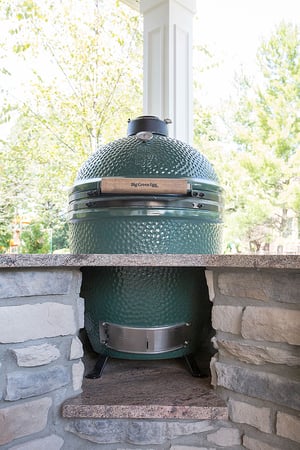 Barbecue Smokers
Smokers are becoming more and more popular in outdoor kitchens. These cooking appliances use low temperatures and smoke in a controlled chamber for slow cooking. In recent years, we've started installing "egg smokers"- small smokers designed for home use. Smokers often require more unique installation than a grill due to their fuel needs so it's important to get this on the list early in the counter planning if it's an item you would like to have.
Ovens & Burners
It may sound impossible to believe, but it is now possible to install outdoor-rated ovens or cooktop-style burners in your exterior kitchen. An oven or warming drawer is a great feature if you entertain often, while a set of burners (which can be gas or electric) offer additional options for cooking. These appliances are usually scaled down for exterior use, rather than having all the features of an interior range.
Outdoor Refrigerators
Outdoor refrigerators are also earning the attention of homeowners. Most exterior models are undercounter units that can be protected from the elements and are large enough to store beverages or a few food items. You can also find freezers and icemakers rated for outdoor use to get the full range of refrigeration needs.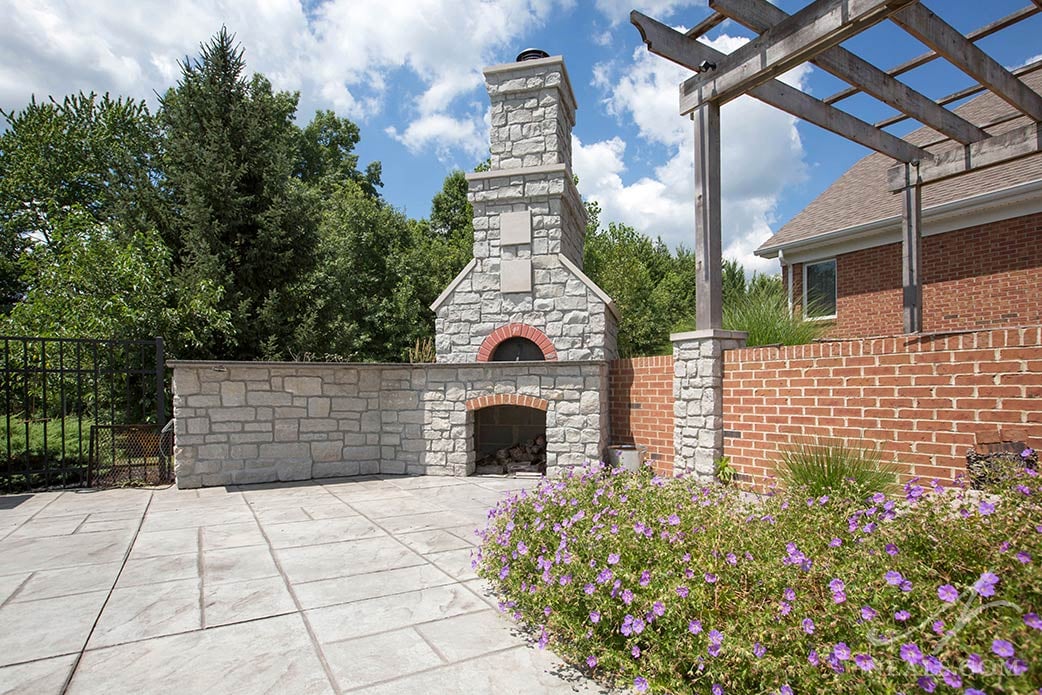 A custom outdoor pizza oven.
Pizza Ovens
One of the hottest trends in outdoor kitchens is an outdoor pizza oven. There is nothing tastier than a pizza grilled at home in a wood-fired oven. Pizza ovens can be either installed appliances or custom made like a fireplace. Barbecue egg smokers can also be used as a pizza oven.
Sinks
Sinks are great to have in a sheltered outdoor kitchen for preparing drinks and meals or for a quick clean up. Plumbing and draining will be installation and budget factors with a sink.
Dishwashers
New designs are made to withstand the elements. This is an ideal appliance to include if there is a significant walk between your outdoor kitchen and your indoor one, or if you entertain outdoors often. Also consider that plumbing will need to be included in your plan for an outdoor dishwasher.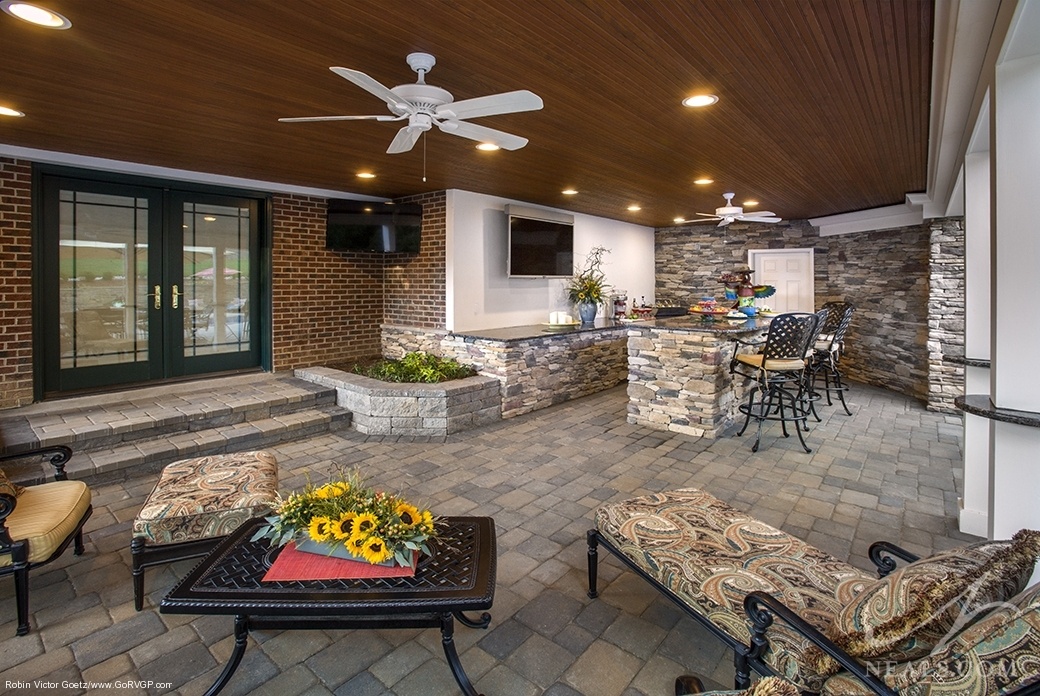 Covered outdoor seating
Seating Options
Along with an outdoor kitchen, another element to consider is where people will eat. If your ideal outdoor eating situations involves full meals with dishes, then you'll want to take the time to decide how much and what type of seating you may need, and where that seating might go. Bar height counters installed along the outdoor kitchen are a popular solution, as well as an area for a table with chairs under a covered structure. Keep the elements in mind as you think about where seating can go. If a rainstorm pops up in the middle of your picnic, you want to make sure everyone can get under cover easily with their meal.
Outdoor Room Design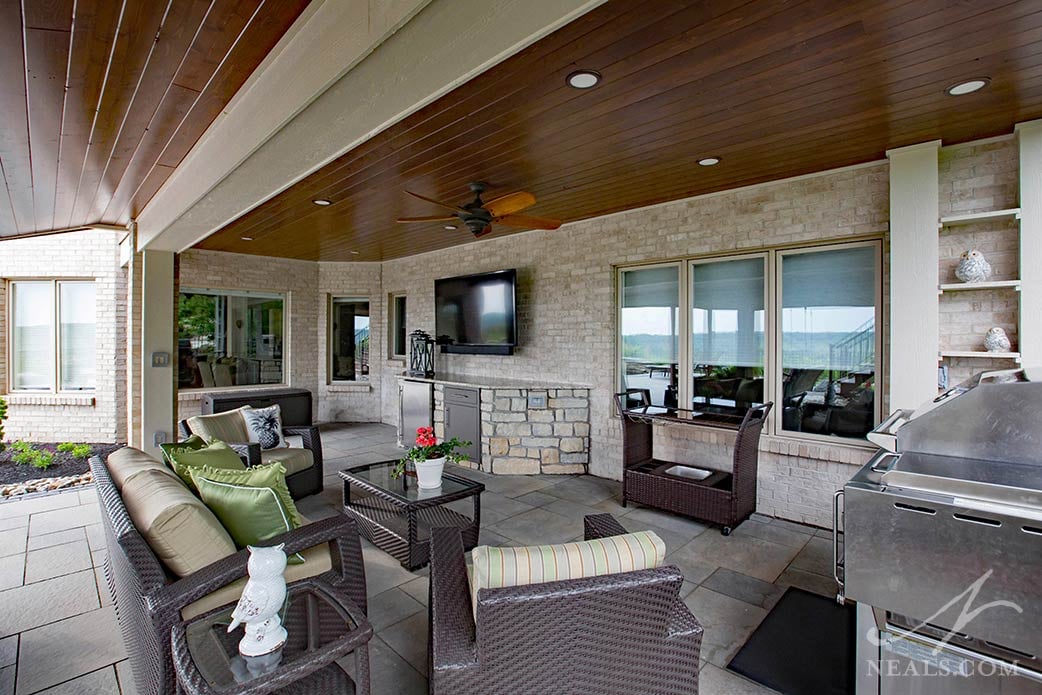 Outdoor living room tucked against the back of the home.
While outdoor living spaces can be created for any number of purposes, one option to take full advantage of a covered structure is to create an outdoor living room. If the primary purpose of a structure is to house a sitting area, that space falls under the category of an outdoor living room and the design of that space can take many cues from its interior counterpart.

A fireplace and TV can extend the functional purpose of this feature and provides a great alternative hosting location for game or movie nights with family and friends. When thinking of including an outdoor living room in your new exterior space, consider these key design principles:
Make Sure It's Large Enough
Ensure that the space is large enough to accommodate the typical largest-sized group you may regularly host. This means not only that there is enough room for everyone to take a seat, but also to make sure that everyone is able to be under the roof structure in case the weather changes to rain or the sun is out in full.
Install the TV in the Right Location
Having a television outside is a great luxury, and there are outdoor TV models to chose from. You'll still want to ensure that it's protected from severe elements, so discount any mounting location that leaves it vulnerable to excess moisture, heat from a fireplace, direct sunlight, or high winds. You'll also want to keep in mind any glare that may occur when the sun is low. A professional outdoor living designer is familiar with exterior TV installations and can guide you with your options.
Consider Any Storage Needs
Some outdoor furniture will require being covered or having the cushions stored in the winter, so take a moment to consider if you'd like these storage needs to be accounted for in the outdoor space or if you'll need to find storage elsewhere.
To Screen or Not to Screen
Some neighborhoods are lucky to not have large bug problems, but if you don't want the hassle of dealing with mosquitoes or other pests whenever you're trying to enjoy your outdoor living room, look into including screens in the structure. Retractable screens are an ideal option and can be designed to work on almost any size opening.
Keep Privacy in Mind
If you have close neighbors, be sure to account for what they may be able to see in your new space. Fireplaces or walls can be positioned to block the view, or screens with a privacy mesh can be used. Curtains may also be used if that fits with the style of your space and your preferred level of maintenance.
Exterior Lighting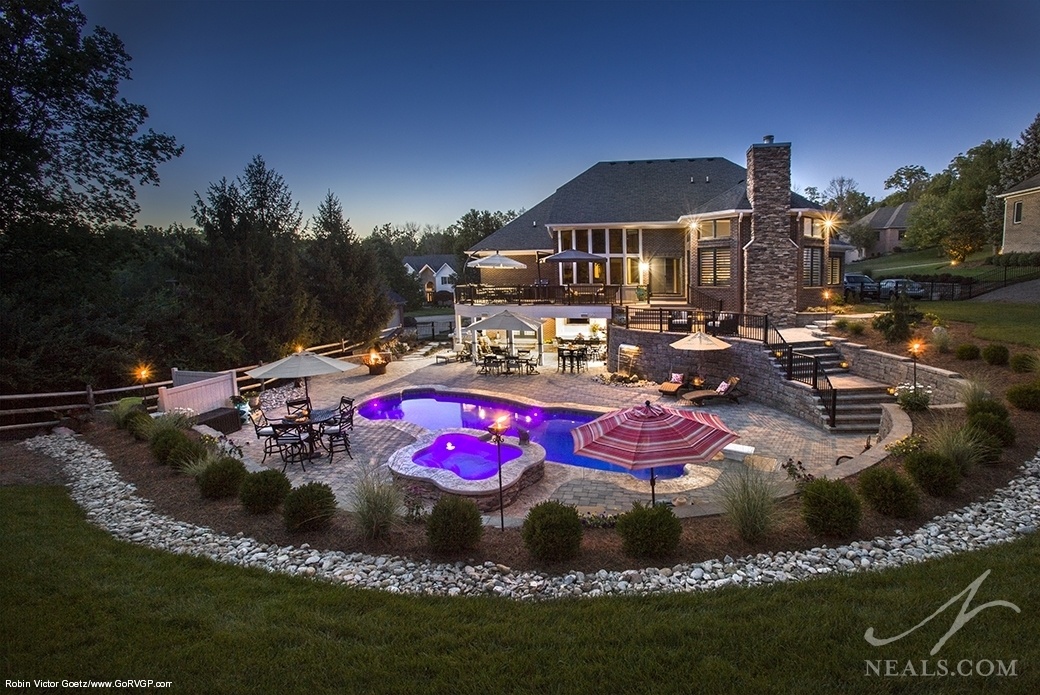 Outdoor living space with several nighttime lighting options.
It's not the most glamorous aspect, especially next to new landscaping and beautiful outdoor living spaces, but when the sun goes down, lighting is essential to enjoying your outdoor living areas and ensuring safety.

It's important to think of visibility in all areas of your outdoor space. If an area is too dark, it won't be as functional for you as it could be. Alternatively, if you have provided the wrong type of light in an area, you may find that the evening ambiance isn't what you always dreamed of. Exterior lighting schemes should strike a balance between making a space bright enough to be useful and safe, and dim enough to enjoy the evening outside.

You probably won't need a lamp at your firepit, but the path to get to it should have some illumination. If you want to have a late-night barbecue, you'll need more than a sconce or two nearby to ensure the grill area is safe. Remember that your outdoor fireplace will provide plenty of warmth, but not enough light for some twilight reading. Pool lighting can act as a safety feature to prevent someone from accidentally falling in, while also providing a large filtered light over a large area.

Lights spaced throughout plantings mean that the colors and variety of your landscaping can still be enjoyed after sun-down. Motion-sensor lighting on the outskirts of your outdoor living spaces can help with security. They can also help guests find their way, but not detract from the atmosphere in the main areas. Lights in or near steps prevent injuries as well. Integrated lighting can be a stylish feature if your outdoor living space has several or tall staircases.

Lighting is a subtle addition to an outdoor project with a lot of impact.

There are many exterior lighting products available, and even interior lights can be configured to work in covered outdoor spaces, such as a statement-making chandelier hanging in the center of a gazebo. Solar-powered lights along paths are an easy and cost-effective method of adding just enough illumination.

Great lighting outside can change the entire character of your exterior space into something new and ensure that you are able to enjoy your space any time, day or night.
Next Steps
The information outlined in this guide has provided you with the initial considerations of planning and designing your new outdoor living space, but there are more steps to go.

The next step is to speak with an outdoor living specialist to discuss your ideas and needs to determine what's feasible. Your consultant can assist you with honing your plans even further and can provide insight and information regarding timelines, permits, budgeting and more.
Local to Cincinnati?
Neal's Design Remodel is ready to speak with you about your project. Fill out the form below to request a call!